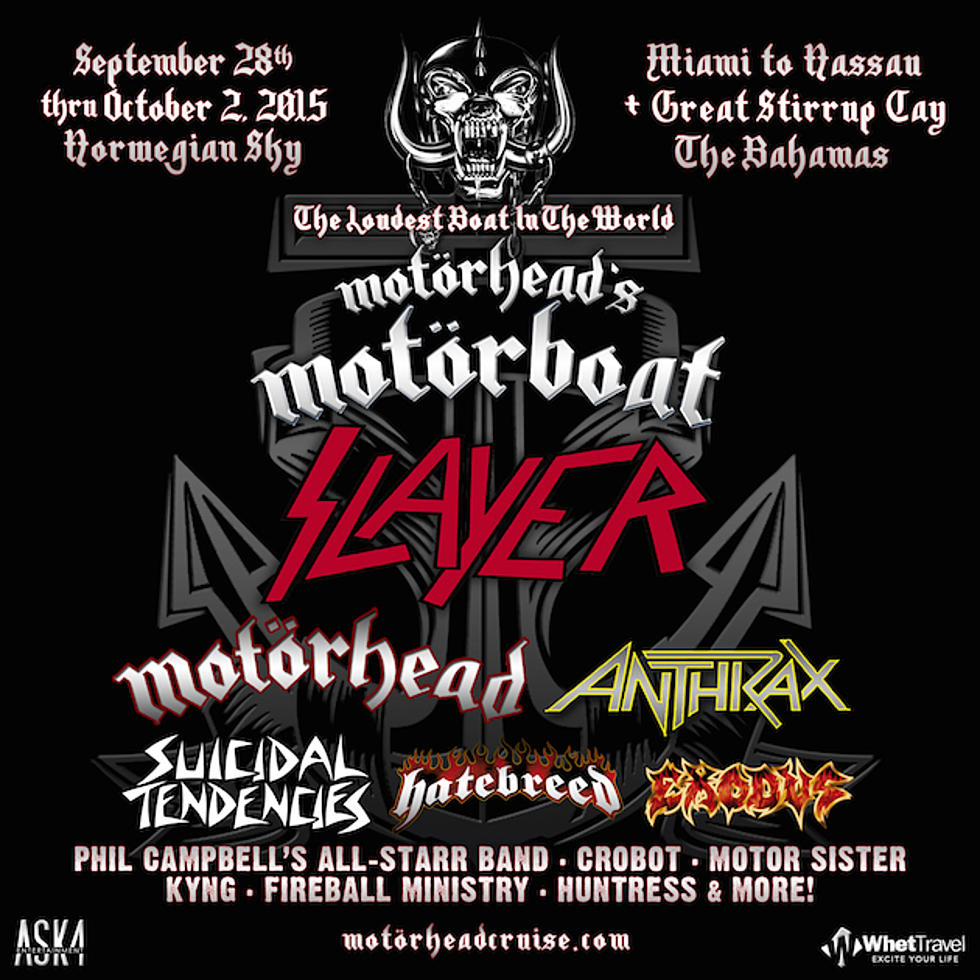 Motorhead's Motorboat Cruise 2015 to Set Sail With Slayer, Motorhead, Anthrax + More
Motorhead Motorboat Cruise 2015
Motorhead had such a great time on the inaugural Motorhead Motorboat Cruise that they're going to do it again this fall with another incredible lineup. The second annual Motorhead Motorboat Cruise sets sail Sept. 28 through Oct. 2.
This year's cruise takes place aboard the Norwegian Sky, departing Port Miami with stops in Nassau and the Great Stirrup Cay in the Bahamas. Joining Motorhead in rocking the high seas will be Slayer, Anthrax, Suicidal Tendencies, Hatebreed, Exodus, Crobot, Kyng, Fireball Ministry and Huntress. In addition, several of the entertainers will be pulling double duty, as Motorhead's Phil Campbell will head up his All-Starr Band and Anthrax's Scott Ian is bringing along his band Motor Sister for the cruise, as well. Plus, guitarist Gary Holt will continue his balancing act, playing with both Slayer and Exodus.
Motorhead's Lemmy Kilmister says, "And so the Motorboat sets sail one more time -- better get your tickets now or be left sobbing on the dock! Oh, and we promise not to run out of beer this time!"
Slayer's Kerry King adds, "Slayer is crashing the Motorboat party!! I personally will be keeping the bar in business. Hell will be coming with us. Light it up!!!"
Staterooms for the Motorhead Motorboat Cruise go on sale Wednesday, March 25 at 2PM ET at this location. In addition to the bands, cruise goers can enjoy the 13 complimentary and specialty dining options, 12 bars and lounges, a coffee bar, an outdoor pool and five hot tubs. The ship also features the Sky Club Casino, has an onboard spa as well as a fitness center and a full basketball court.
Motorhead have begun work on their follow-up to the successful Aftershock album and it's quite possible there could be some new music by the time the ship sets sail this fall. The band is currently celebrating its 40th anniversary.
You Think You Know Motorhead?
You Think You Know Slayer?
You Think You Know Anthrax?