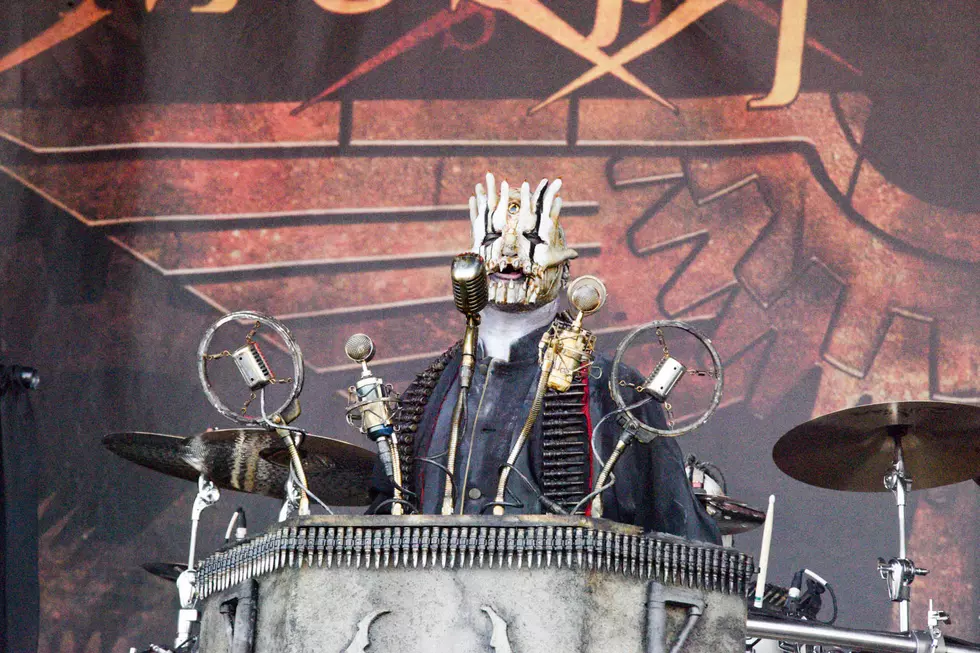 Mushroomhead's Jeffrey Nothing Exits Band Ahead of Spring 2018 Touring
Evil Robb Photography, Loudwire
Mushroomhead will return to the road with a full slate of dates this spring, but they'll be doing so minus one of their vocalists. Jeffrey Hatrix (aka Jeffrey Nothing) has issued a statement announcing that he's leaving the group.
"I am coming to you today with a heavy heart to announce that I am leaving Mushroomhead," Hatrix said in a statement. "It is a decision that I did not make easily, but one I made for reasons that are best for me as an artist and musician at this juncture in my career."
The vocalist went on to thank "the craziest, fucking loyal and amazing fans" for the "once in a lifetime privilege" of performing for them while touring and recording with the group.
With Jeffrey Nothing exiting the band, that leaves the band with J. Mann as their sole vocalist. The band has employed as many as three vocalists at one time, with Waylon Reavis leaving the band in 2015. Jackie LaPonza has been a touring member of the group in recent years adding vocals for the band as well. Drummer Steve "Skinny" Felton is the lone band member who has been a constant since their start back in 1993.
While it is not known what the lineup will look like, the band is expected to play a one-off show March 17 at Music Lynxx in Mentor-on-the-Lake, Ohio before returning to the road in earnest in late April, kicking off a lengthy trek with Vyces, Gabriel and the Apocalypse, Ventana and Blood Sun. Dates for the run can be seen below.
Mushroomhead / Vyces / Gabriel and the Apocalypse / Ventana / Blood Sun Tour Dates
April 27 - Flint, Mich. @ *THE MACHINE SHOP
April 28 - Traverse City, Mich. @ *GROUND ZERO
April 29 - Covington, Ky. @ *MADISON LIVE
April 30 - Pittsburgh, Pa. @ *REX THEATRE
May 1 - Rochester, N.Y. @ *MONTAGE MUSIC
May 3 - Waterford, N.Y. @ *CHROME
May 4 - Providence, R.I. @ *FETE MUSIC HALL
May 5 - Easton, Pa. @ *ONE CENTRE SQUARE
May 6 - Louisville, Ky. @ *TRIXIES
May 7 - St. Louis, Mo. @ *FUBAR
May 8 - Texarkana, Ark. @ *SHOOTERS
May 9 - Little Rock, Ark. @ *REVOLUTION
May 10 - Houston, Texas @ *SCOUT BAR
May 11 - Dallas, Texas @ *TREES
May 12 - San Antonio, Texas @ *THE ROCK BOX
May 13 - Lubbock, Texas @ *JAKE'S BACKROOM
May 15 - Mesa, Ariz. @ *CLUB RED
May 16 - San Diego, Calif. @ *BRICK BY BRICK
May 19 - Seattle, Wash. @ *STUDIO SEVEN
May 20 - Jerome, Idaho @ *DIAMONDZ CENTER
May 22 - Ft. Collins, Colo. @ *HODI'S HALF NOTE
May 23 - Denver, Colo. @ *THE ORIENTAL THEATRE
May 24 - Colorado Springs, Colo. @ *BLACK SHEEP
May 25 - Lincoln, Neb. @ *ROYAL GROVE
May 26 - Waterloo, Iowa @ *SPICOLI'S
May 27 - Minneapolis, Minn. @ *CABOOZE
May 29 - Joliet, Ill. @ *THE FORGE
May 30 - Madison, Wis. @ *THE ANNEX
May 31 - Sturtevant, Wis. @ *ROUTE 20
June 1 - Cleveland, Ohio @ *THE ODEON
June 2 - Pipestem, W.V. @ *PIPESTEM