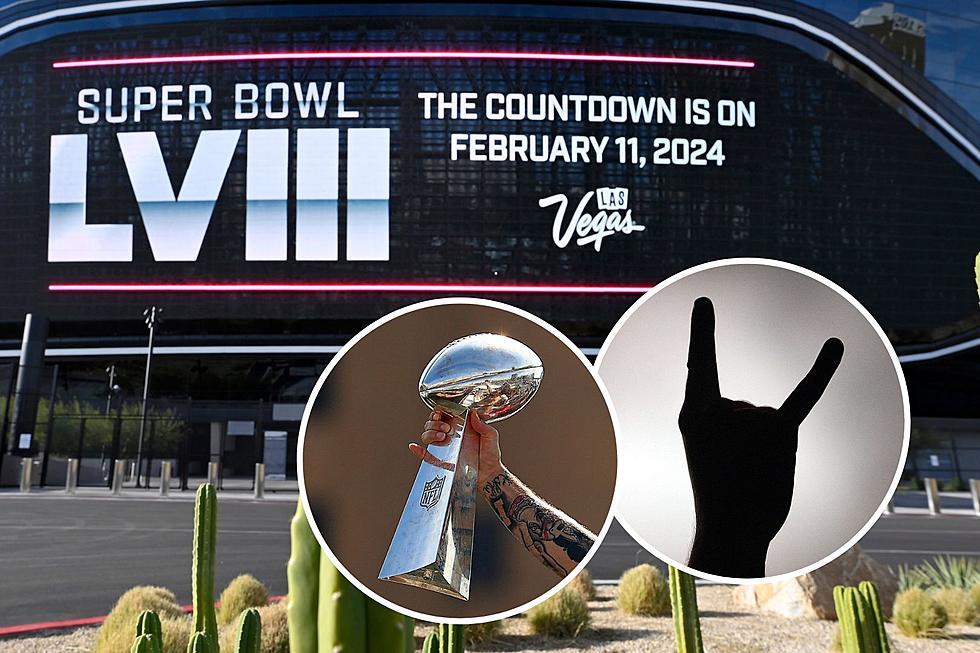 Nevada Governor Joe Lombardo Pushing for AC/DC to Play 2024 Super Bowl in Las Vegas – 'I'm Serious'
David Becker, Stringer/Getty Images / Mike Ehrmann, Getty Images / Adam Berry, Stringer/Getty Images
Nevada Governor Joe Lombardo is truly one of us and wants to bring rock music back to the Super Bowl Halftime Show, expressing his wishes for the legendary AC/DC to perform at the 2024 NFL championship event at Las Vegas' Allegiant Stadium.
The Super Bowl Halftime Show is one of the most premiere events in music entertainment as the selected acts have the potential to each over 100 million live viewers at once. While plenty of rock acts have played the big show in the past, it's been over a decade since a bona-fide rock artist was tabbed, The Who being the most recent to receive the honor back in 2010.
The rock drought at the Halftime show has been just as long as the playoff drought for the New York Jets, who figure to be a contender to hoist the championship Lombardi trophy this season after a big offseason move to acquire Green Bay Packers veteran quarterback, Aaron Rodgers.
Perhaps both the Jets and the entirety of rock's fortunes will be reversed come game day on Feb. 11, 2024.
Lombardo, speaking at a Las Vegas Super Bowl LVIII Host Committee press conference last week, was asked who he wants to see perform at the Halftime Show at Allegiant Stadium. As reported by the Las Vegas Review-Journal, the Governor immediately shot back, "AC/DC!" I was going to yell it out … But yeah, I'm serious. Bring 'em back."
It's not clear what he meant by bringing them back, as AC/DC have never performed at the Super Bowl Halftime Show, but a return to Vegas in any capacity is something Lombardo and the city would both welcome.
AC/DC, meanwhile, are booked to play their first show since 2016 at the upcoming Power Trip festival, a three-day, six-band event in the first week of October that also features Iron Maiden, Guns N' Roses, Judas Priest, Tool and Metallica.
The 2024 Halftime Show performers are expected to be announced this fall. The NFL works in collaboration with Jay-Z and his entertainment company Roc Nation to determine the performers, looking for an ideal market fit.
While rock has been excluded for more than a decade, save for pop-rock such as Maroon 5 and Coldplay, it's worth noting that plenty of other genres are not part of the event either, and with just as much regularity. Fans of heavy music surely make up for a significant percentage of the NFL's viewing audience, however, the Super Bowl is an event that transcends the sport.
So, it makes perfect sense to book artists that may pull in an even wider range of people, including those with little to no interest in professional football. Does it suck for rock and metal? Yeah, but this genre has survived no matter and will continue to!
The Songs 30 Huge Rock + Metal Bands Only Played Live Once
Note: songs that were played as part of a medley and cover songs were not considered for this list. Only full performances of individual songs were taken into account.