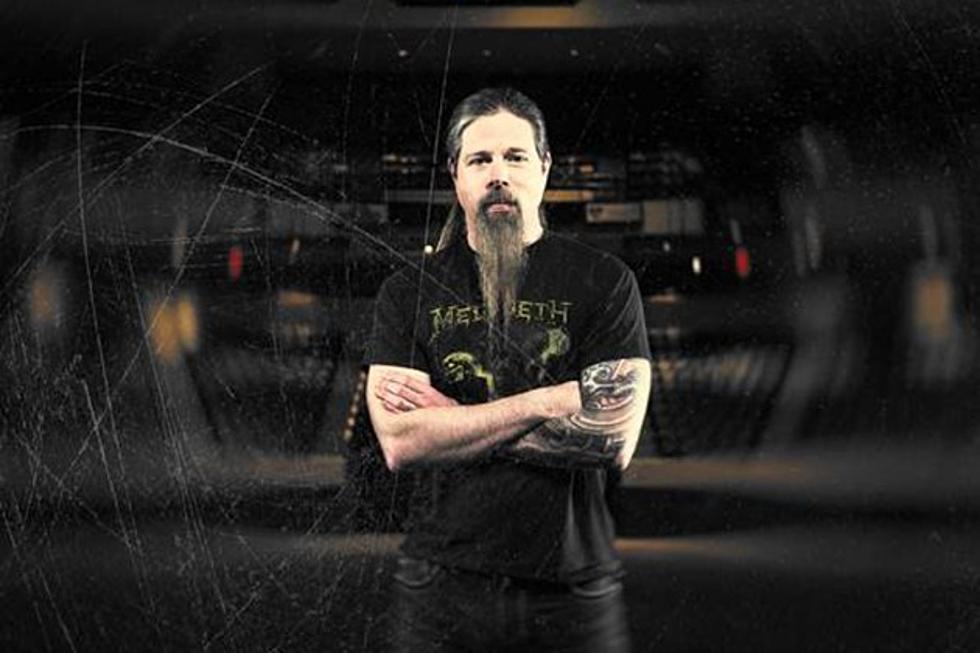 Drummer Chris Adler on Megadeth: 'The Goal Here Is to Make the Very Best Thrash Album We Can'
Universal Music
Dave Mustaine comments, "Chris is a tremendous talent, and an amazing person. He is going to bring a new level of excitement and energy to Megadeth that the fans are going to lose their minds over. I have nothing but respect for my previous drummers, but this is going to absolutely KILL! Back in 1989, Megadeth originally worked as a three piece -- guitar, bass and drums -- when we laid down the framework to our Grammy-nominated platinum album Rust in Peace. I want to thank the other members of Lamb Of God for allowing this opportunity to take place for all of us in the metal community."
David Ellefson adds, "Chris has been an endearing friend to us in Megadeth for many years now, and he truly appreciates our music and its legacy. His drumming has forged such an innovative and ferocious path for metal music and I'm very proud that he is anchoring our rhythm section with us on this new album. I can clearly see a new dawn of 'utmost heaviness' unfolding in Megadeth's next chapter."
Chris Adler offers, "Megadeth was the game changer for me. Growing up, there was no other band that meant as much to my musical interest and direction. There is no doubt I would not be doing what I have been doing for the past three decades had I not stumbled across Killing Is My Business and the bible of all metal, Peace Sells, in my formative years."
"About 10 years ago, Lamb of God toured with Megadeth and I was able to share that story with Dave and David, and we have kept in touch ever since," adds Adler. "When Dave called me a while ago and asked if I was interested in making a thrash metal album with him, I felt like I must've been on a hidden camera show. I was trying to play it cool, but I was speechless other than 'YES!' Once I called my wife and my band guys to let everyone know, I had some time to really think about it and how I can best fit into this situation. I'm coming into this on fire. There is an incredible amount of respect, but the goal here is to make the very best thrash album we can. Together, I believe we can do something very special! Get ready for a very exciting chapter in the Megadeth legacy."
After offering several teases during the week, Megadeth officially confirmed Adler's participation this morning via a puzzle for fans to solve on their website. There was no word about guitarist Angra's Kiko Loureiro, who had also been rumored to be part of the recording. And given Mustaine's allusion to working as a three-piece outfit back in the Rust in Peace days, it currently looks as though they'll be recording with just the three members.
You Think You Know Megadeth?
See the Yearbook Photos of Dave Mustaine + Other Rockers