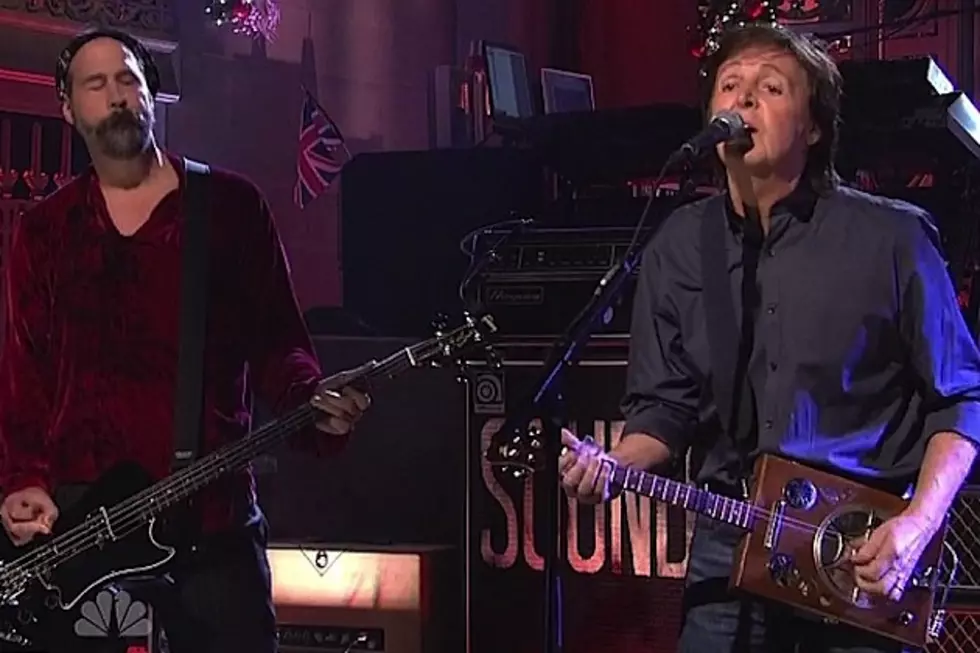 Nirvana's Krist Novoselic Recounts Entire Story Behind Paul McCartney Collaboration
Saturday Night Live
With all the excitement that's come from the surviving members of Nirvana writing and performing and recording an original song with Beatles icon Paul McCartney, there are a million questions about the musical collective's future. Will the spontaneous collaboration lead to more material? Will there be a tour? How exactly do you persuade Sir Paul McCartney to come jam in your basement? To list off the mental ramblings of Nirvana and Beatles fans would fill an encyclopedia, but bassist Krist Novoselic has got some inside info to share via his official blog.
Paul McCartney himself has told the tale of how he found himself in the middle of a "Nirvana reunion," but Novoselic has now documented his side of the story as a casual musician who was offered a once-in-a-lifetime opportunity.
"The collaboration came out of the Sound CIty film that was produced and directed by Dave," writes Novoselic. "He asked me if I wanted to play with him, Pat and Paul? I said YES! It was a wonderful day -- Paul came in with this cigar box guitar and started playing some mean slide on it. He said it was in a "D". Hearing that, Grunge instincts took over my left hand and I dropped the E on the bass to D. Pat and Dave got into it and the tune took shape. Paul flashed a riff and we picked it up. I busted another one out and everyone picked it up. Things started coming together."
Novoselic continues to recount the dream jam session, while offering his view on exactly what the track 'Cut Me Some Slack' represents for the future of the impromptu band. "It was so exciting to play with Paul," gushes the Nirvana bassist. "I became seized with thoughts, for I hadn't played like that with Pat or Dave since the last Nirvana show in 1994. Wow, it was emotionally and musically heavy! Some other things brought me back; there was a Lefty on guitar who was a heck of a songwriter. Anyway, words can't really describe it and I returned to the task at hand. A new song was born! And that's about it. That's all it is -- a new song by some players who have doing it for a while."
'Cut Me Some Slack' has been performed live twice by the group, debuting the track at the '12-12-12' Hurricane Sandy benefit, with an encore on 'Saturday Night Live' soon after … not bad for a band without a name. According to Novoselic in a separate blog post, although the project has been called many names, the bassist's personal favorite seems to be 'Sirvana,' which offers a nod to the Beatle legend's status as Sir Paul McCartney
Sirvana's sole original song is now available to purchase via iTunes.
Paul McCartney + Nirvana Members Perform at '12-12-12' Benefit