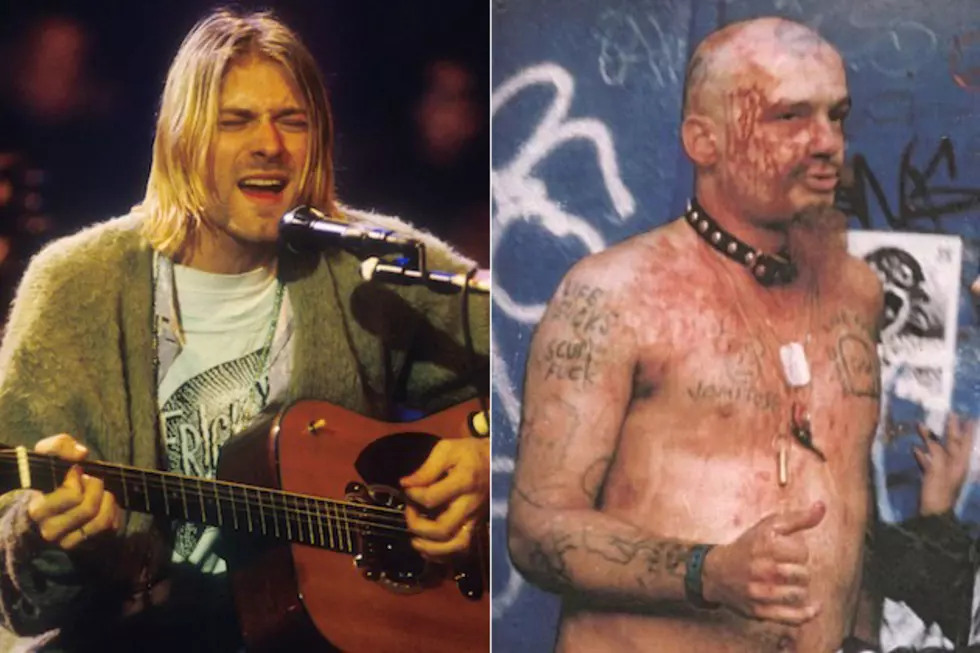 Nirvana's Kurt Cobain Visited GG Allin in Prison
Frank Micelotta, Getty Images / GGAllin.com
Update: GG's brother and bassist, Merle Allin, believes a meeting between Cobain, Roberts and GG never took place. "THIS IS TOTAL B.S. AND NEVER HAPPENED. DON'T BELIEVE EVERYTHING YOU READ. LAME HOW PEOPLE HAVE TO MAKE SHIT UP TO SELL A BOOK."
Just imagine this beautiful scene. In early 1990, Nirvana frontman Kurt Cobain visited deranged punk rocker GG Allin in prison. The entire story has been captured in a new book about the Flaming Lips, and the meeting between Cobain and Allin is too hilarious not to read.
Born Jesus Christ Allin, GG Allin was the self-professed 'King of the Underground.' His abrasive and offensive brand of punk rock brought him a notable following, as did his controversial live shows where Allin would regularly strip naked, cut himself, fight audience members and throw his own fecal matter at the crowd. GG died of an accidental heroin overdose in 1993, but his live performances have lived all over YouTube for years.
According to the book 'Staring at Sound: The True Story of Oklahoma's Fabulous Flaming Lips,' Kurt Cobain befriended Flaming Lips drummer Nathan Roberts while the two acts toured together. Roberts and the pre-'Nevermind' Cobain visited GG Allin after performing a 1990 show in Ann Arbor, Mich.
"After we told him who we were and that we were big fans, he proceeded to curse and spit at us and kept yelling that we were 'just a couple of Kansas City f--gots who want their d--ks sucked," says Roberts.
In a separate video interview with MTV filmed shortly after Allin's death, Kurt Cobain spoke about the late singer. "I was too afraid," Cobain said about never seeing GG in concert. "I could have went one time, I knew he was playing, but I just didn't get around to it. It would have been something."
The entire story of Kurt Cobain and Nathan Roberts meeting GG Allin is told in 'Staring at Sound: The True Story of Oklahoma's Fabulous Flaming Lips,' which is now available.
Nirvana Talk About GG Allin with MTV
You Think You Know Nirvana?