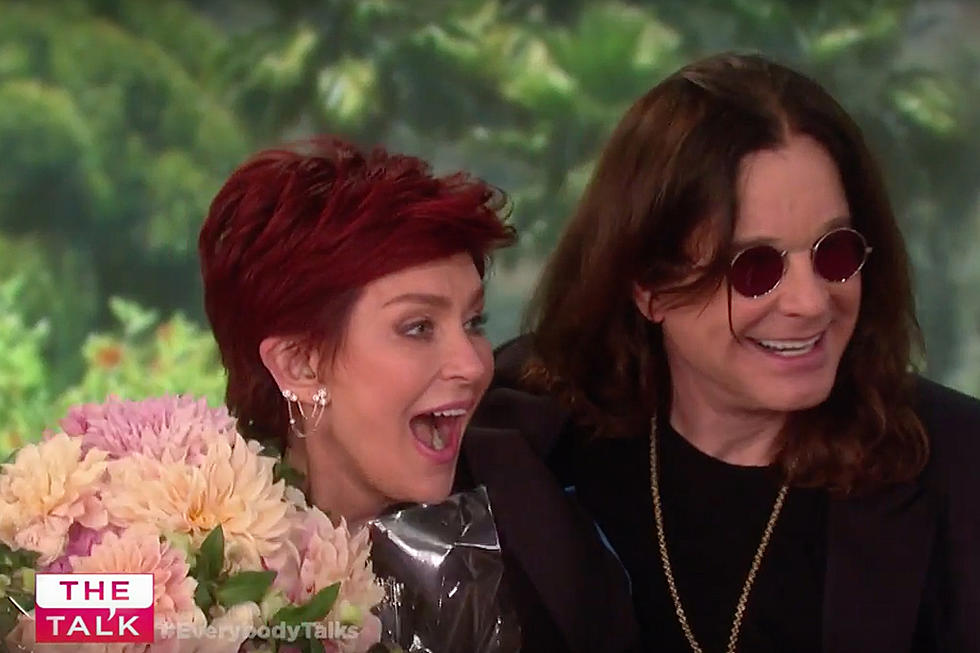 Ozzy Osbourne Woos Sharon Osbourne on 'The Talk'; Has Vitamin Removed From Lung
YouTube: The Talk
Ozzy Osbourne pulled a birthday surprise on his wife Sharon while she was filming her daytime show The Talk. As can be seen in the video below, Sharon is in the middle of speaking with the panel when the sound of Ozzy's "All aboard" from "Crazy Train" rang out in the studio. A surprised Sharon looks up to see Ozzy peering around the corner with flowers. The couple have a little public display of affection, before Ozzy takes a seat and surprises Sharon once again with a ring box.
The gesture comes after a tumultuous year for the couple. Earlier this year, it was revealed that Sharon had booted Ozzy out of the house over his infidelity outside of their marriage. While most of the attention was centered on hair stylist Michelle Pugh, Ozzy later revealed in a public apology that he had been dealing with sex addiction and Sharon Osbourne confirmed that he had cheated with five different women in five different countries. By July, it was revealed that the couple had been working on their marriage and that Ozzy had sought counseling and felt that their marriage was "back on track."
In other Osbourne news, the rocker recently was hospitalized for a rather unique situation. According to Osbourne's son Jack, the rocker was recently admitted to a hospital in order to have a vitamin removed from his lung.
The younger Osbourne told Huffington Post U.K., "He was lying down on the couch, took a handful of vitamins and then he coughed. The pill shot into his lung, and we had to get him to the hospital to get it removed. It was a bit of a shock." Jack said the incident happened while he and his father were on the road shooting their Ozzy and Jack's World Detour show for The History Channel.
Ozzy Osbourne Albums Ranked
You Think You Know Ozzy Osbourne?
10 Greatest Ozzy Osbourne Quotes