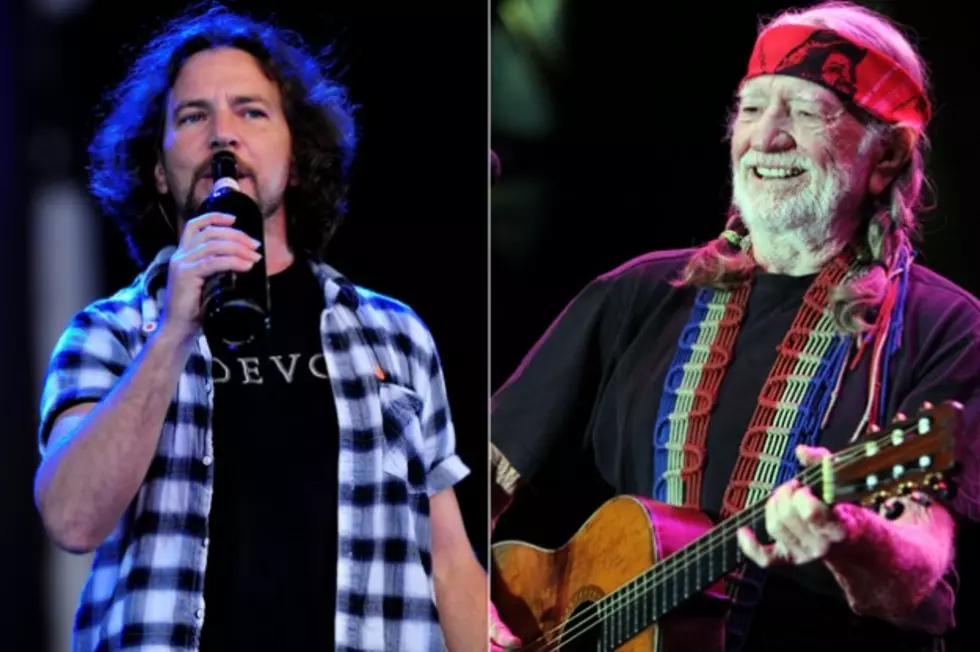 Pearl Jam's Eddie Vedder and Willie Nelson Talk 'Just Breathe' Cover and Donald 'Duck' Dunn
Eddie Vedder called up Willie Nelson to talk about his cover of Pearl Jam's 'Just Breathe,' as well as the recent loss of Booker T. and the MGs bassist Donald "Duck" Dunn -- hear the conversation and see Nelson perform the PJ cover here.
It's not everyday that we cover Willie Nelson -- in fact, there's never a day where we've covered Willie Nelson. But when the respected country musician took on a cover from the Pearl Jam catalog, it was only a matter of time before it came to our desk. On his new album 'Heroes,' Willie does a rendition of 'Just Breathe' -- the heartfelt ballad originally from Pearl Jam's 2009 album 'Backspacer.'
While promoting the album on his SiriusXM channel 'Willie's Roadhouse,' Nelson received a call from none other than Eddie Vedder himself. Vedder called to express his excitement about Nelson taking on one of his songs, comparing the experience to "smoking a great joint without all the coughing or the smoke." He continued to tell Nelson how honored he was -- Vedder even referred to the cover as his own "best contribution to music so far."
After talking about being on the mend from a recent injury and his love of Tom Waits lyrics, Vedder brought up the recent loss of "Duck" Dunn, which Nelson had yet to be informed of. Eddie then recalled getting to know Dunn while touring with Neil Young in the earlier days of their career -- Booker T. and the MGs backed Young on his 1993 tour.
Vedder stayed on the line to hear a live cover of his own song (video below), Nelson would also later perform the track on 'Late Night With Jimmy Fallon.' 'Heroes' hit stores today (May 15) and is somewhere near the 63rd release from the 80-year old countryman. In addition to the PJ cover, the disc features appearances by Snoop Dogg, Sheryl Crow and others -- check out the album review at our partner site Taste of Country.
Eddie Vedder and Willie Nelson Talk 'Just Breathe'
Willie Nelson Performing 'Just Breathe' on Willie's Roadhouse