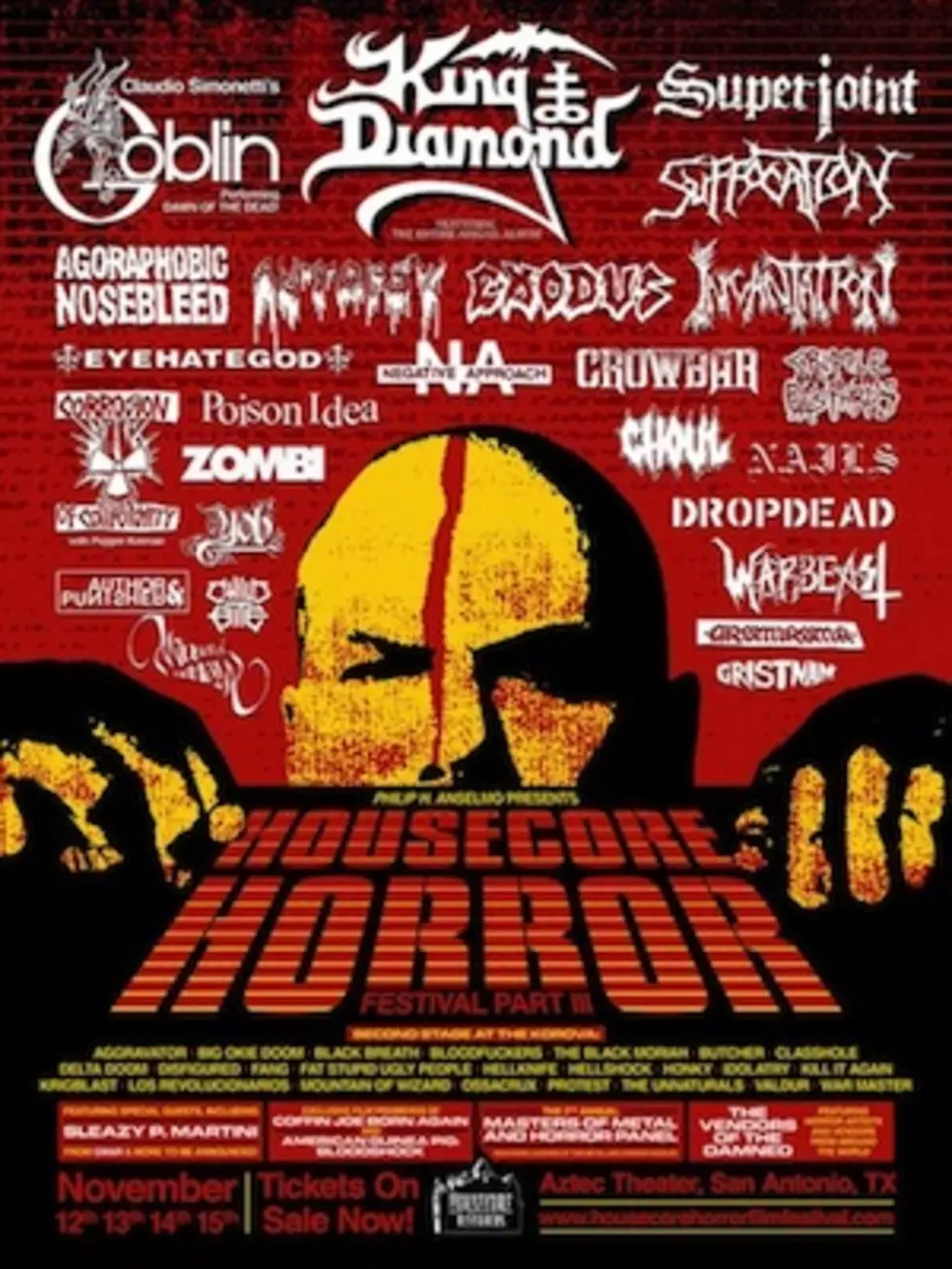 Philip Anselmo's 2015 Housecore Horror Festival Unveils Music and Film Lineup
Housecore
All of the details are in place as the third installment of the Housecore Horror Festival is set to take place from Nov. 13 to Nov. 15 in San Antonio, Texas. The festival is hosted by Philip Anselmo and not only includes a stellar, three-day lineup of bands, but also has dozens of obscure horror films and a wealth of special guests in attendance!
To compliment the music, there will be screening rooms for all sorts of horror films, which were selected from a plethora of independent submissions from all around the world. Anselmo commented on this side of the festival, stating, "This may be our strongest film lineup yet. I can't wait for people to come and have their minds blown! We're screening some crazy s--t this year. And obviously we're showing [late Housecore Horror Fest co-founder] Corey [Mitchell]'s favorite movie as a tribute to him, Henry, Portrait of a Serial Killer. We're also trying out a VHS swap meet this year, which I'm looking forward to. And we're bringing back our late-night VHS Vomitorium, which will screen obscure VHS gems."
There will be three areas for movies: Grindhouse Room (featuring films hand-selected by Anselmo himself), Zombie Room (featuring world premiere's and edgy submissions) and the VHS Vomitorium and VHS Swap Meet (featuring rare and obscure VHS films and a place for collectors to swap tapes). Special guests include directors and actors for rounds of Q & A following the films along with an appearance from GWAR's on-and-off manager Sleazy P. Martini for a screening of Skullhedface with live commentary. See all of the films that will be screening here.
Check out the full lineup of bands for all four days of the Housecore Horror Festival:
Korova: Aggravator, Black Breath, The Black Moriah, Idolatry, Protest
Aztec Theatre: King Diamond (performing Abigail in its entirety), Superjoint, Exodus, Eyehategod, Warbeast, Child Bite
Korova: Bloodf--kers, Butcher, Fat Stupid Ugly People, Hellshock, Valdur
Aztec Theatre: Suffocation, Agoraphobic Nosebleed, Corrosion of Conformity, Negative Approach, Crowbar, Nails, Poison Idea, Dropdead, Cripple Bastards, Gasmiasma
Korova: Classhole, Disfigured, Fang, Kill it Again, Krigblast, Ossacrux, The Unnaturals, War Master
Aztec Theatre: Goblin (performing Dawn of the Dead score in its entirety), Autopsy, Incantation, Zombi, Yob, Ghoul, Author & Punisher, Gristnam, Muscle and Marrow
Korova: Big Okie Doom, Delta Doom, Hellknife, Honky, Los Revolucionarios, Mountain of Wizard
To purchase tickets visit the Housecore Horror Festival website.
21 Rock + Metal Acts Who are Always Ready for Halloween
10 Unforgettable Philip Anselmo Moments