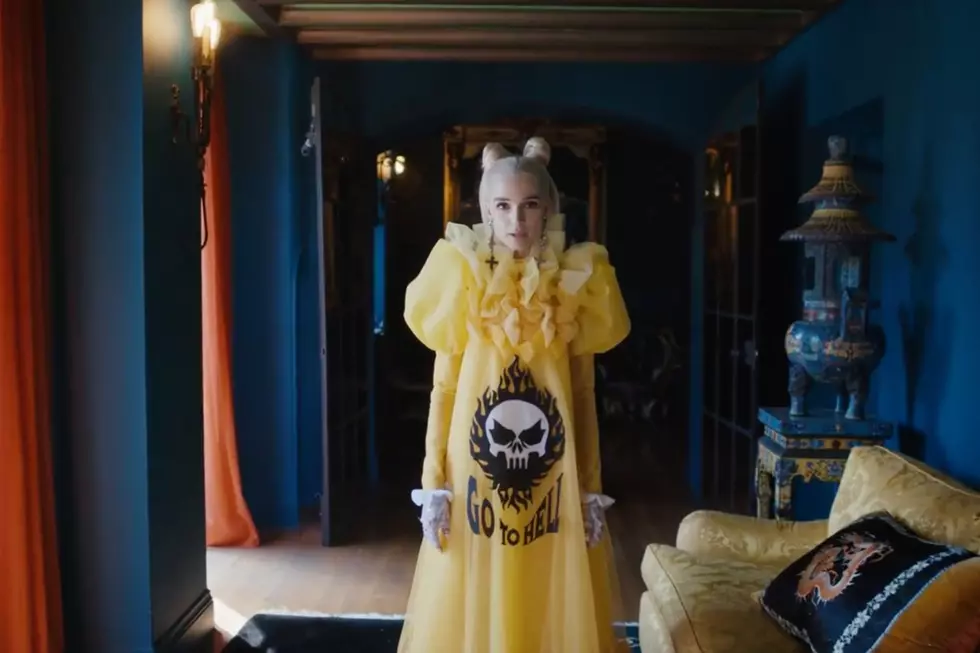 Rising Pop Star's New Song Brutally Heavy, Features Fever 333
YouTube: Poppy
We've seen a number of artists in recent years lean more to the pop side to get more commercial acceptance, but might a pop star be broadening her horizons by embracing her heavy side?
Poppy has enjoyed a mysterious rise in fame over the last few years, starting off as a YouTube sensation with a knack for bizarre pop songs. Since her arrival, she's also been part of a shoe marketing campaign and has continued to build her cachet through short performance art videos. But more recently she's been adding rock elements into her music, and with her new video for "Scary Mask," she may be turning a corner musically by welcoming Fever 333 for some true chaotic heaviness.
"I wear my scary mask when I'm afraid I don't belong," sings the vocalist softly in the song, but a jarring, aggressive musical turn soon follows with sludgy guitars and guttural screams blasting aloud. The odd contrast of the angelic vocals with Korn-like riffage makes for an interesting transition for the musician, who refused to be painted into a corner.
This isn't her first foray into heavy music. Recent releases "Play Destroy," a collaboration with Grimes, and "X" both show the artist incorporating elements of rock and metal into her music. You can check out both of those below, too.
If you like what you hear in the player below, "Scary Mask" can be downloaded or streamed right here. Her Genesis 1 album is expected in July, while the song could also be part of building her image, with a Genesis 1 graphic novel also en route. Written by Poppy with director Titanic Sinclair and Ryan Cady and drawn by Masa Minoura and Ian McGinty, the Genesis 1 graphic novel explores Poppy's origin story. "Is she a girl? Is she a machine? Is she humanity's redemption, or its damnation? Don't be scared — either way, she is Poppy...and you love Poppy," it states in the description. Pre-orders for the graphic novel are available here.
To keep up to date with Poppy, check out her website for tour dates and more info.
Poppy Featuring Fever 333, "Scary Mask"
Bands Who Sound Nothing Like Their First Album