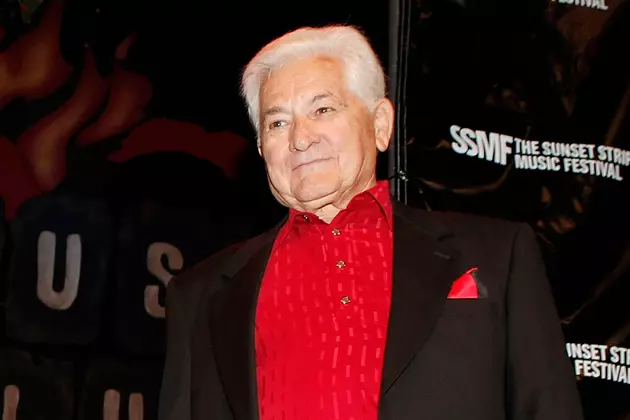 Rainbow Bar & Grill + Whisky-a-Go-Go Owner Mario Maglieri Dead at 93
Kevin Winter, Getty Images
The music world is mourning the loss of Mario Mikeal Maglieri, a key figure in the development on Los Angeles' Sunset Strip music scene. Maglieri started the Los Angeles nightclubs the Whisky-a-Go-Go and The Roxy, while also owning The Rainbow Bar and Grill, which became a popular hangout for many of the rockers playing the local clubs.
Maglieri was born in Seppino, Italy, and came to the U.S. at a young age, getting his start by running restaurants and clubs in Chicago. He eventually moved to Los Angeles where he built up his cache on the Sunset Strip. Maglieri began running the Whisky in 1966, and in 1972, he, along with Elmer Valentine and Lou Adler, purchased the Villa Nova restaurant and renamed it the Rainbow in tribute to Judy Garland, whose husband had previously owned the establishment.
As the years passed, he became close with many rockers and who came to the Sunset Strip with hopes of being discovered, as evidenced by the wealth of memorabilia and photos that line the walls of the Rainbow. The Rainbow in particular became a favorite hang with the "Hollywood Vampires" taking up residence there in the '70s, the Sunset Strip hair metal scene thriving there in the '80s and Motorhead's Lemmy Kilmister often being found there playing his favorite video machine at the bar. To this day, the Rainbow remains a popular Hollywood hang.
Over time, many began to refer to Maglieri as the "King of the Sunset Strip." The elder Maglieri kept the Whisky and Rainbow in the family, with his son Mikeal now running both establishments. Along with Mikeal, Maglieri is survived by his wife Scarlett and grandchildren Mikeal, Cheryl and Gina.
Mario Maglieri passed away May 4 at the age of 93, and the tributes have been rolling in. The Whisky marquee paid tribute shortly after his passing, while rockers like Slash, Matt Sorum and Sebastian Bach offered their thoughts via social media. Check out some of the postings below.
A public memorial service for Mario Maglieri will be held at the Rainbow Bar and Grill on Sunday, May 28 at 1PM PT.
Rockers We've Lost in 2017