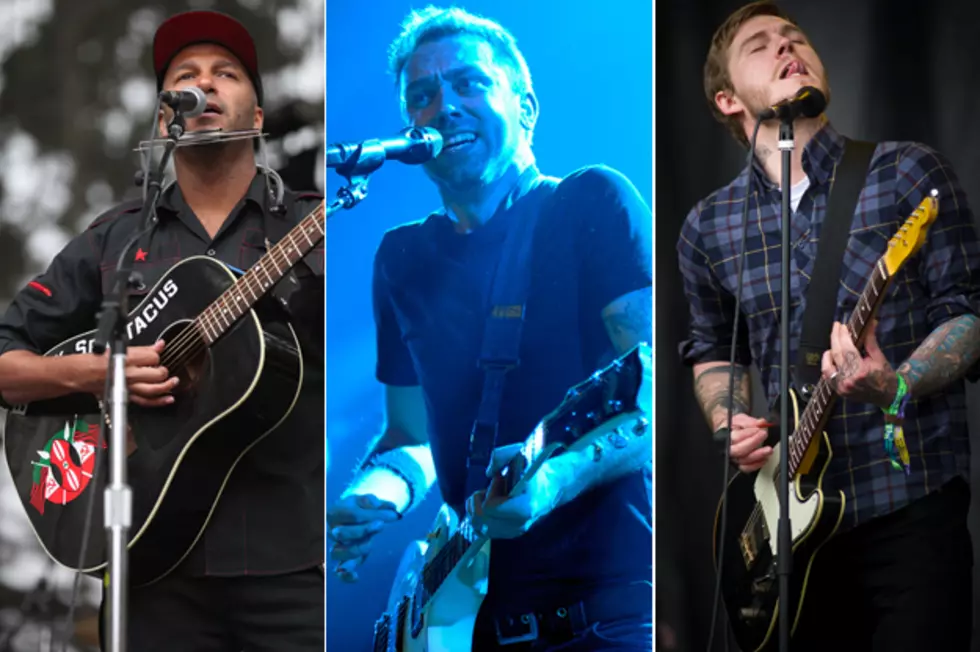 Rise Against Joined Onstage by Tom Morello + Members of Gaslight Anthem and MC5 in Anaheim
Trixie Textor / Ethan Miller / Ian Gavan, Getty Images
Rise Against got a little help from a couple of friends for a star-studded rendition of the Bruce Springsteen song 'The Ghost of Tom Joad' in Anaheim, Calif., on Saturday night (Sept. 29).
Tom Morello, who has spent a good portion of the summer turning up at Springsteen concerts to perform his guitar mastery on the track, was one of the guests. Morello's band, Rage Against the Machine, also recorded their own version of the song.
Morello and Rise Against vocalist Tim McIlrath have found a lot of common musical and political ground in recent years. Rise Against played Rage Against the Machine's L.A. Rising event last year, and both musicians have spent plenty of time rallying on behalf of unions at events in Wisconsin and immigrant rights in Arizona. Morello and McIlrath also recently appeared on Occupy movement theme song 'We Are the 99 Percent.'
Also joining in for the powerful performance were Gaslight Anthem singer Brian Fallon and MC5's Wayne Kramer. Gaslight Anthem has spent a fair amount of time touring with Rise Against this year, and are currently opening the band's North American trek along with Hot Water Music.
There are a handful of North American dates left this month before the band heads to South America in November for three shows.
Rise Against, Tom Morello + More Perform 'The Ghost of Tom Joad'