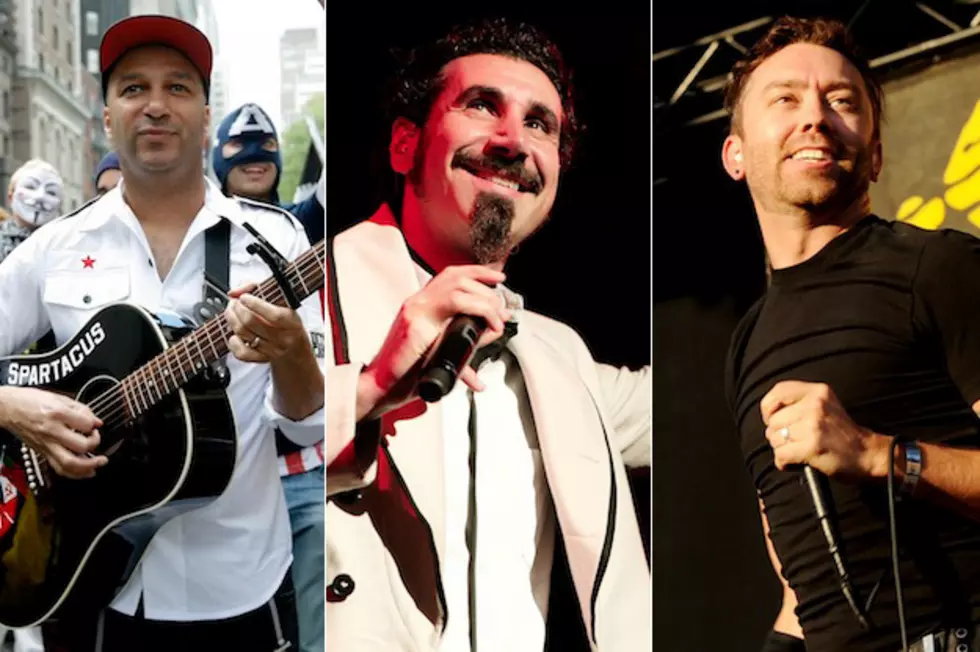 Tom Morello, Serj Tankian + Tim McIlrath Release Pro-'Occupy' Song 'We Are the 99 Percent'
Monika Graff / Kevin Winter (2), Getty Images
Rage Against the Machine guitarist Tom Morello, System of a Down singer Serj Tankian and Rise Against frontman Tim McIlrath have joined forces to create an unofficial anthem for the Occupy Wall Street movement. Morello recently performed a free show to mark the one-year anniversary of Occupy and to help "re-energize" the political faction.
Perhaps the most vocal celebrity supporter for Occupy after its members converged on New York City's Zuccotti Park last year, Morello felt inspired to create an anthem for the movement, which has now taken form in the song 'We Are the 99 Percent.' Slightly similar to Ministry's pro-Occupy song, '99 Percenters,' the song's backbone is in its refrain, which also features field recordings of Occupy protesters from Zuccotti Park and Liberty Square.
"It's our gift to the movement," Morello tells Rolling Stone about the new song. "I wanted to do a huge riff-rock anthem. It would feel like the excitement of the global Occupy Wall Street movement."
Morello goes on to speak about what he views as Occupy's biggest strengths. He cites the movement's ability to "inject into the global dialogue the horrific economic inequality that plagues the planet." He also believes that Occupy has exposed the "grotesque global poverty and the growing inequality in our country." Morello adds concerning Mitt Romney's presidential run, "When is the last time when a Republican candidate for president has had hit feet held to the fire because he's too rich?"
Check out Tom Morello, Serj Tankian and Tim McIlrath on 'We Are the 99 Percent,' which officially premiered today on RollingStone.com: