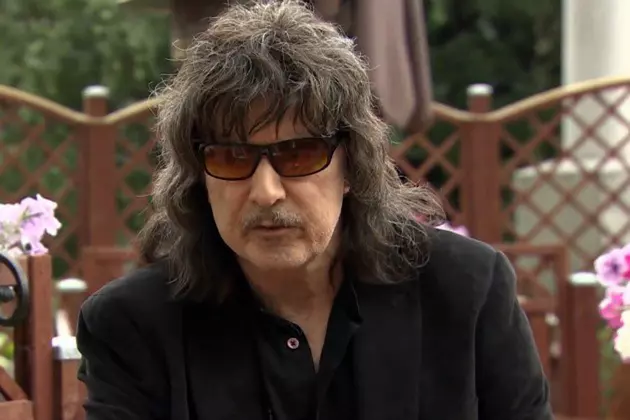 Ritchie Blackmore Says He's Open to a Final Deep Purple Reunion Show
YouTube
Ritchie Blackmore was not in attendance when Deep Purple entered the Rock and Roll Hall of Fame, but he has expressed interest in a final reunion show with the band, though it seems unlikely given the band's response.
Blackmore just told the Rock N Roll Reporter, (as translated by Blabbermouth) that he was open to a one-off show with his old bandmates. "I think if they would be interested and our schedules aligned, I would be available for one show—for nostalgic reasons—but I don't think Deep Purple have any interest in that," says Blackmore. He went on to explain that he didn't think their management would allow it though.
Deep Purple drummer Ian Paice recently told The Rock Brigade podcast that a final show wouldn't be purposeful. "We have a wonderful feeling within the band, everybody's friendly, and all we have to do is go onstage and make the music; there are no other considerations to worry about. I think Ritchie's life doesn't work like that. I think it's a little more complex. At this stage in my life, I don't need cloudy areas. I like it to be crystal clear and know that it's going to be fun. I love Ritchie to death, but I can't guarantee every day with him is going to be fun."
Last year, Blackmore did not attend Deep Purple's induction ceremony to the Rock and Roll Hall of Fame. Despite his absence, he received plenty of props from his former bandmates during their speeches. Metallica's Lars Ulrich was also on hand to induct the band and he praised Blackmore "for one of the most memorable guitar riffs of all time" with "Smoke on the Water."
Blackmore later posted on his Facebook page, "I have my reason for not attending the Rock and Roll Hall of Fame induction ceremony, although I appreciate the award." The official statement on his reason for not attending elaborates on that reason.
So it seems, as much as fans would love it and Blackmore says he is open to the possibility, it is unlikely they will do a show together again; but never say never!
See Deep Purple in the 10 Greatest Songs Over 10 Minutes Long