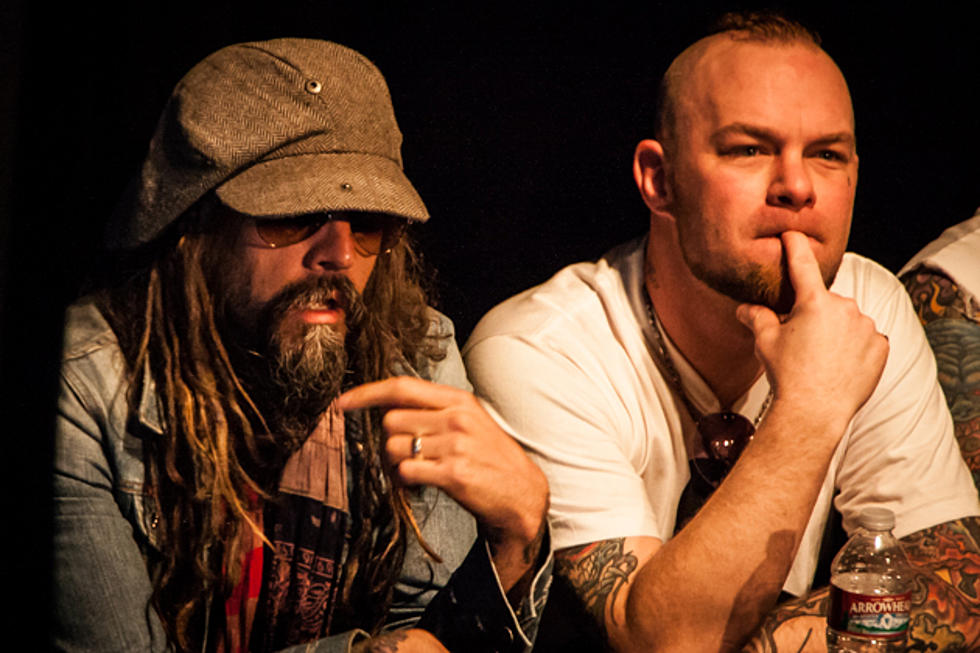 Rob Zombie, Five Finger Death Punch, Huntress + Butcher Babies Rock 2013 Mayhem Fest Press Event
Kathy Flynn, WickedGoddessPhotography.com
The 2013 Mayhem Festival may not arrive until late June, but four of the bands on the bill gave a great taste of what's to come at the Mayhem Festival press conference Monday (March 18) in Los Angeles. Headliners Rob Zombie and Five Finger Death Punch fielded questions, while up-and-coming acts Huntress and Butcher Babies took over the Whisky-a-Go-Go for an in-your-face performance.
The event began with part of West Hollywood's highly traveled Sunset Boulevard being blocked off for the arrivals of Five Finger Death Punch and members of Zombie's band, who were escorted to the venue in pure rock and roll style by vintage motorcycles with carriages attached. After host Jose Mangin introduced this year's lineup, which also includes Mastodon, Children of Bodom, Machine Head + more, the members of Five Finger Death Punch and Zombie's band were brought to the stage and video teasers for both acts were shown, as well as a trailer for Zombie's 'The Lords of Salem' movie.
A few interesting nuggets came from the press conference. Rob Zombie guitarist John 5 revealed he was halfway finished with his new studio album, but added that working on Zombie's 'The Lords of Salem' soundtrack was "one of the greatest experiences" of his life. Likewise, Five Finger Death Punch gave an album update. Frontman Ivan Moody revealed, "We're halfway done with it. Everything comes in its own time and we're not rushing anything. We're just happy to be part of this, and when the album's done, you will hear about it."
There were a few moments of humor courtesy of Zombie. When asked about how this year's Mayhem could possibly be bigger of different than his own show, Zombie revealed, "We'll just add more stuff … We'll just do a lot of crazy s--- and it'll be fun. Most of the people will be passed out by 10AM in the parking lot and it won't matter but we'll do something different."
When another reporter asked about John 5's past work with kids' music programs, the guitarist explained, "That's what it's all about is educating these kids and getting them instruments so they can do what we do and it's very important." However, Zombie followed with, "I would like to disagree with what John 5 just said. We're not getting any younger and we really don't need the competition, so if you would all just put your instruments down and back away from the guitars and drums, we would thank you very much."
As for the entertainment, Huntress were definitely on during their set. Frontwoman Jill Janus commanded the stage as the band's duel-guitar attack rocked furiously through a brief performance that included such standouts as the new song 'Blood Sister' from their forthcoming album due this summer and the set closer 'Eight of Swords.' Janus' enjoyed a few playful moments during the set, reaching to silence drummer Carl Wierzbicky's cymbals after each swing of his arm during one of the tracks.
Butcher Babies, fresh off their stint with Marilyn Manson, left a mark on their hometown crowd. Co-vocalists Heidi Shepherd and Carla Harvey worked in perfect unison delivering a heavy set filled with plenty of headbanging hair-flips, sex appeal and in-your-face aggression. They led the audience through such favorites as 'Jesus Needs More Babies for His War Machine' and the sing-along 'There's Blood Everywhere.' With their raucous performance reaching its furious end, Shepherd decided to get in on what the audience was offering and hopped into the mosh pit before security helped her back to the stage.
Check out our photo gallery from the 2013 Mayhem Festival press conference below:
Rob Zombie + Five Finger Death Punch Mayhem Arrivals + Press Conference
Watch Video Footage of the 2013 Mayhem Press Event