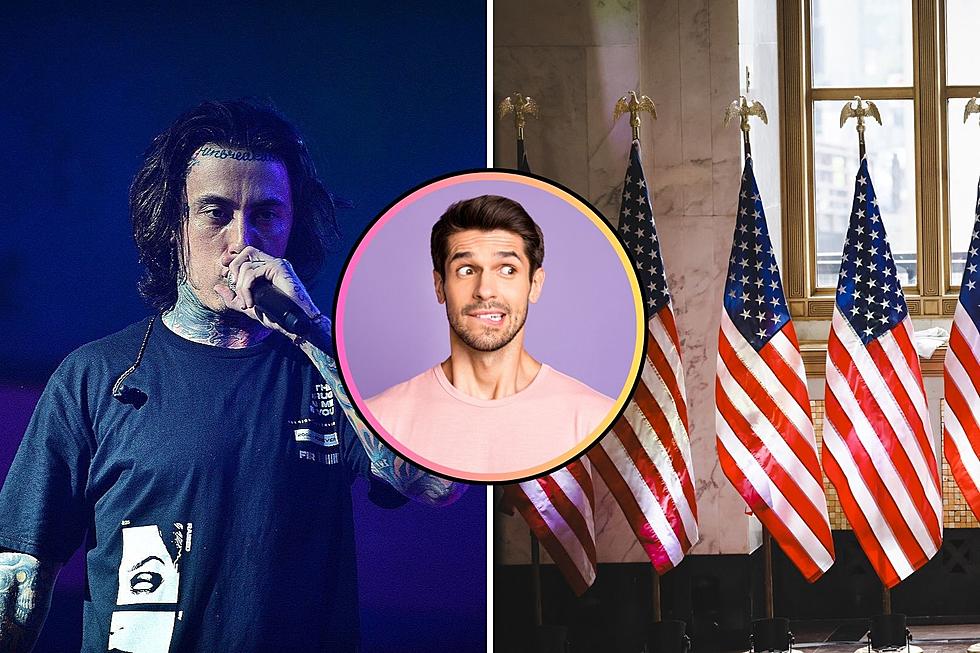 Ronnie Radke Goes Off About Pronouns + American Freedoms, Fans Respond
Johnny Louis, Getty Images / Taylor Glascock/Bloomberg via Getty Images / Deagreez, iStock/Getty Images Plus
Falling in Reverse frontman Ronnie Radke is never one to mince words or hide his feelings, no matter how combative and contentious they may be. Over the weekend, for example, he's taken to X (formerly Twitter) to share some strong thoughts regarding pronouns, "trigger words" and American freedoms and rights.
From what we can tell, it all started yesterday (Oct. 14), when Radke posted about how "the dawn of individualism in Rock is back," citing artists such as Sleep Token, Bad Omens and Jeris Johnson as proof. Humbly, Jeris answered, "you forgot to name yourself," to which another user stated: "Jeris I like u man but pls don't support this transphobic asshole."
It didn't take long before people began arguing with and criticizing them for their views, as well as for including the following in their profile: "INFP-Omnisexual-Demiboy-Ashkenazi Jew-Horror Junkie-Council☭Communist/Leftist Unity-Scream and drum in bands."
Later that day, Radke shared an image of their profile, commenting: "You literally have a mental illness." Since then, Radke's tweet has generally received positive feedback, including one person who declared: "Ronnie, you're the man. I love that you stand up to this nonsense. Keep doing what you do!"
About 40 minutes later, Radke quoted and responded to another tweet from the original person: "'My existence means everything to you and yours means nothing to me, now call me by the correct gender that I feel that day or I will add another mental illness to my bio in hopes to be vindicated by strangers on the internet' spoken like a true narcissist."
READ MORE: L.A. Guns Make Fun of Laptops Onstage, Get Blasted by Ronnie Radke - 'You Need Your Adult Diapers Changed'
Earlier today (Oct. 15), Radke continued to fire back with two more tweets:
So tired of people complaining about their gender, capitalism, being offended by trigger words, not being able to tell 2nd graders they're non binary, calling everyone bigots and transphobic, this is AMERICA, you should be grateful that you're even allowed to talk like this without losing your fucking head. complaining about how bad you have it in America is insane when anywhere else you go in the world they'd either laugh at you or kill you. I'm proud to be an American, as I tour the country and realize that I ain't getting bombs dropped on me.

Let's be honest, go to any other country in the world and try to tell someone your pronouns, Mexico for example, they'd look at you like a fucking idiot, I promise you like these people trying to survive and you over here trying to force people to address your correct pronouns. Fucking embarrassing. take your pro nouns out of your bio I promise you it's not what you think it looks like. or matter of fact, keep pronouns in your bio so I know who to stay away from.
So far, he's mostly garnered support from his followers.
For instance, someone said, "Louder for those in the back!" and another person reflected: "There's people watching rockets be intercepted over head and bombs level city blocks in other countries. We are the luckiest people on earth." Plus, one fan added: "Truth. Granted, of course, there are definitely things that our country needs to work on.. but we are still very very blessed to have what we have."
Unsurprisingly, Radke's thoughts received pushback, too.
One person observed: "Funny, you're tiggered on the internet about people being triggered on the internet. Congrats." Elsewhere, someone argued: "Um Ron..... Transgender people are in every country and all types of races. Some places don't allow it. But they exist. Way back before any of us were born."
Yet another user expressed: "Bro just shut the fuck up stop trying to stay relevant by shitting on people for no reason. Completely unnecessary. Most if not all trans people I've encountered in my life don't force anything on you and you're exaggerating to the point of pure embarrassment."
It's worth mentioning that Radke has been on the offensive a lot lately. Earlier in October, for instance, he condemned hair metal legends L.A. Guns for using laptops to assist with their concerts. In addition, last month, Radke accused Motionless in White of stealing from Falling in Reverse by copying Falling in Reverse's "Popular Monster" snippet for their "Werewolf" video.
If you are interested in learning more about how you can be an ally when discussing transgender people there are many resources online to educate yourself, including GLAAD.
30 LGBTQIA+ Icons in Rock + Metal
These are some of the LGBTQIA+ icons of the rock and metal world.
Gallery Credit: Lauryn Schaffner