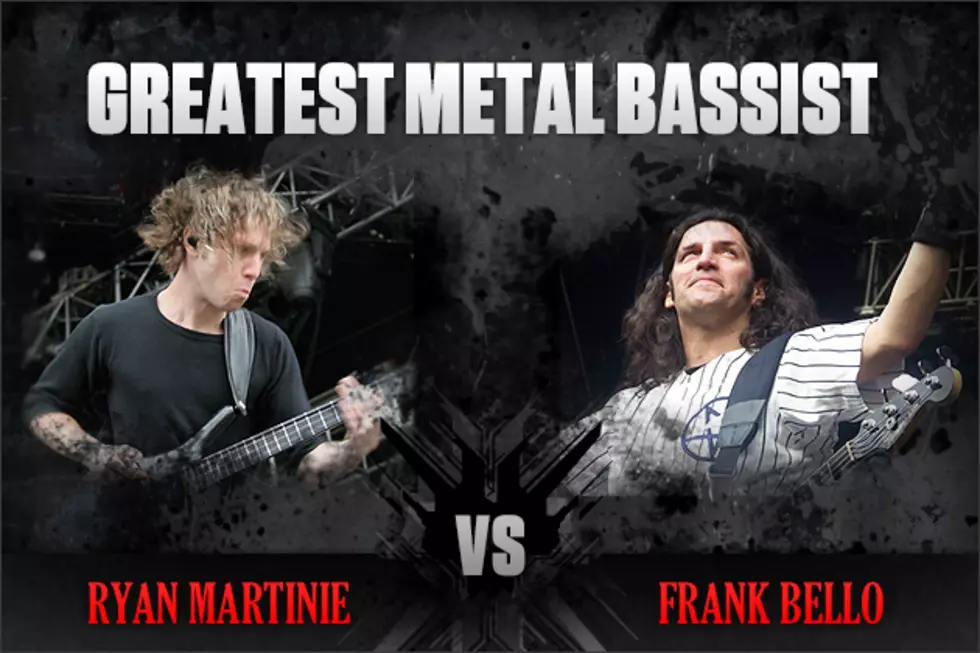 Ryan Martinie vs. Frank Bello – Greatest Metal Bassist, Round 1
Dave Etheridge-Barnes, Getty Images / Liz Ramanand, Loudwire
Ryan Martinie of Mudvayne is one of metal's most underrated bassists. He imposes his will on the band's music, displaying a circus of techniques including lightning fast finger-picking, slapping, a unique tapping style, flicks, and even flamenco. His bass playing is an undoubtedly signature sound on Mudvayne's music and his virtuosity shines among his peers.
Anthrax's staccato riffing style is given nice balance through Frank Bello's bass playing. With the frantic palm-muted guitar attack, Bello's bass lines come through crystal clear and punchy and the fills highlight a bit of melody. He also has a great sense of groove on songs like 'Caught in a Mosh,' really driving home the theme of the song with its fun and bouncy nature. Aside from a one year absence to play with Helmet, Bello has been a mainstay in Anthrax since joining in 1984 and has helped the band define their take on thrash.
Ryan Martinie or Frank Bello? Cast your vote for the Greatest Metal Bassist in the poll below! Voting for this round closes on Sunday, Sept. 29 at 11:59PM ET. Fans can vote once per hour, so keep coming back to make sure that your favorite metal musician wins!