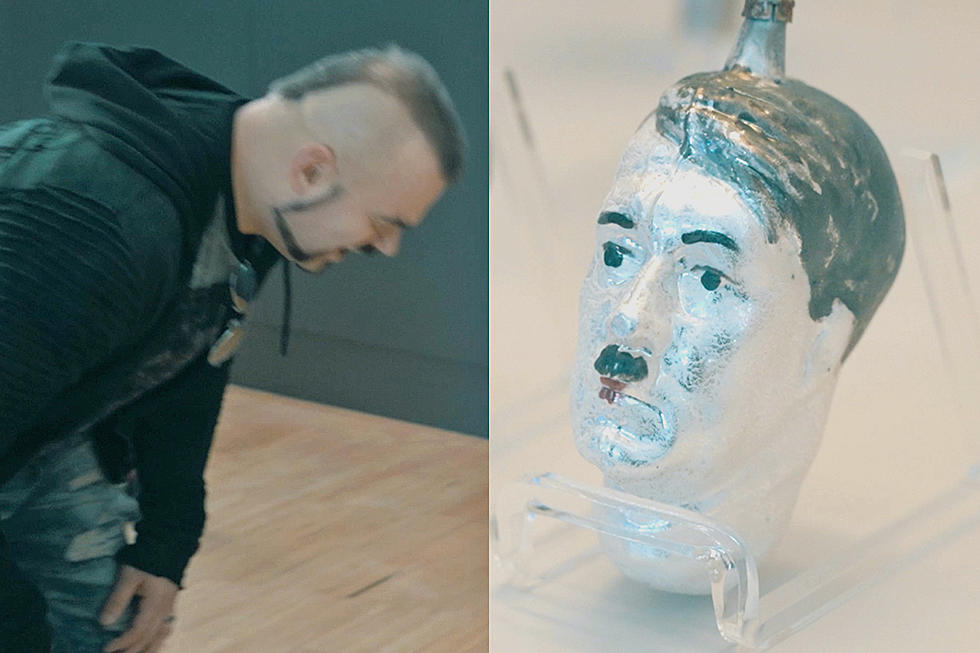 Sabaton React to Historic Nazi Christmas Ornaments
Loudwire / Royal Museum of the Armed Forces and Military History
How did Sabaton react when they ran into authentic Nazi Christmas ornaments? They laughed, of course.
Inside the grand halls of the Royal Museum of the Armed Forces and Military History in Brussels, Belgium, relics from World War One and World War Two tell the story of our planet's greatest conflicts. We recently toured the museum with Sabaton to discuss their new album, The War to End All Wars, and the biggest surprise was encased at the very top floor.
Believe it or not, in the 1930s, Germans hung ornaments of Hitler's head on their Christmas trees. They also celebrated the holiday with ornamental balls featuring swastikas, the SS logo, the Luftwaffe eagle, and the words "Sieg Heil."
"That's the most f—ked up Christmas decorations I've seen!" Sabaton vocalist Joakim Brodén said as he first saw the ornaments. "I don't know if I should laugh or cry about it."
Bassist Pär Sundström added some context as he said, "If you were living in Germany in 1939 [pre-World War II] it probably wasn't so wrong."
"The one thing we learn is it's easier to sit 50 years or 100 years later and judge people and what they did, without having the knowledge of what it would lead to," Brodén adds. "They couldn't check facts on YouTube. In many cases, the population would only know what their government told them."
Sabaton React to Historic Nazi Christmas Ornaments
Watch the clip of Sabaton reacting above and click here to grab their new album, The War to End All Wars.
A List of 15 Times Rock Bands Were Featured on 'Jeopardy!'
Here's a list of 15 times rock bands were featured on the popular TV show 'Jeopardy!'.
10 More Times Rockers + Rock Bands Were Featured on 'Jeopardy!'
Knowing your rock 'n' roll history can seriously pay off. Here's a list of 10 times rockers and rock bands were featured on the famous TV show Jeopardy!.