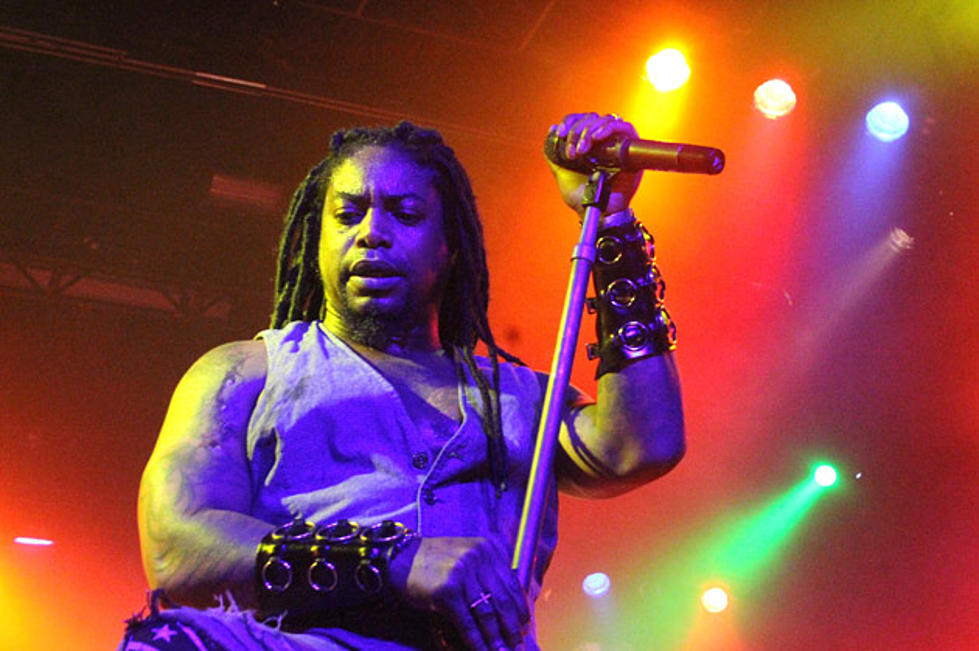 Sevendust, Coal Chamber + Lacuna Coil Perform Crushing Show in New York City
Liz Ramanand, Loudwire
New York City was rocked hard last night (April 17) at the Best Buy Theater in Times Square, as Sevendust's co-headlining tour with Coal Chamber rolled in with support from Lacuna Coil and Stolen Babies.
Sevendust began their vigorous with their lead single 'Decay' off of their new record 'Black Out the Sun' and they also played another new pummeling track, 'Til Death,' which fans seemed to dig, as well. For the die-hard fans, they rocked out to some Sevendust songs they might not have heard in a while, such as 'Rumblefish,' 'Waffle' and 'Pieces.'
Seeing the boys from down South rock out is truly an invigorating experience. Each member brings their own unique energy to the performance whether it's drummer Morgan Rose pounding away behind the skins, guitarist Clint Lowery screaming and singing to fans while shredding it up, bassist Vinnie Hornsby's hilarious faces and antics onstage, guitarist John Connolly's high jumps throughout the set or frontman Lajon Witherspoon making intimate eye contact with each fan and making each concertgoer feel like he or she is the only one in the room.
One interesting moment of the night was during 'Splinter' as some scantily dressed women came out and made an attempt to dance onstage. Although many members of Sevendust were pleasantly surprised and laughed off the unexpected situation, Witherspoon politely shooed them offstage and continued on with the performance as he laughed with his bandmates. After the song was over the vocalist addressed the crowd by saying, "New York sure knows how to party!"
The crowd definitely knew how to get down, as it was difficult to tell where mosh pits began and ended. The band also played favorites like 'B-tch,' 'Denial,' 'Black' and had everyone put their middle fingers up for their set-ending performance of 'Face to Face.'
Coal Chamber fans definitely had something to rejoice about with their vivacious performance, as frontman Dez Fafara and fans spat out 'Loco' with venom. Fafara always brings intensity when he hits the stage and this time it was a state of nostalgia for New York City fans as they sang along to infectious tracks that they haven't heard live in a while, including 'Rowboat,' 'I,' 'Something Told Me' and 'Dark Days.'.
The band's chemistry onstage was a sight to say along with the riffs of guitarist Miguel Rascon and the hypnotizing spins of bassist Chela Rhea Harper. The band's set ended with 'Sway' and confetti raining down fans as drummer Mike Cox leaped into the crowd after the set.
Italian metalers Lacuna Coil got some serious love from New York City as they performed their set, which featured new songs 'I Don't Believe In Tomorrow,' 'Kill The Light,' 'Upsidedown,' 'Intoxicated' and 'Trip the Darkness' from their latest 'Dark Adrenaline.' Even though this was a co-headlining trek between Sevendust and Coal Chamber, if you missed the far too short 30 minute set Lacuna Coil put on, then you missed an incredibly enjoyable part of the show.
Eclectic, avante-garde outfit Stolen Babies are touring continuously and always bring a unique concert experience when they come to town. The band is no stranger to New York City as they have played various venues all over Manhattan, but the large stage in Best Buy Theater is one of the few that can handle their inventive and imaginative performance.
For a full list of remaining dates where you can catch all of these incredible bands on tour together, as well as Sevendust's full intinerary, go here.
Check Out Photos of Sevendust, Coal Chamber, Lacuna Coil and Stolen Babies Performing in NYC:
Sevendust:
Coal Chamber:
Lacuna Coil:
Stolen Babies: