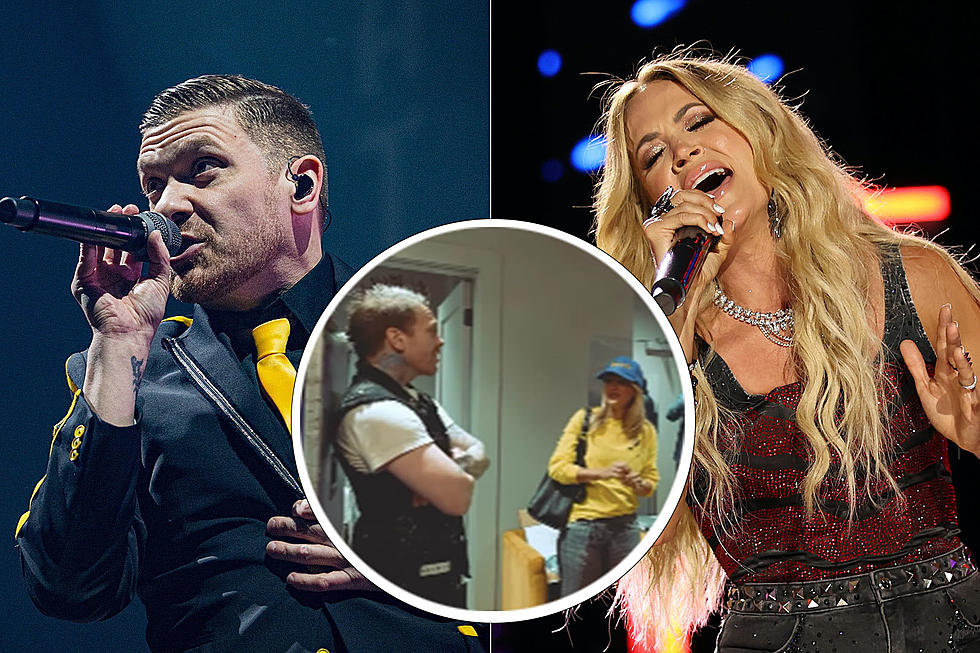 Shinedown's Brent Smith Shares Video 'Freaking Out' While Meeting Carrie Underwood
PYMCA, Getty Images / Jason Kempin, Getty Images / Instagram - @thebrentsmith / @sanjayparikhphoto
Carrie Underwood has stolen the hearts of yet another rock band when she went to see Papa Roach and Shinedown in Tennessee the other night (Oct. 3). Shinedown frontman Brent Smith shared a video on social media from the moment they got to meet the country star backstage, and admitted he was "freaking out."
Despite being a major part of the country realm, Underwood has expressed her admiration for rock 'n' roll throughout her entire career, covering countless hit rock songs during her performances, going to see bands such as I Prevail and Nothing More, opening for and performing with Guns N' Roses during their 2023 tour and even launching a station on SiriusXM that plays both country and rock.
Papa Roach and Shinedown played a show at the FirstBank Amphitheater in Franklin, Tenn. on Oct. 3, and Underwood posted clips of both performances on her Instagram stories. The next day, she shared black-and-white photos with both bands backstage, noting that she was "fangirling" in both.
Smith, however, posted a video on his Instagram of the moment Underwood came backstage to meet Shinedown with her husband Mike Fisher, adding that he had no idea they were coming to the concert at all.
"I held myself together pretty well, but inside I was freaking out with excitement," Smith wrote. "I have been a fan from the beginning, she is such a force of nature and such an incredible artist, and performer. It was such a huge honor to meet her in person. She is truly amazing."
Underwood can be seen sporting a yellow The Sound of Madness shirt in the clip, and she tells the band that she saw them live for the first time when she was in college. They'd been opening for Velvet Revolver at the time, and she recalled a funny story about the late Scott Weiland.
"By the way, we're happy to come out with you whenever you want us to, any day of the week. You name it, let's go," Smith told the singer.
See the video below.
READ MORE: 11 Rock + Country Artist Collaborations That Go Hard
Shinedown shared a clip from the video on their Instagram page, writing, "Shinedown x Carrie Underwood collab? We're here for it."
The rockers previously praised Underwood in the past, writing in 2019 that "She's a total badass and next level performer" on social media while the country star was touring in support of her album Cry Pretty. 
Shinedown's next show with Spiritbox and Papa Roach will take place tonight in Rogers, Arkansas. See the rest of the dates here.
25 Awesome Celebrity Metalheads