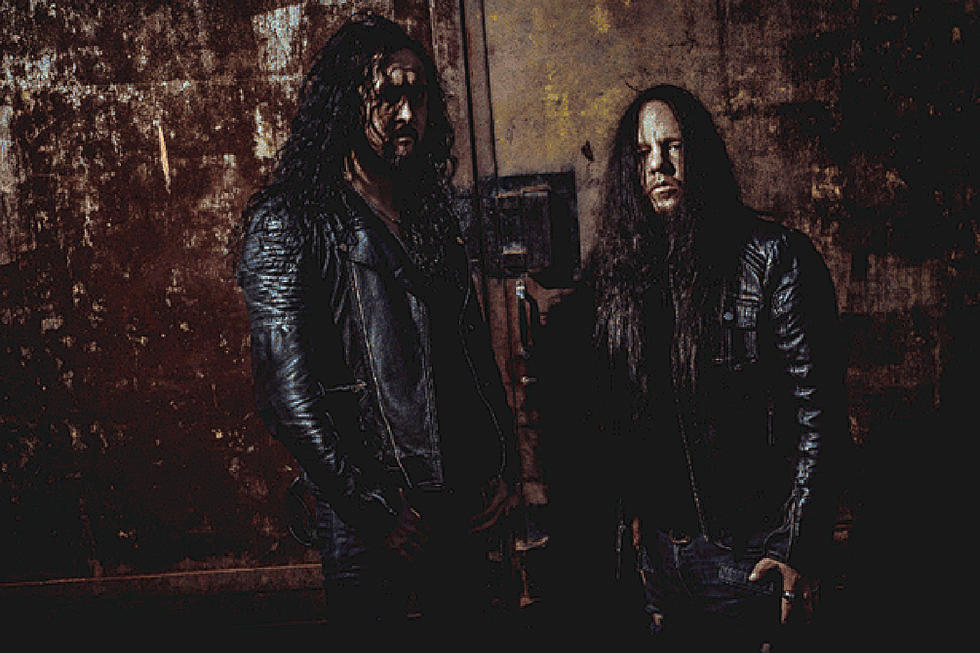 Sinsaenum Eye August for Sophomore Set, 'Repulsion for Humanity'
earMUSIC
Sinsaenum, the project that brought Joey Jordison and Frederic Leclercq together, will return for their second album this August. The band has revealed that their sophomore set will be titled Repulsion for Humanity and it's on target for an Aug. 10 street date via earMUSIC.
"It's radical, it's violent, it's angry — angrier," says Leclercq of the disc. "The new album is a continuation of Ashes. In terms of sound and style, we've added more influences to the mix. This album is 100 percent us — not aimed to please the masses, not following formulas, and not made to fit radio criteria. From the artwork (made by Travis Smith) to the lyrics to the music itself, there isn't an ounce of commercial compromise."
Joey Jordison adds, "In a way, Repulsion… almost feels like this is our first album because I had the opportunity to record my drum tracks in France with the band present this time. Them giving me ideas, and being able to construct the tracks together as a band, made for a killer foundation for the rest to build upon. This album is lethal, and the songwriting has evolved immensely."
"This is by far the heaviest, brutal, most amazing album I've ever been a part of," continues vocalist Sean Zatorsky. "The riffs are so fucking sick that they inspired me to vocally do things I have never been able to do but always wanted to — literally. I held nothing back because the music held nothing back."
In addition to Leclercq, Jordison and Zatorsky, the remainder of the band includes Stephane Buriez on guitars, Heimoth on bass and Attila Csihar on vocals. The group will set out on their first tour of Europe this September in support of the album. Dates for the run can be found here.
Joey Jordison Plays 'Wikipedia: Fact or Fiction'