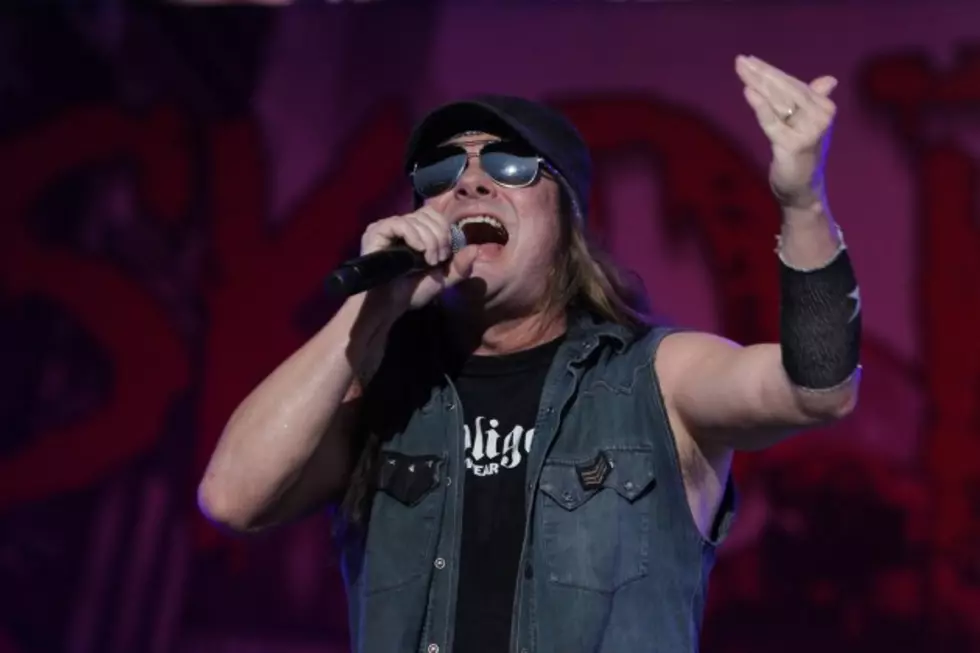 Skid Row Vocalist Johnny Solinger Ousted From Band, Replaced by Tony Harnell
Chung Sung-Jun, Getty Images
Update: Though Johnny Solinger posted that he was leaving to pursue a solo career, his now former bandmates are disputing that account, claiming that he was actually let go. According to Blabbermouth, Dave "Snake" Sabo and Rachel Bolan stated that it was them who "made the call and informed" Solinger of their plans to move forward with Tony Harnell as their new vocalist. They added that there was no animosity toward Solinger, but it had become evident that "everyone was going in a different direction, as far as him and the band."
Skid Row are undergoing a significant lineup change. Longtime vocalist Johnny Solinger (pictured above) revealed in a posting on Facebook that he was leaving the band to pursue a solo career. But faster than rumors can spread about a Sebastian Bach return, guitarist Dave "Snake" Sabo and bassist Rachel Bolan revealed their new vocalist during an appearance on the Eddie Trunk Live radio show.
First things first. After 15 years as frontman of Skid Row, Solinger revealed his exit. That period included the release of the full-length albums Thickskin and Revolutions Per Minute, as well as the EPs United World Rebellion: Chapter One and Rise of the Damnation Army - United World Rebellion: Chapter Two. His statement on his exit can be read below.
I have decided to leave Skid Row to pursue my solo career. The past 15 years has been a great experience and I have appreciated the opportunity to be the lead singer in one of the most prominent bands of the 1990's and share stages with the likes of Aerosmith, Bon Jovi and KISS performing in front of millions throughout the world. I wish Skid Row the best of luck in their future pursuits. \m/
As for Solinger's replacement, it's former TNT frontman Tony Harnell. Dave "Snake" Sabo told Trunk, "[Rachel and I] have known Tony for a really, really long time and always have admired him as a singer and a front guy. He's a really good guy."
He added, "I think we all found ourselves kind of in a crossroads, so to speak -- at kind of like a -- pretty much serendipitous moment in our lives. And so the thought was in the back of our heads that, 'You know what? Maybe we should reach out to him.'"
Bolan then revealed that he had connected with Harnell around a year ago around Christmas and hit it off, so when the talk of Solinger leaving came up, Harnell was at the front of his mind.
"He just seemed like such a natural fit," says Bolan. "And we got in touch with him and he was way into it and we were way into it. We got together, we played some songs. It sounded great. We did some recording together, and it's just … it's like, wow! This is awesome. It just sounds so natural of a fit. And we're happy … we're happy to have him onboard."
When asked about the idea of reuniting with Bach, Sabo stated, ""It wasn't something that we entertained, to be quite honest. It's just something that, honestly, we didn't even think about." Both Sabo and Bolan spoke of their desire to do something new and their fondness for the idea of Harnell being the vocalist to lead them.
In a statement, Harnell spoke about his addition to the band. He states, "I'm so excited and honored to be a part of such a great band with an amazing legacy and legions of faithful fans! The guys and I have known each other for many years and this is such a natural fit. I look forward to getting out there and playing live together and being a part of making new music and creating our future together. It's time to rock!"
The group is expected to enter the studio this summer to record the third chapter of their United World Rebellion EP series. There will be tour dates on the horizon as well.