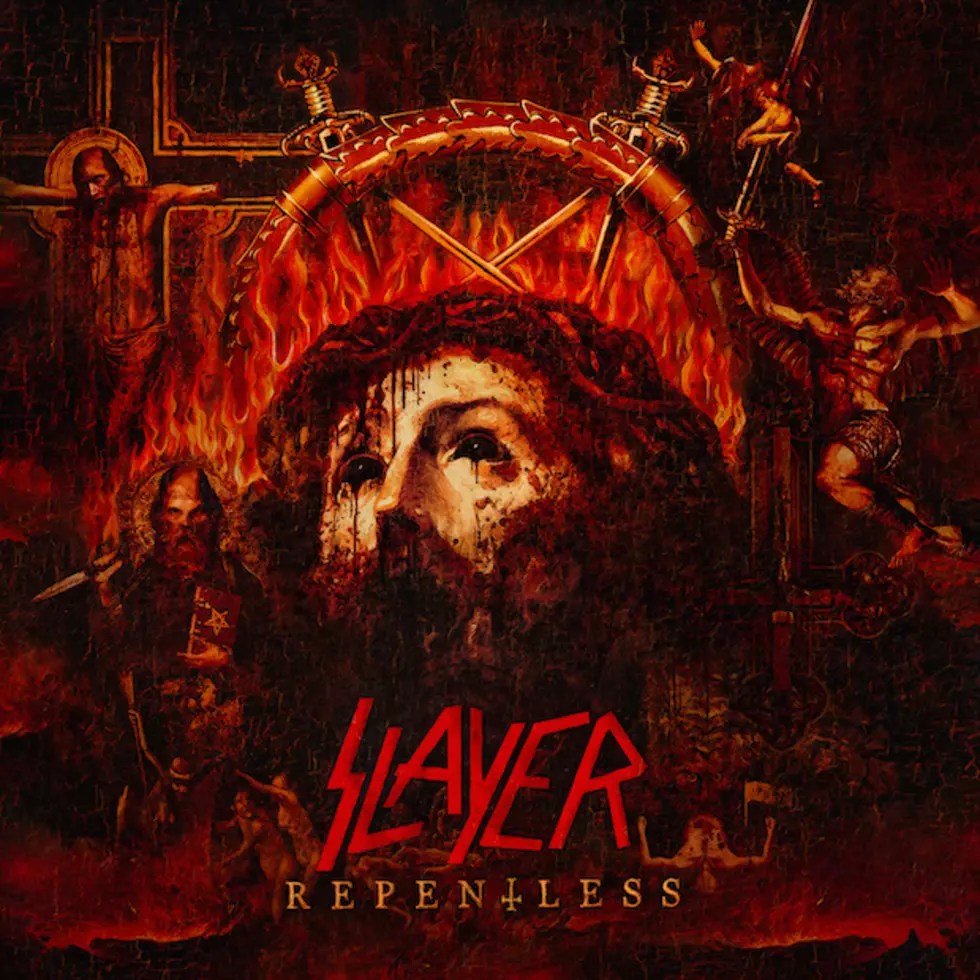 Slayer Unveil 'Repentless' Album Artwork
Nuclear Blast Records
Slayer have slowly been revealing various details about their latest album Repentlessover the past few weeks. They have now unveiled the cover artwork for the album, which is set for a Sept. 11 release.
The artwork (above) was created by Brazilian artist Marcelo Vasco in collaboration with Tom Araya and Kerry King. "We had a number of submitted ideas for the cover artwork," says Araya. "And we felt Marcelo's was the best. We made some suggestions and the result is an awesome album cover."
The band also announced that the album's title track, "Repentless," will be available on Friday (June 19) via the usual outlets such as iTunes and Amazon. "'Repentless' is my Jeff tribute," says King. "I call it the 'HannemAnthem.' It's my perspective of Jeff's perspective, it's what I think...if Jeff wrote a song for himself 'Repentless' would be it."
In a recent interview, King elaborated on that song, saying, "I went with it based on Slayer. Slayer is repentless; Slayer's always been repentless. I said, 'You know what, I should write something about how I think Jeff looked at the world, because he looked at the world exactly how Slayer looked at the world.' Plus little 'Jeff-isms.' It was both easy and difficult. The difficult part was doing it justice; I didn't want to just throw it together. I wanted it to be solid, as deep as it could be without getting personal."
Slayer are headlining the 2015 edition of the Rockstar Energy Drink Mayhem Festival. It kicks off June 26 in Chula Vista, Calif. The band has a few shows before that, including tonight (June 16) in Huntington, N.Y. For all their dates, go here.
You Think You Know Slayer?
Kerry King Remembers Slayer's Jeff Hanneman