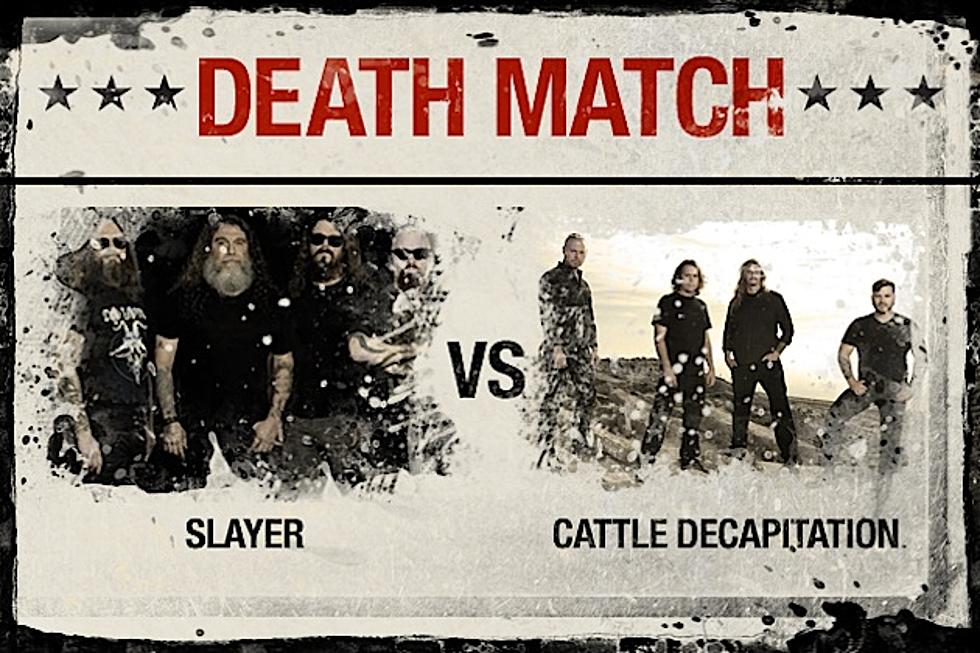 Slayer vs. Cattle Decapitation – Death Match
Loudwire
With the return of the Death Match, Slayer have been carving a beastly path to the Death Match Hall of Fame. After defeating Lamb of God, Slayer went on to best the Black Dahlia Murder in an extremely close battle. Slayer are halfway to the hall, but they've got another topnotch act to defeat first.
After releasing the ridiculously extreme Monolith of Inhumanity in 2012, Cattle Decapitation fans have been seething for the band's follow-up. Cattle Decapitation's upcoming full-length The Anthropocene Extinction will see an Aug. 7 release via Metal Blade and the single "Manufactured Extinct" can be described with one word: DAMN!
"Manufactured Extinct" is devastatingly brutal, much like Cattle Decapitation fans have come to expect from the technical death metal frontrunners. Slayer in the '80s were one of the most insane metal bands on the planet, like Cattle Decapitation is now, so pairing these two acts together is a relative super-brawl.
Will Slayer continue dominating with "Repentless" or can Cattle Decapitation take over with "Manufactured Extinct"? Your votes will decide who continues on. Cast your ballot in the poll below!
(This Death Match ends on Wednesday, July 15 at 10AM ET. Fans can vote once per hour! So come back and vote often to make sure your favorite song wins!)
Cattle Decapitation, "Manufactured Extinct"
Two bands fight to the death each week. Fans can vote once per hour. The triumphant band goes on to complete in the next Death Match. If a band wins four straight Death Matches, its song will be honored as immortal in the Loudwire Death Match Hall of Fame.