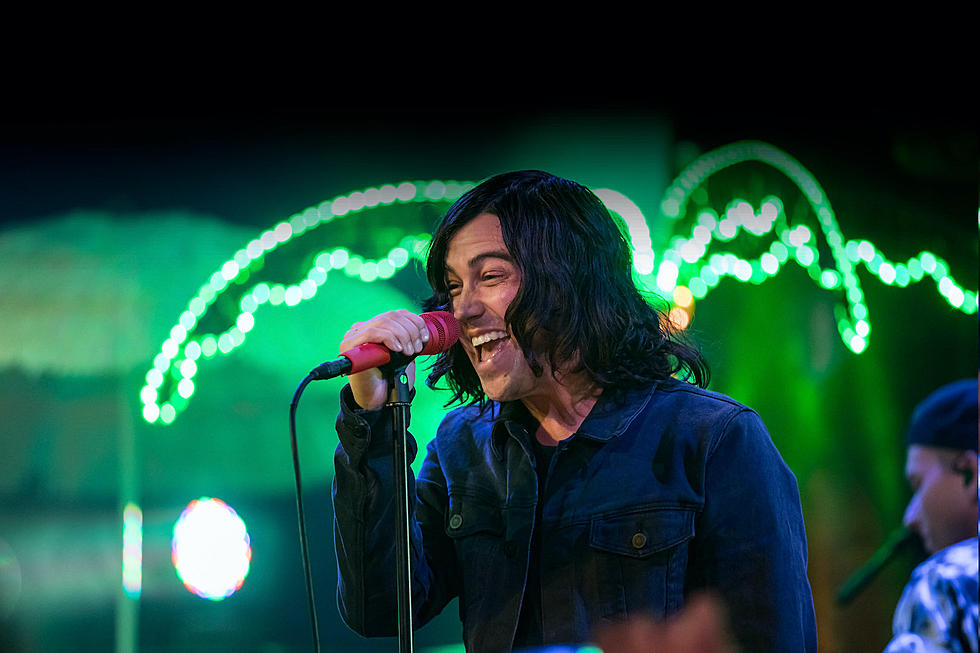 Sleeping With Sirens' Kellin Quinn Says He Was Hacked – He's Not Actually Selling Laptops
Miikka Skaffari, Getty Images
Sleeping With Sirens lead vocalist Kellin Quinn has made his account private on Twitter — the social media site currently rebranding to the name X — after he said the official @kellinquinn profile on the platform was hacked and spamming followers with posts claiming to be selling laptops.
Rest assured, however, that Quinn is not attempting to sell Apple MacBooks through social media, as the apparent hacker(s) seemingly tried to do on Friday (Aug. 18), according to him and the band. (Note: Quinn's account has now been restored. See the latest update near the bottom of this page.)
Per Lambgoat, one bogus post said:
Hello Twitter family ! I have a special promotion going on ! I have 10 MacBook Pro's on sale for $600 each ! On top of that I will be signing every MacBook that is sold , also free shipping is included ! All proceeds will be going to charity! My DMs are opened !
But after Sleeping With Sirens fans made Quinn aware of the posts, the singer made his account private. He then released a statement on another social media site explaining the situation.
Kellin Quinn Hacked?
In a video on his Instagram Story, Quinn explains, "My Twitter was hacked. I am not in fact selling MacBooks on Twitter. So if you are seeing that post, please do not buy Macbooks from them. We are doing the best we can to get my Twitter back."
The Sleeping With Sirens singer adds, "I don't know how it happened because I had every precaution set in place to not ever be hacked, but apparently it's possible. So, anyways thanks for the heads up, but I'm not selling MacBooks and my Twitter was hacked. Bummer to me. Alright, see ya."
Sleeping With Sirens Respond to Hack
The band itself also apprised fans of the matter.
"Kellin's Twitter was hacked earlier today," the group says in a post. "Please do not engage with any posts or messages you receive from his account."
Sleeping With Sirens Say Singer Kellin Quinn's Twitter Was Hacked - Aug. 18, 2023
UPDATE: Quinn's Account Restored
On Monday (Aug. 21), Quinn's Twitter (X) was again made public. "Hey All! my X account has been recovered," the singer says in a new post. "Those who have been blocked have been unblocked.. @me if you had actually purchased a laptop from the hacker.. going to try help the best I can."
He adds, "If you did send this person money contact your [bank] immediately! And tell them the situation! Most times banks have your back!"
Quinn Regains Account - Aug. 21, 2023
Be sure to get the Loudwire newsletter and Loudwire app to stay up to date on all the latest rock and metal news.
Rock Music Myths + Urban Legends That Were Debunked
What's your favorite rock music myth or urban legend that you picked up by word of mouth? Did you believe it when you first heard it? And when did you learn it wasn't true? Here are some of the most pervasive rock music legends and myths all rounded up for you in a nice little list. Check it out.