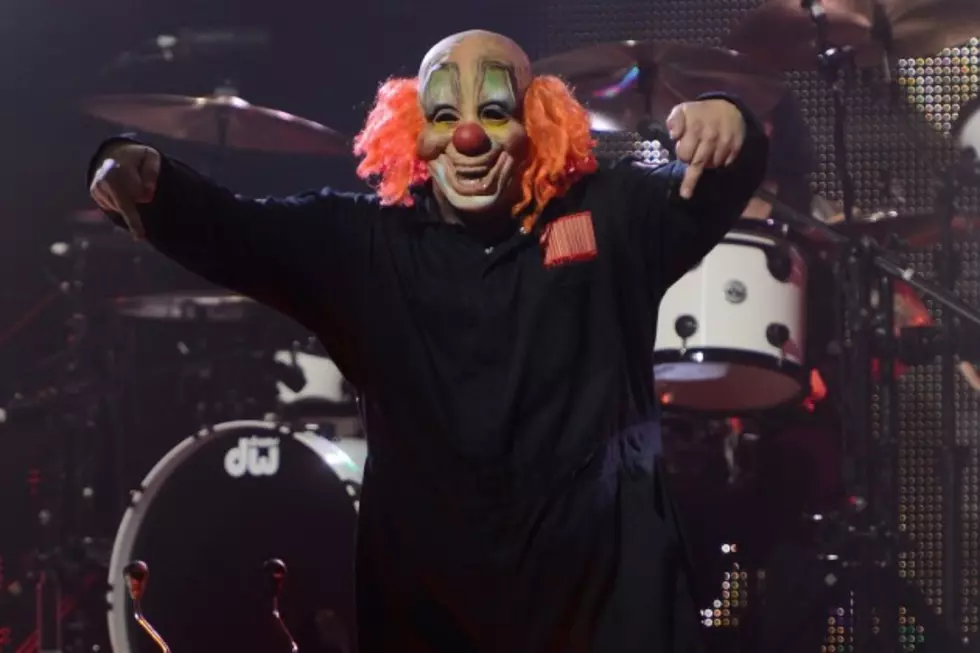 Slipknot's Shawn 'Clown' Crahan Explains Motive Behind Camel Dung Scent at Knotfest
Frazer Harrison, Getty Images
The 2014 Knotfest is fast approaching; it's so close that we can almost smell it. What's that smell, you ask? The answer is camel poop. Yesterday, Slipknot revealed some unbelievable side attractions for Knotfest, but the biggest talking point turned out to be the festival's signature scent. In a new interview with Shawn 'Clown' Crahan, the percussionist explains the importance of burning camel dung throughout the three-day event.
Along with musical acts such as Slipknot, Danzig, Volbeat, Anthrax and Five Finger Death Punch, Knotfest will present fans with flaming carnival games, a junk car drum circle, roaming performance artists, a Slipknot museum and much more. Knotfest will once again prove to be a fest like no other, capped off by the scent of camel waste burning over charcoal rather than being mixed with oil as previously reported.
"We did the camel dung on the first Knotfest. It was awesome; it was beautiful," Crahan tells Rolling Stone. "[Fans] came into the museum and they had to be hit with camel s--t. A very distinct smell. You can't huff it, but it's got this smell. And it's not necessarily the most comfortable thing, but it's not necessarily the worst thing, it's just remembering thoughts — it's gonna be a reoccurring thing."
Crahan goes on to address why creating a Knotfest scent is so meaningful. "I write down things in life that are special, that only living in this thought process can you ever obtain," he says. "Freshly mowed grass. How it smells when a nice spring rain hits. Because of Iowa, I like being in a different state that doesn't even have grass and think that I smell fresh-cut grass. It brings me home. Makes me feel safe… So, I figure, since we're not a band anymore — we're a culture, everybody needs to get used to that real quick — that the culture has to have a smell. You have to be able to be somewhere in the world, maybe be in a little pain, and then all of a sudden smell that and feel good again."
As for Slipknot's back-to-back Knotfest performances, fans will see perhaps the most chaotic Slipknot shows in the band's history. "[We] got pyro that's just stupid," says Crahan. "Just lighting shit on fire all day long, blowing 23-foot f---in' flames in the air, the whole deal."
Knotfest will take place from Oct. 24-26 at the San Manuel Amphitheater & Campgrounds in San Bernardino, Calif. Tickets are still available, so to grab your own, click here.
20 Epic Slipknot Sid Wilson Stage Dives:
Corey Taylor Discusses His Paranormal Experiences: