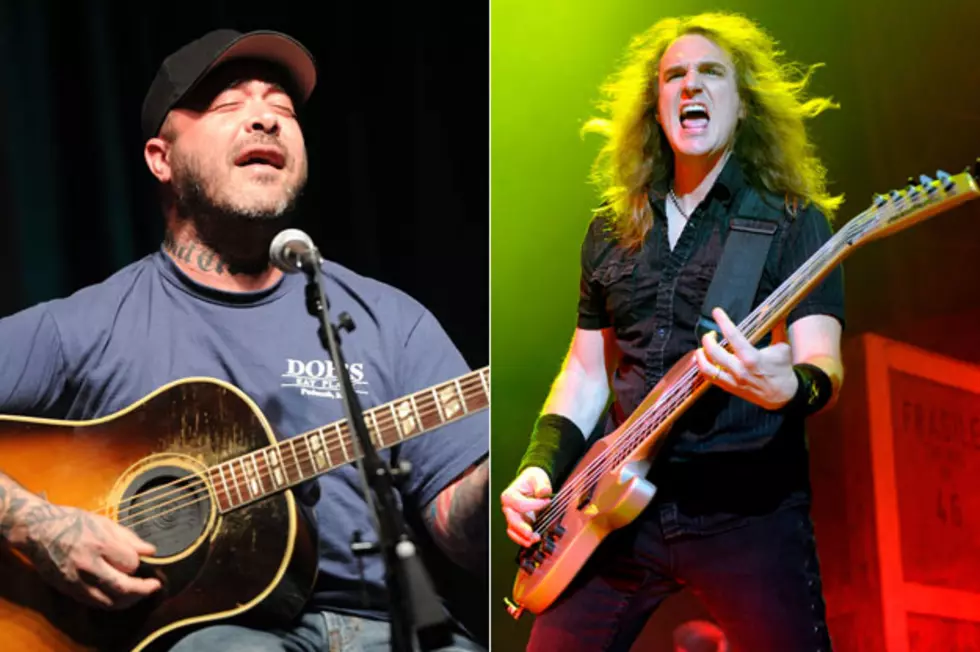 Staind's Aaron Lewis, Megadeth's David Ellefson Team Up for 'Shame on America' Documentary
Staind and Megadeth are two acts that have always saluted the service that America's soldiers provide for our country. But Staind vocalist Aaron Lewis and Megadeth bassist David Ellefson aren't content with just playing a few shows to put the spotlight on the military.
The two musicians have teamed up with video director / photographer Fran Strine to produce a new documentary titled 'Shame on America,' which puts the spotlight on what happens to our vets after they return home from the horrors of war.
In their Kickstarter campaign to finance the documentary, co-producers Strine and Lewis and the film's narrator Ellefson point out that many of the servicemen and women return with Post Traumatic Stress Disorder and some end up homeless, with upwards of 75,000 vets currently without residence. In addition, the Veterans Administration has a backlog of disability claims with over 864,000 currently waiting to be filed.
Lewis says, "I knew I had to be part of this film. To know that our sons and daughters have committed themselves, sacrificed everything for us, followed the orders they are given only to come home to nothing hit me hard. For these men and women to have psychological issues that require medical attention, have to be reviewed by a panel with a year long wait to see if they might qualify for benefits they are owed and many becoming homeless in the process really bothers me. I love my country and cherish the women and men of the armed forces even more. America should be ashamed."
Those who contribute to the film will be rewarded by the filmmakers, as items like having their name in the credits, early access to the film, receiving a 'Shame on America' wristband, signed copies of the film, personalized video messages from Lewis and Ellefson, Skype chats, signed instruments, producer credits, and film festival invites are among the items offered in return for donations. Visit the 'Shame on America' Kickstarter page for more details.
Watch the 'Shame on America' Project Plea