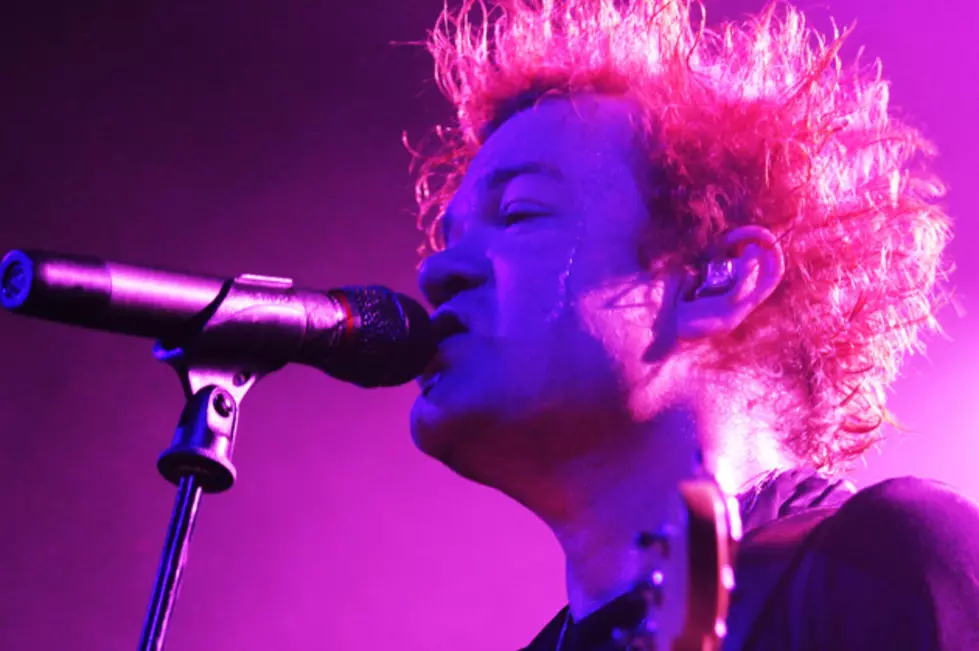 Sum 41 Celebrate 10th Anniversary of 'Does This Look Infected?' With Nostalgic NYC Show
Liz Ramanand, Loudwire
Sum 41 are the reason I chose to dedicate my life to music. That may seem like an odd statement coming from an extreme metal fanatic, but at age 15, I got my hands on Sum 41's 2002 album, 'Does This Look Infected?' and subsequently discovered my life's path. A decade later, Sum 41 have launched a tour to celebrate the album's 10th anniversary, playing the entire record from front to back for rabid and nostalgic fans, and we were there to cover it all. 
When Sum 41 released their breakthrough 2001 album, 'All Killer, No Filler,' the early 2000s pop-punk explosion began to hit its fever pitch. MTV was already airing videos from established bands such as Blink-182 on heavy rotation, but when Sum 41's 'Fat Lip' hit in the summer of 2001, mainstream music began to notice a breed of younger pop-punk acts.
By 2002, pop-punk was mainstream rock's hottest genre, with albums such as New Found Glory's 'Sticks and Stones,' Finch's 'What it is to Burn,' and the Starting Line's 'Say It Like You Mean It,' all achieving massive success, and much like Sum 41, all three bands are touring to celebrate the 10th anniversary of their respective records.
Simple Plan, Good Charlotte and Bowling for Soup also rose up as popular mainstream acts, but Sum 41 offered a more aggressive form of the genre. They focused on their heavy metal roots and the more 'punk' side of pop-punk, with tracks such as the politically infused 'Still Waiting' and the thrash-meets-old-school-Offspring track 'Mr. Amsterdam.' Along with the gravely yell of Deryck Whibley, Sum 41 drifted from their contemporaries while remaining a radio-friendly act.
Although Sum 41 have fizzled slightly in the modern day, the New York City crowd for the band's Nov. 14 show spoke volumes about the group's legacy. Stepping past the doors and into the threshold of New York City's Irving Plaza, I was expecting to see an older fan base, as the show was focusing specifically on an album released 10 years ago, but surprisingly, the venue was absolutely packed with an impressive mix of young and older fans.
As Sum 41's crew prepared the stage for the show, a myriad of thunderous chants, which could rival music's most beloved bands, filled the venue from front to back, and once Sum 41 hit the stage, the crowd absolutely exploded. As Sum 41 performed 'Does This Look Infected?' from front to back (sans 'Thanks For Nothing'), the energy level never diminished, even as the band busted out the deepest cuts of their 2002 album. The second half of the set was filled with both old and new fan favorites including 'Fat Lip,' 'We're All to Blame' and 'Underclass Hero.'
Having personally seen Sum 41 in 2003 while witnessing the rise of the pop-punk heroes in real time, an absolutely befuddled realization hit me like a crowd surfer kick to the back of the head -- nothing had changed. I was suddenly the 15-year-old kid in the black Chucks, Dickies shorts and multi-colored wristbands again, surrounded by the same personified energy conjured by Sum 41 in their most definitive of times; only I wasn't the youngest kid in the pit anymore.
Despite the departure of guitarist Dave Baksh in 2006, the band was the same Sum 41 they've always been, with the same magic radiating throughout the crowd that I first identified nearly a decade ago. Drummer Stevo32 even maintained the tradition of mounting his throne as the singer for the band's classic concert finisher, 'Pain for Pleasure.'
We've all grown up listening to the sounds of the present mixed in with the milestones of the past. Sum 41 may never make another 'All Killer, No Filler' or 'Does This Look Infected?', but on this cold November's night in New York City, the crowd's visceral reaction along with its noticeably diverse age group points to something incredibly important: a legacy.
Ten years before 'Does This Look Infected?' was released, Rage Against the Machine unleashed their self-titled record, Alice in Chains unveiled 'Dirt,' Bad Religion gave the world 'Generator' and Green Day unleashed 'Kerplunk!' These landmark albums were celebrated the year they were released, praised 10 years later in 2002, and remain incredibly important to rock fans of all ages even after hitting the 20-year mark in 2012.
In my eyes, Sum 41 have hit two out of those three milestones, and if future generations remain hungry to delve into the gems of the past, we may very well find ourselves reporting on the 20th anniversary tour of 'Does This Look Infected?'.
"This is who we are, and nothing's gonna change."
Check Out Photos of Sum 41 at Irving Plaza in New York City