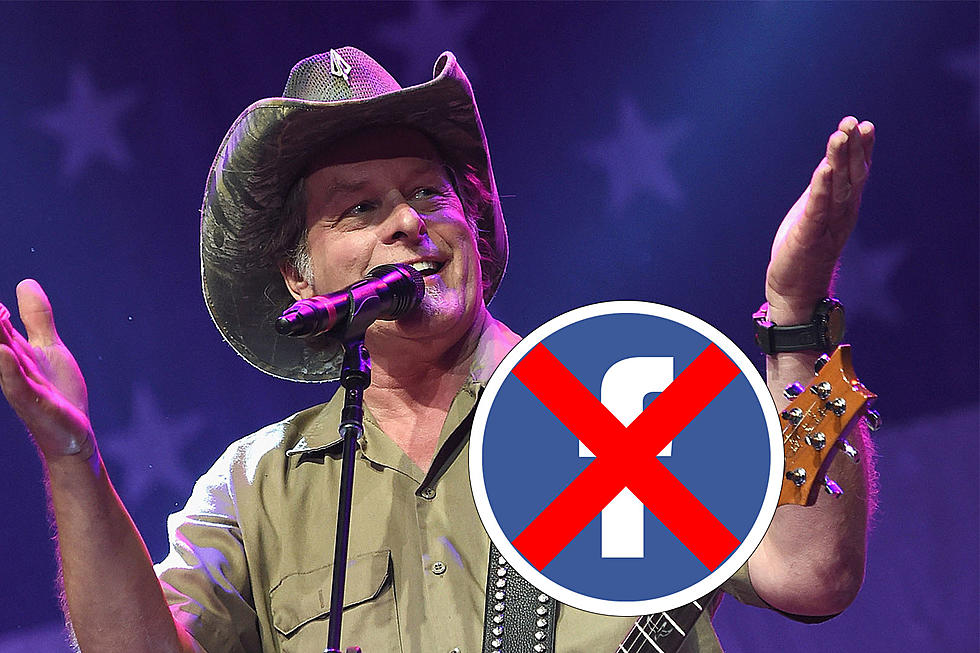 Ted Nugent Has Apparently Been 'Banished' From Facebook
Rick Diamond, Getty Images
Ted Nugent has apparently been "banished" from Facebook, according to a video the rocker uploaded on two other social media platforms.
"Well big Xrs, Uncle Ted reporting for duty since the Facebook Commies have banned me. What an honor! See you here there and everywhere censorship does not exist! Yell freedom like you mean it!" Nugent wrote in a post on X, which was followed by a live video shortly after.
"You know, censorship has always been a plus for the human species. You know, when you shut somebody down that you're incapable of debating with," he said in the clip.
A video was also posted to his Instagram profile where he can be seen filming the exact live video that was posted on his X page. But at the end of the Instagram video, he added, "Spread this to about a gazillion people, people who believe in truth, logic and common sense. It's Uncle Ted reporting for duty, because I've been censored, banished from Facebook. You know why? Because the Nazis don't like my Schindler's list. Good over evil. Stand up for what you believe in. You are, I am the Great White Buffalo. We look for storms. Let's get it on."
See both clips below.
Upon searching Facebook, Nugent's page did not come up. Though it's unclear if there was a particular post or comment that got him banned from the platform. Instagram is actually owned by the same company that owns Facebook — Meta — so it's unclear whether the ban will carry over or not.
Under the "Restricting Accounts" section of Meta's Transparency Center, they note that users will receive warnings for certain violations of Facebook's Community Standards. The more strikes the user receives, the less access they have to certain features on the platform.
It adds, "These restrictions generally only apply to Facebook accounts, but they may also be extended to Pages that represent an individual, like a celebrity or political figure. (Note that while we count strikes on both Facebook and Instagram, these restrictions only apply to Facebook accounts.)"
READ MORE: Ted Nugent Proclaims 'You Can't Cancel Me' While Replacing Recently Dropped Show
Nugent recently wrapped up a leg of his Adios Mofo tour. Back in May, one of his performances, which was scheduled to take place in Alabama, was canceled by the venue as a result of transphobic comments the rocker had made. The concert was to be held at Avondale Brewing Company, which released a statement on their social media announcing that it had been canceled after hearing "the concerns of the Avondale community."
16 of the Most Political Rock + Metal Bands
Outspoken artists championing causes!