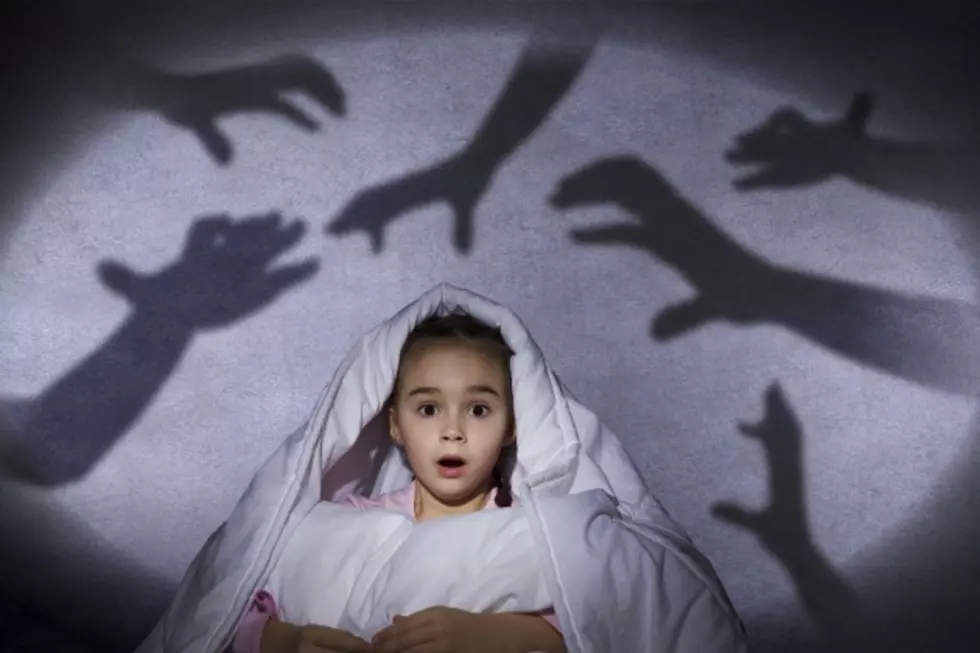 Top 10 Songs About Nightmares
Thinkstock / Getty Images
Don Jamieson is a guest contributor to Loudwire. He is the co-host of That Metal Show, which recently completed its 14th season on VH1 Classic. You can also catch Jamieson on the stand-up comedy circuit. Keep up with him at his official website or his Twitter page. Please note that Don Jamieson's opinions do not necessarily reflect those of Loudwire. Check out his picks for the Top 10 Songs About Nightmares below:
To sleep, perchance to dream? Screw you Bill Shakespeare! I sleep, perchance to NIGHTMARE!
Everybody experiences nightmares and there are lots of different reasons for it: Scary movies before bed, undue stress or listening to Van Halen 3.
Heavy metal bands have always embraced the dark imagery of nightmares and used it as creative fuel for their music. You wanna go "Running Down a Dream" you listen to Tom Petty. You wanna "Dream Evil" you listen to Dio.
Personally I like my nightmares before, during and after Christmas so close your eyes and get ready for a Nightmare on Loudwire Street while we check out these 10 dreamer screamers.
10

"The Nightmare Unravels"

John 5

Late night lyric: The man speaks through his guitar.

There may not be any lyrics to this song but it is truly the shredding equivalent of a nightmare. John 5 can make his guitar do anything ... except make Zakk Wylde take a shower.

9

"Living Nightmare"

God Forbid

Late night lyric: "Blood on my hands, mercy for the weak, judgement incomplete…"

Nightmares don't always come to you at night. Sometimes you live them. Kind of like being a Chicago Cubs fan.

8

"Like a Nightmare"

Motorhead

Late night lyric: "Oh you know how I feel when you set me free, like a nightmare…"

7

"A Nightmare to Remember"

Dream Theater

Album: Black Clouds & Silver Linings

Late night lyric: "A nightmare to remember, I'd never be the same…"

One of the only nightmares you actually don't want to end. Good thing, 'cause it's 16 minutes and 10 seconds long. Or as it's known to Dream Theater fans, a short track.

6

"Erotic Nightmares"

Steve Vai

Album: Passion and Warfare

Late night lyric: Um yeah…no.

5

"Nightmare"

Avenged Sevenfold

Late night lyric: "Your tragic fate is looking so clear yeah, ooh it's your f--king nightmare…"

Mike Portnoy makes this list for the second time on this nocturnal number. Stellar job filling in for the late Rev and recorded proof that he could play a song under 10 minutes.

4

"All Nightmare Long"

Metallica

Late night lyric: "Cause we hunt you down without mercy, hunt you down all nightmare long…"

A Metallica mindf--k about hounds that hunt through nightmares and that can only be avoided by standing at certain angles. My two worst fears -- not only am I scared of wild dogs, I got a D in Geometry.

3

"The Great American Nightmare"

Rob Zombie / Howard Stern

Album: Private Parts soundtrack

Late night lyric: "Call me the American Nightmare, call me the American Dream…"

This dream duo and unmistakable riff has opened the Howard Stern radio show for decades now. Because nobody sets the stage for freaks, geeks and misfits better than Rob Zombie.

2

Late night lyric: "Hearing now a scratching noise outside my window pain, wondering if it's real or am I going insane…"

The cover alone could keep you from ever going to sleep again. A little girl dreaming about serpents, goblins, black cats and Murray the demon. She's gotta cut down on eating human flesh right before bed!

1

"Welcome to My Nightmare"

Alice Cooper

Album: Welcome to My Nightmare

Late night lyric: "Welcome to my nightmare, I think you're gonna like it…"

I once slept with a goth girl. But her makeup must've ran during the night because when I woke up, I thought I had sex with Alice Cooper. Welcome to my nightmare.