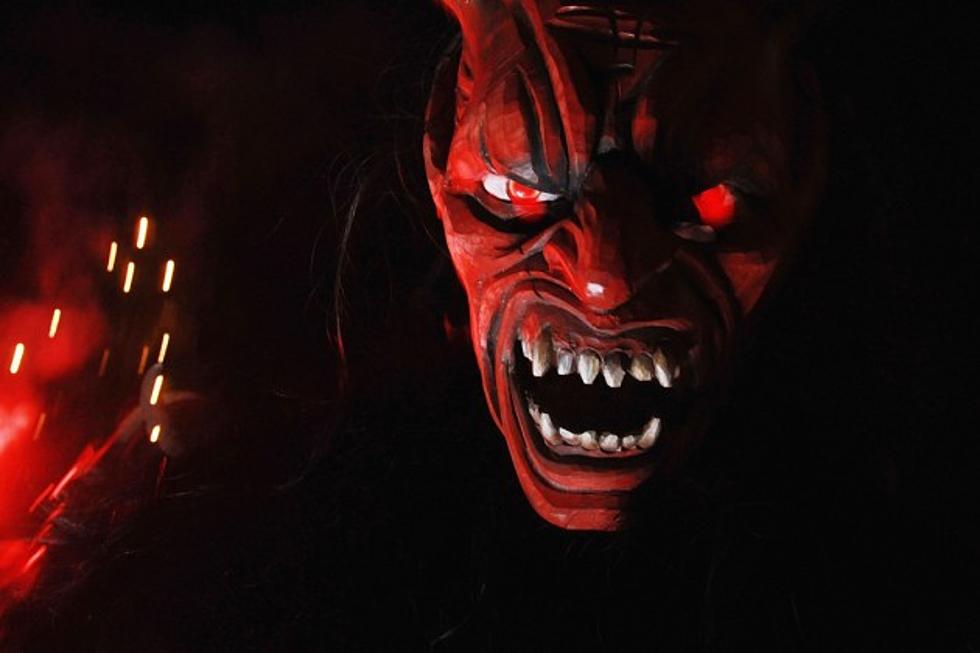 Johannes Simon, Getty Images
Don Jamieson is a guest contributor to Loudwire. He is the co-host of That Metal Show, which airs Saturday nights at 9PM ET on VH1 Classic. You can also catch Jamieson on the stand-up comedy circuit. Keep up with him at his official website or his Twitter page. Please note that Don Jamieson's opinions do not necessarily reflect those of Loudwire. Check out his list of the Top 10 Songs About Hell:
Hell can be a fiery underworld inferno, a place of eternal torment, the home of Satan, Paradise Lost, Hades, Gehanna, Tartarus, Apollyon, Abaddon or a Katy Perry concert. But it can also be used to express one's own personal torment, express anger and disbelief or to describe the extreme attractiveness of another person.
As the late, great Bon Scott once squealed "Hell ain't a bad place to be." And it ain't a bad place to write a song about either. But still, parents and religious types started saying that AC/DC stood for "Anti-Christ/Devil Children." How ridiculous is that? Everyone knows that AC/DC stands for "Angus Craves Delicious Candy." But the word "hell" can have so many different meanings as you'll see from the satanic selections on this list. Check out the Top 10 Songs About Hell below:
10

"See You in Hell"

Grim Reaper

Type of Hell: A place you'll know so well

Luciferian Lyrics: "Come with me, I will take you down to the very depths of your soul and I'll make you burn…"

I saw this video a few days ago and it reminded me of how devilishly good this song is. I also couldn't help thinking, "When did Tyrion from Game of Thrones join a heavy metal band?"

9

Type of Hell: The furnace where the dead are free to roam

Luciferian Lyrics: "Priests of Hades seek the sacred star, Satan sees the answer lies not far…"

It's only fitting that Satan's house band would write an anthem to fire and brimstone. This slay-tanic song is like your own personal boat ride down the river Styx on your way to the Seven Gates of Hell. Like Disney's It's a Small World ride if you were condemned to eternal damnation.

8

"To Hell With the Devil"

Stryper

Type of Hell: Where the devil can go

Luciferian Lyrics: "Speak of the devil he's no friend of mine, to turn from him is what we have in mind…"

The Yellow and Black Attack has always passed on the word of God through their music. They even used throw Bibles out to the crowd at concerts. I almost caught one once but I was too busy carving SLAYER into my forearm.

7

Type of Hell: A world of our own

Luciferian Lyrics: "Burning lives burning, asking me for the mercy of God…"

The sight of Venom on the back cover of this album along with the quote about how they serve at Lucifer's right hand was the scariest thing I'd ever seen as a teenager. Until the sight of Celtic Frost gone glam on the back cover of the 'Cold Lake' album.

6

Type of Hell: Lady in satins and lace

Luciferian Lyrics: "Hot, hot, hotter than hell, you know she's gonna leave you well done…"

Far as I can tell this song is about Paul Stanley trying to pick up a "hotter than hell" groupie after a show. She gets poor Paul all worked up and then when he wants to take her home she shows him her wedding ring. What a cockblocker.

5

"Saints in Hell"

Judas Priest

Type of Hell: Second hell

Luciferian Lyrics: "We are saints in hell, we're going down into the fire…"

A deep cut from the excellent Stained Class album. This song even shows off some of The Metal God's command of the French language when he sings "Abattoir, abattoir mon Dieu quelle horror" which translates roughly as, "Apologies, apologies for the 'Turbo' album."

4

Luciferian Lyrics: "Welcome to your earth on hell, the worse it gets the better it sells…"

This fiery song is about the pit of havoc, despair and violence that the Earth has become. Which reminds me, I haven't been to Detroit in a while.

3

Type of Hell: Female serial killer arsonists

Luciferian Lyrics: "I am hell to thee, down there all shall suffer with me…"

Singer Robb Flynn digs deep into history for inspiration on this infernal number. Of course, if he wanted to write about mad, depraved women he could've just watched The Real Housewives.

2

"Heaven and Hell"

Black Sabbath

Type of Hell: The evil in all men

Luciferian Lyrics: "The devil is never a maker, the less that you give you're a taker…"

The late great Ronnie James Dio sings about the dualities in life: Heaven vs. Hell, Good vs. Evil, Illusion vs. Reality over Iommi's singularly crushing riff. No doubt one of Tony's crowning achievements along with nailing Lita Ford in her prime.

1

"Highway to Hell," "Hell's Bells," "Hell Ain't a Bad Place to Be," "Hell or High Water" -- if there was ever one band that could go down to Hell, drink Satan under the table, crawl back out and write a song about it, it's AC/DC.