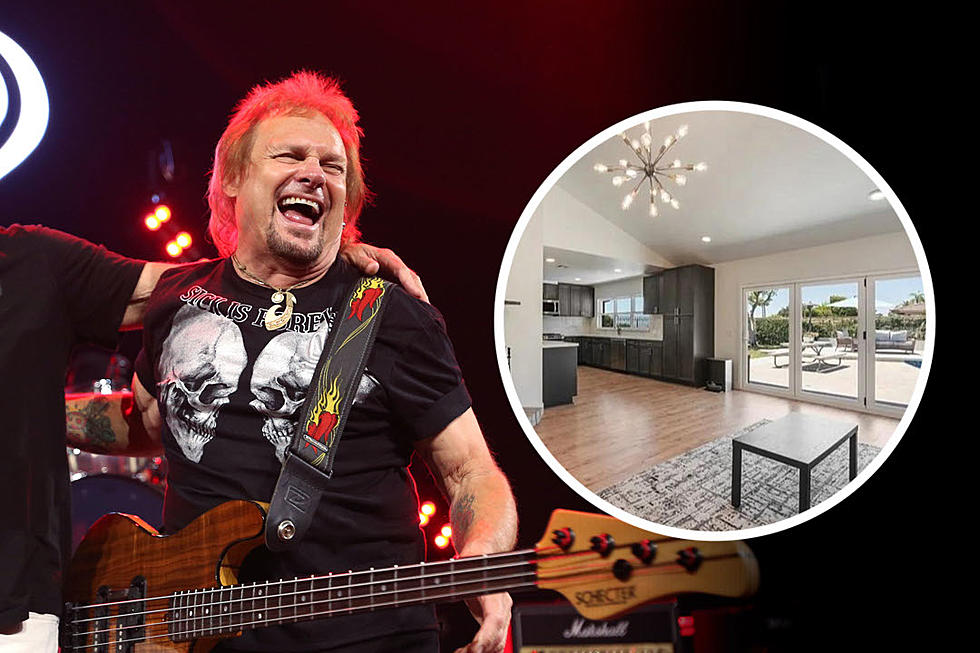 Van Halen's Michael Anthony Sells SoCal Home for $1.3M – See the House Photos
Rich Polk, Getty Images / Lori Haines, Realtor.com
Former Van Halen bassist Michael Anthony has sold his home in Glendora, California, for $1.3 million — roughly $100,000 more than the asking price listed earlier this summer, as UCR reported.
The home was listed for sale in late July for $1,198,000, according to Realtor.com. The ranch-style property was last sold in 1980 for $180,000. Anthony had recently put around $200,000 into the house for renovations and upgrades. Now, we can see photos from inside and outside the house.
Find the pics near the bottom of this post.
READ MORE: Watch Michael Anthony Sing Lead on Van Halen's 'Somebody Get Me a Doctor'
From Realtor.com:
The three-bedroom, 2.5-bathroom residence is located just 26 miles east of Los Angeles. It's just minutes away from restaurants, shops, and more. The 2,000-square-foot home was built in 1976 and features an open floor plan. The sleek, remodeled kitchen has an oversized center island, stainless-steel appliances, and dark wood cabinets.

The living room has a gray brick fireplace, beamed ceiling, and sliding doors to the backyard. The bedrooms are spacious and feature sliding glass doors for outside access. The upgraded bathrooms feature tiled showers and sleek vanities.
After his time in Van Halen, Anthony went to perform with his fellow former Van Halen bandmate Sammy Hagar in the groups Sammy Hagar & The Circle, Chickenfoot and The Other Half.
Anthony parted ways with Van Halen around the time Wolf Van Halen took his place on bass in the band, playing alongside his father, Van Halen guitarist Eddie Van Halen, until Eddie's death in 2020. Van Halen subsequently disbanded after his death. In 2021, Wolf launched his current band, which he fronts, in Mammoth WVH.
JUST SOLD: Look Inside Michael Anthony's Recently Sold California Home
Former Van Halen bassist has unloaded his California home for $1.3 million. Even after a recent remodel and upgrades, Anthony stands to make a hefty profit. The property last sold in 1980 for only $180,000.
True or False: Which of These 18 Legendary Rock + Metal Stories Actually Happened?
Rock and metal music is full of legendary stories about certain artists that may or may not have happened, in all actuality. Can you guess which ones are true and which ones are false? Sometimes it's hard to tell, but we all definitely heard these stories out in the schoolyard at some point. Keep scrolling for the legendary rock tales and their corresponding answers, and see how many you get correct.