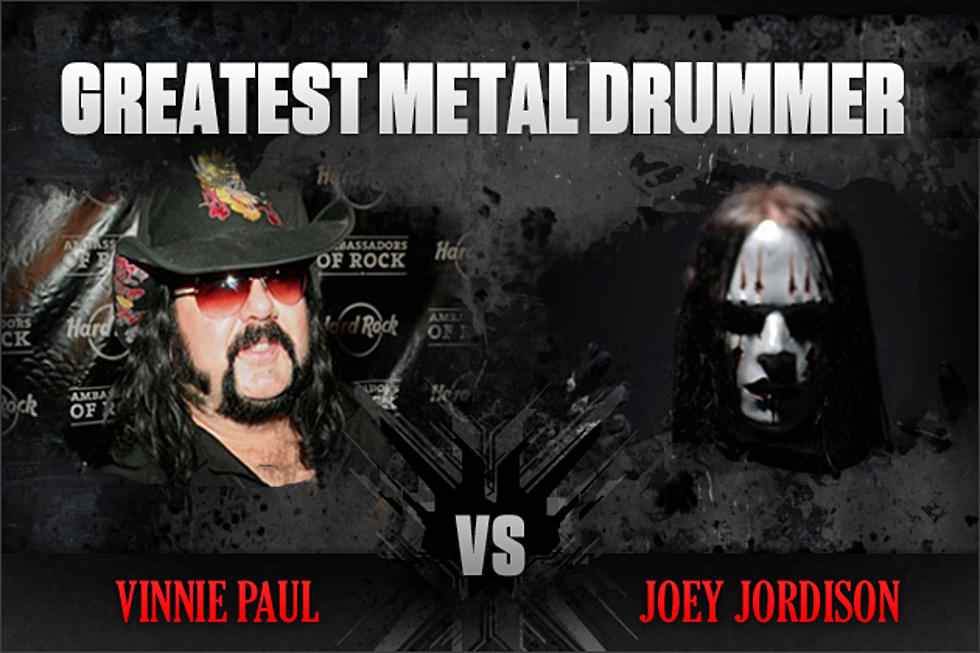 Vinnie Paul vs. Joey Jordison – Greatest Metal Drummer, Finals
Donald Bowers, Getty Images / Roadrunner Records
It's finally time! After starting out with 32 of metal's all-time greatest drummers nearly a month ago, we've made it to the final round! After hundreds of thousands of votes cast in our semifinals, Pantera / Hellyeah drummer Vinnie Paul enters the final round to take on Slipknot's Joey Jordison.
Vinnie Paul has ousted an impressive number of drumming masters during the tournament, defeating Lamb of God's Chris Adler, late Avenged Sevenfold drummer Jimmy 'The Rev' Sullivan, Anthrax's Charlie Benante and Iron Maiden's Nicko McBrain, respectively. The late 'Dimebag' Darrell Abbott won our Greatest Metal Guitarist competition. Can Dime's own brother claim the top spot as well?
Joey Jordison is a unique breed of drummer. His technical complexity along with his sense of groove has helped lift the Iowa metallers of Slipknot to the top of their genre. Jordison has beat out Nile's George Kollias, Meshuggah's Tomas Haake, Tool's Danny Carey and most recently, Slayer / Philm percussionist Dave Lombardo. Jordison only needs one more victory to take the crown!
Vinnie Paul or Joey Jordison? Cast your vote for the Greatest Metal Drummer in the poll below! Voting for this round closes on Tuesday, Sept. 17 at 10AM ET. Fans can vote once per hour, so keep coming back to make sure that your favorite metal musician wins!