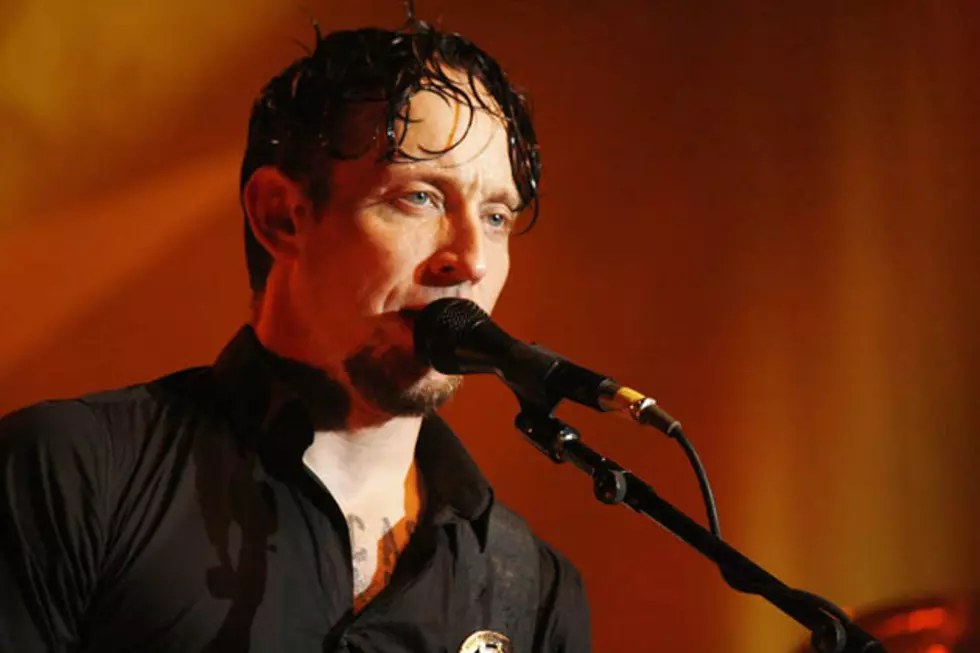 Volbeat's Michael Poulsen Talks Fall 2014 Tour, 'Outlaw Gentlemen' + More
Liz Ramanand, Loudwire
Volbeat are on a serious hot streak with their 'Outlaw Gentlemen and Shady Ladies' album and promise to continue that momentum this fall when they join Five Finger Death Punch, Hellyeah and Nothing More for what could be the tour of the year. 'Loudwire Nights' host Full Metal Jackie recently welcomed Volbeat frontman Michael Poulsen on the show to speak about the trek and he also opened up about his key to staying in shape, how his past career as a substitute teacher has translated to rock and more. Check out the chat below:
On the show with us this evening, Michael Poulsen from Volbeat. How ya doin' Michael?
I'm fine Jackie, thank you. How are you?
I'm great. Happy to have you on the show. Really excited about this fall tour, huge lineup! Volbeat, Five Finger Death Punch, Hellyeah and Nothing More coming to the U.S. I truly believe this is going to be the biggest tour of the fall.
It's definitely a great package. We can't wait to get back on the road and back into the U.S. We've been touring the U.S. so much for some years now and ticket sales are just getting stronger. The venues are getting bigger and bigger. It seems like we're doing something right. Now we're going out with our good friends in Five Finger Death Punch and Hellyeah.
You've shared the stage with the biggest bands in the world. Metallica, AC/DC, Iron Maiden. You're co-headlining this tour with Five Finger Death Punch later this year. How does being on the same bill with such high caliber bands bring out the best in Volbeat?
We love what we're doing. We always have a great time going out and playing with different bands. It can be big bands, small bands, totally unknown bands, coming up bands. At the end of the day we're doing the same job. Some of the bands we've kept close contact, connection to and we've been talking for Five Finger Death Punch for a long time. We were never really able to come up with the game plan when it comes to when we were supposed to tour. When they were in America, we were in Europe or the other way around. We sat down and we finally found out how to do it. Now it's a done deal. It seems like all the fans are really excited about it.
Michael, you're a big boxing fan. Your friend, champion boxer Mikkel Kessler actually helped you get in shape. How is getting onstage like stepping into a boxing right?
[Laughs] It's not like I really enjoyed getting beat up, but this guy took good care of me. It was just necessary. With a program like we have, 150 shows per year, it's taking its toll when you start drinking too much booze and you eat really bad. You're definitely not getting any younger. Before you know it, everything hurts in your whole body system. It's not worth it. It is fun, but it's only fun for a short while. You're not immortal. When you get older, you're definitely more aware of that life was too short to destroy.
I needed a change my life and when it comes to that, Mikkel Kessler took good care of me. He said, "Come up to my gym, we'll work it out," and that's what we did. I ended up losing 40 pounds and now I'm feeling great. I'm in good shape. I'm barely drinking anymore, I eat well. I exercise five times a week. I feel good and comfortable. Of course if you have to work out, that doesn't look like the rock and roll lifestyle. But the thing is, I tried the rock and roll lifestyle and it's fun. I've been there, done that. But at the end of the day you also have to prove for yourself and your fans that you can deliver. Personally, I've delivered my best when I'm in good shape and taking good care of myself.
I think everybody owes that to their fans. They've been saving up their money for a long time. It could be months or weeks for a concert ticket. They want to see a band in good shape. They want to see a band deliver the goods. That's what we do. We always have high energy onstage and I want to prove to the fans that we're professional. If we take good care of ourselves somehow we're also taking good care of them.
I remember when I saw you from when you started this new regimen and I almost didn't recognize you.
It is funny, because these days if people stop me on the street they're a little bit insecure, they're like, "Are you Michael from Volbeat?" I can say, "Yes I am." I hear, "I wasn't sure because you look so skinny." I said, "Yeah it's all the drugs. I'm not doing good these days." [Laughs]  It feels good. I guess it's just an individual thing. I'm not saying that everybody should do this, I just know what's best for me.
Michael, the Volbeat sound comes from your love of '50s music like Elvis, Johnny Cash. What else about '50s-era Americana do you love?
The legendary performers you were mentioning, and that's actually a lot of them. But also the artists who were standing in the shadows of the legendary performers. They just didn't have the same charisma or the right attitude. It's not the most easiest job to try to compete with Jerry Lee Lewis, Elvis Presley, Little Richard and Fat Domino, Johnny Cash. Those are some heavy dudes. You gotta bring something special to the table.
But, at the same time there were a lot of good artists at that time. If they were not around at the same time as all those legendary performers were having their good times, who knows. They could have been huge names, but they're still finding those artists whom are standing in the shadows of the legendary performers, because there are some really great songs out there. There's a lot of good songs to be inspired by. I'm still very eager to go out and hunt those kind of records when we're on tour.
Michael, the latest Volbeat record, 'Outlaw Gentlemen and Shady Ladies' has been out for a year now -- long enough for you to listen more objectively. What do you hear on that album now that you might not have recognized when you recorded it?
Good question. It was a long time ago since I was listening to it. I'm very aware of what we did was -- we got out of our comfortable zone. I can definitely hear it's not the same studio and we worked a little bit different, sound wise. It sounds like Volbeat. But also that we have a different guy mixing it. It's the first time we worked with that guy.
Looking at the material on the whole thing, it is a record I'm very proud of. It's not like it's because the latest album, but I can honestly say that its my favorite Volbeat record. I think it's our best work so far. Before that one, my favorite was 'Guitar Gangsters & Cadillac Blood.' It's not like I'm trying to sell the new record every time. I love 'Beyond Hell/Above Heaven' too. But I just think overall that's just a lot of things, small things that makes me have some kind of ... I don't know, a different satisfaction when it comes to the latest record. I just think a lot of the details and thoughts I had about that album, everything almost came true. There's a really good balance on that record.
I was reading somewhere that you were a substitute teacher at one point? How was that interaction with kids when you were teaching? How has that helped you to relate to the younger fans in Volbeat's audience?
It helped me work with a band and crew because they're just big kids. [laughs] It really did things, I thought, "Wow, five years with working with kids and it's finally over. It's going to be so peaceful." But then it just got more busier with the band and I discovered that I was around kids anyway. It's pretty much the same.
Thank you for being on the show.
Thanks to Volbeat's Michael Poulsen for the interview. You can catch the band on tour with Five Finger Death Punch, Hellyeah and Nothing More this fall. Dates can be found here. Tune into Loudwire Nights With Full Metal Jackie' Monday through Friday 7PM through midnight online or on the radio. To see which stations and websites air 'Loudwire Nights,' click here.