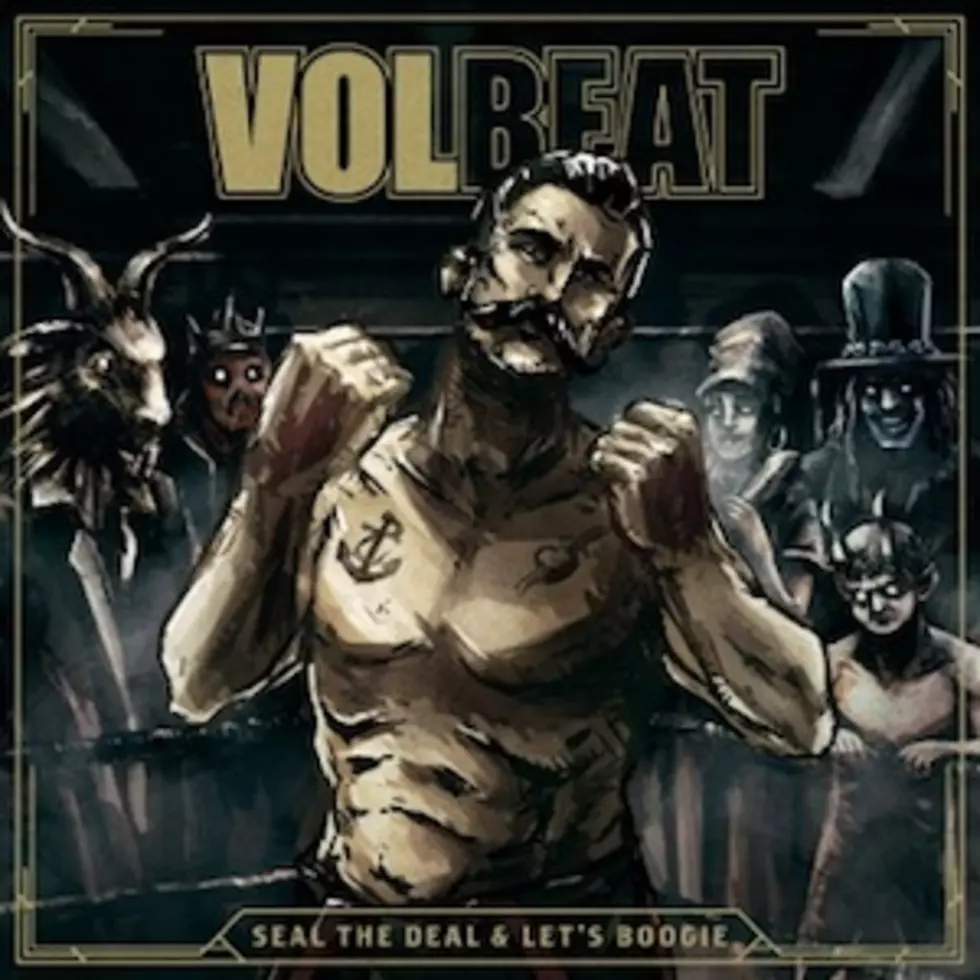 Volbeat, 'Seal the Deal & Let's Boogie' – Album Review
Republic Records
Volbeat's album titles are sometimes a bit awkward, but their music is anything but. In a genre where many bands have a similar sound, the Danish group's style is unmistakable. Their sixth studio album Seal the Deal & Let's Boogie is overflowing with clever and catchy songs.
As for the album's lyrical subjects, frontman Michael Poulsen says many of the songs address spiritual topics, but it's not religious: "It's not so much a theme, but rather using real characters who were strong in their belief about their contact with the spiritual world, with additional input from me, where I try and connect what once was and what is now."
Seal the Deal & Let's Boogie kicks off with the moderately paced "The Devil's Bleeding Crown." It's slightly ominous and eminently hooky, and while not a typical upbeat album opener, was immediately embraced by the masses, climbing to No. 1 on the Billboard Mainstream Rock chart.
You'll hear plenty of memorable melodies and Poulsen's distinctive vocal stylings throughout the album along with a few twists. For the song "Goodbye Forever," the band brought in the Harlem Gospel Choir, something Poulsen has wanted to do for a long time.
The song "The Loa's Crossroad" includes one of Poulsen's best friends from his school days playing the bagpipes. Poulsen says they are a "special instrument that you either love or hate." It adds a unique twist to the song that works well.
Rocker Danko Jones makes a guest appearance on the album, trading vocals with Poulsen on "Black Rose." Jones' edgier style is a nice contrast to Poulsen's silky croon. Danish singer/songwriter Mia Maja lends backing vocals to several songs.
The album includes two cover songs. One is the raucous "Battleship Chains," a Georgia Satellites song that was released as a follow-up single to their massive hit "Keep Your Hands To Yourself," but didn't have the same success. Poulsen injects that southern style that was present on the original. The other cover is "Rebound," done originally by the pop punk group Teenage Bottlerocket.
This is the second Volbeat album with guitarist Rob Caggiano (ex-Anthrax), who also handled production duties along with Poulsen and Jacob Hansen. He gets to shred on tracks like "Seal the Deal," and provides groovy riffs from start to finish.
Volbeat's profile and momentum have been steadily building over their past few albums. 2010's Beyond Hell/Above Heaven was a big step forward in North America, with 2013's Outlaw Gentlemen & Shady Ladies taking them to even greater heights and debuting at No. 9 on the Billboard 200. Seal the Deal & Let's Boogie could be their most successful album to date.
Volbeat's Rob Caggiano Plays 'Wikipedia: Fact or Fiction?'