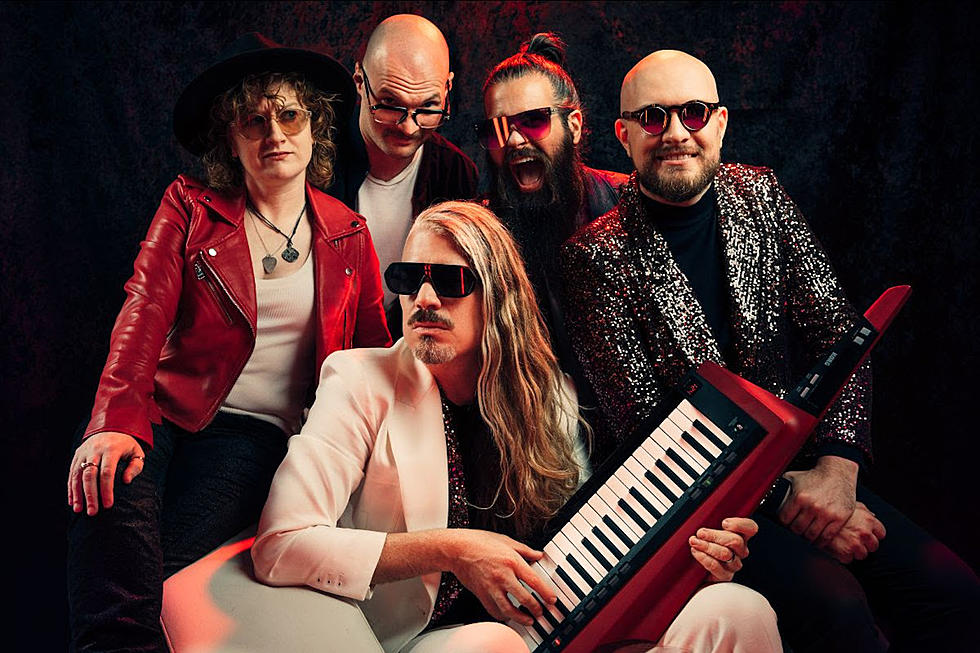 Metal Band Voyager Advance to Final Round of 2023 Eurovision Contest
Photo by Mike Dann
The synth-laden Australian progressive metal band Voyager have advanced to the final round of the 2023 Eurovision Song Contest, as The Guardian has reported. Eurovision is same competition that helped make the Italian rockers Maneskin a household name.
On Thursday (May 11), Voyager performed their submitted song "Promise" for Eurovision's second semi-final in England. They now find themselves ready to represent Australia at the May 13 final against artists and songs from 25 other countries. Voyager's eighth studio album, Fearless in Love, led by the single "Prince of Fire," arrives July 14.
Near the bottom of this post, see the album art and track list for Fearless in Love, followed by Voyager's "Promise" music video and upcoming tour dates.
Speaking to the Associated Press this week, Voyager lead singer and keyboardist Danny Estrin explained how the band's success has already exceeded their expectations, and how they're hoping to let their love for the music shine through onstage in the final.
READ MORE: This Week's Best Rock + Metal Songs
"You are fiercely competitive in some ways, but in other ways, you're just all there to have a good time and perform to the best of your abilities," Estrin said. "It's all about the music [at] the end of the day. Does it mean we don't have what it takes to win it? I think we do."
Get more Voyager on Facebook, Instagram, TikTok, Twitter and Bandcamp.
Underneath the album info, video and upcoming Voyager tour dates, find a list of other bands touring in 2023. Get Loudwire's newsletter and Loudwire's app for more.
Fearless in Love Album Artwork + Track Listing
1. "The Best Intentions"
2. "Prince of Fire"
3. "Ultraviolet"
4. "Dreamer"
5. "The Lamenting"
6. "Submarine"
7. "Promise"
8. "Twisted"
9. "Daydream"
10. "Listen"
11. "Gren (Fearless in Love)"
Voyager, "Promise" (Music Video)
Voyager, "Prince of Fire" (Music Video)
Voyager Tour Dates 2023
June 9 – Brisbane, Australia @ The Zoo
June 10 – Melbourne, Australia @ Stay Gold
June 16 – Adelaide, Australia @ UniBar
June 17 – N. Perth, Australia @ Rosemount
June 23 – Sydney, Australia @ Metro
June 24 – Belconnen, Australia @ Basement
Oct. 1 – Cologne, Germany @ Euroblast
Oct. 3 – Hamburg, Germany @ Headcrash
Oct. 4 – Berlin, Germany @ Cassiopeia
Oct. 5 – Warsaw, Poland @ VooDoo Club
Oct. 7 – Prague, Czech Republic @ Futurum
Oct. 8 – Budapest, Hungary @ Durer Kurt
Oct. 9 – Vienna, Austria @ Szene
Oct. 10 – Munich, Germany @ Feierwerk
Oct. 11 – Milan, Italy @ Legend Club
Oct. 12 – Zurich, Switzerland @ Komplex
Oct. 14 – Lyss, Switzerland @ Kulturfabrik
Oct. 15 – Paris, France @ Les Etoiles
Oct. 16 – Antwerp, Belgium @ Kavka
Oct. 17 – Tilburg, Netherlands @ Poppodium
Oct. 18 – S. Holland, Netherlands @ Cultuurpodium
Oct. 20 – Manchester, England @ Academy
Oct. 21 – London, England @ The Dome
Your Guide to Rock + Metal Bands Touring in 2023
Check out over 200 rock and metal bands' touring schedules for 2023.