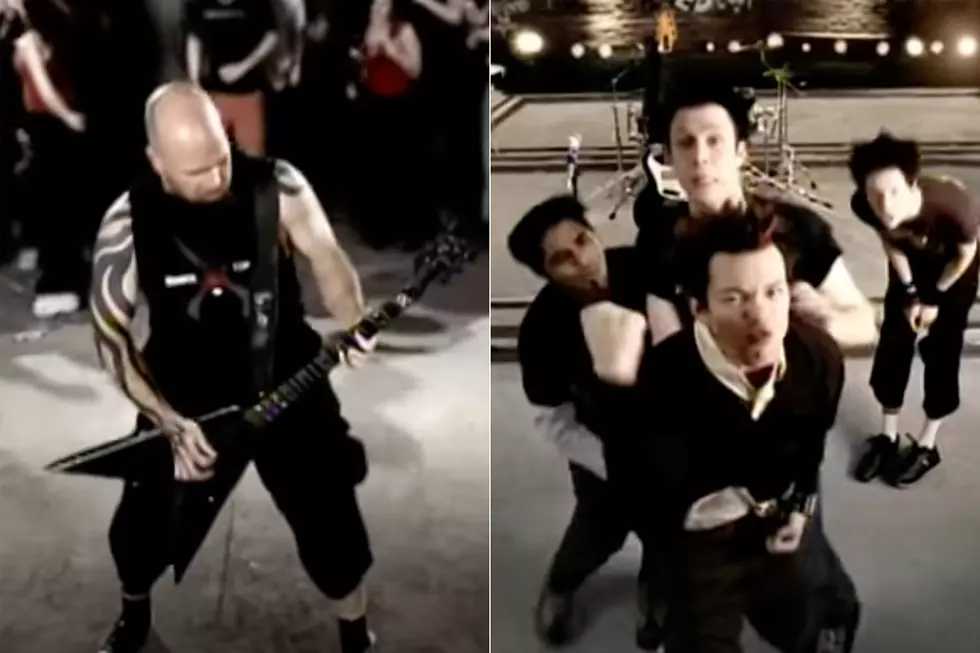 Why Slayer's Kerry King Agreed to Play Solo on Sum 41 Song After Saying No 10 Times
YouTube: Sum 41
Slayer's Kerry King has occasionally hopped on songs with other acts, but the guitar great reveals in a recent interview that it took some convincing before he stepped up to the plate to play on Sum 41's 2002 Spider-Man soundtrack contribution, "What We're All About." In fact, he tells Metal Hammer that he said no "10 times" before ultimately signing on.
As fans may remember, "What We're All About" (or "It's What We're All About" as it was titled on the soundtrack) featured a blistering solo from King about midway into the song, and the Slayer guitarist also appeared with the band in the video. The track was released on the heels of Sum 41's breakout success of their All Killer No Filler album, while Spider-Man became not only a big box office hit but the corresponding soundtrack was a hot seller.
So what finally put it over the top for the guitarist? King revealed some record label intervention and some reasoning finally put him on the path. He tells Metal Hammer (as transcribed by Guitar World), "A friend of mine at the label came to me at an angle that I just couldn't argue with," the guitarist recalls. "He was like, 'Well, you know you played on the Beastie Boys record [1987's "No Sleep Till Brooklyn"].' Fuck! Haha, he's got a point! That was my epiphany. That was before we put ourselves back on the map – those dudes were fun and they were popping."
Given the huge popularity of the initial Tobey Maguire-led Spider-Man film and soundtrack, it did put King in a spotlight that the guitarist or his band weren't always given.
Reflecting on those guest spots, King adds, "So, yeah, I played on the Beastie Boys record and I played on the Sum 41 record. I mean, those weren't choices for me, those were just career choices I made. Some people may agree with them and some people may not."
Though "What We're All About" was released as the second single from the Spider-Man soundtrack, it primarily gained traction in territories outside the U.S., cracking the Top 40 in Ireland, Italy and the U.K. Revisit the video below, featuring King's guest guitar solo and cameo.
Sum 41, "What We're All About"
66 Best Hard Rock + Metal Guitarists of All-Time