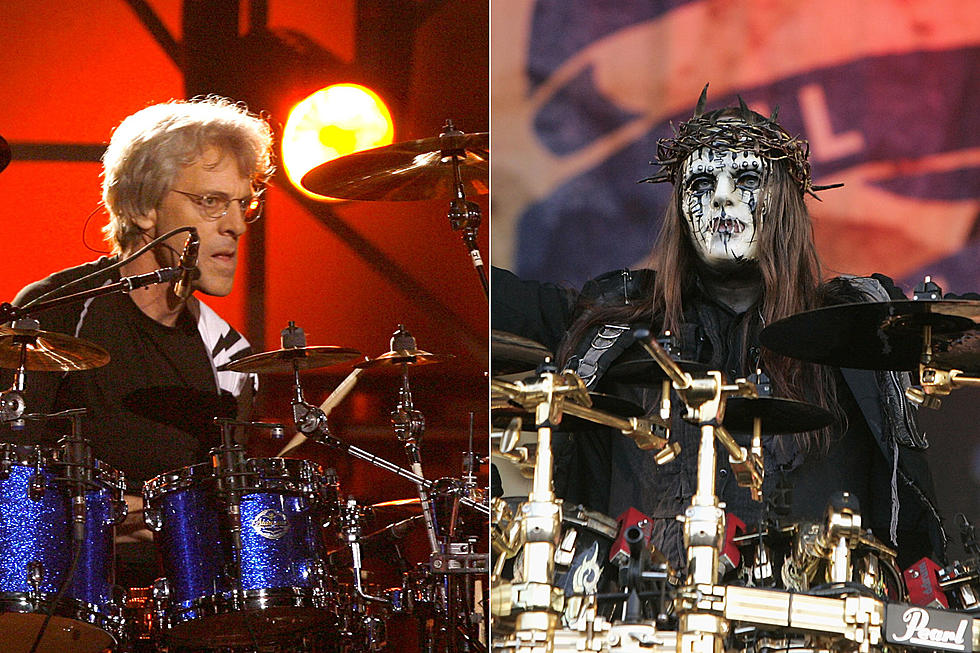 Why Stewart Copeland Was Blown Away by Slipknot's Joey Jordison
Kevin Winter / Jo Hale, Getty Images
Stewart Copeland earned plenty of respect for his years behind the kit with The Police, and recently he fielded a bunch of drumming questions for Wired (as viewed below). When the legendary drummer was asked which drummer was the best he'd ever seen live, a who's who of classic rock and iconic musicians rolled off his tongue, and then he shared a more modern drummer that may have come as a surprise. His pick? Late Slipknot drummer Joey Jordison.
Who Did Stewart Copeland Name as the Best Live Drummers?
"Well, Buddy Rich, Mitch Mitchell," Copeland offers, naming off a jazz drumming legend and the legendary stickman for Jimi Hendrix right off the bat.
"There's a lot of drummers that I really like that aren't famous names, they just have a great lope, they just have a great feel to them. Taylor Hawkins just had a great feel to him. Ringo Starr, Charlie Watts...no chops there, but just that groove is way, way cool."
"Now, on the younger end of it, I would say Joey Jordison, sadly departed, with Slipknot."
What Did Stewart Copeland Have to Say About Joey Jordison?
"That little bastard had chops! You know, kids these days, they start out where we left off. And it's like the Olympics where every year they can jump a little higher, run a little faster. How's that possible? Has the human species evolved in one year?! I dunno! But Joey Jordison, doing things with his feet that I aspire to with my hands," marveled Copeland while speaking about Jordison's drumming prowess.
Joey Jordison's Talent Admired By Others
The late Slipknot drummer was not only recognized for his talents by Copeland, but over the years other have praised his talents. Ministry's Al Jourgensen recalled of Jordison in a 2021 interview, "What I saw was just spectacular talent, a wonderful heart and a good soul," later adding, "As far as a soul, his soul was golden."
Also in 2021, Jordison's onetime Slipknot bandmate remarked during an interview with Eddie Trunk, "It's a damn tragedy. He was way too young and he was way too talented to lose him like this." In a separate 2022 interview, Taylor revealed that Slipknot had hoped to mend fences with the drummer after their 2013 split.
The band parted ways with Jordison in 2013 for undisclosed reasons, and the drummer later revealed that he had been suffering from acute transverse myelitis that progressed to the point of losing the use of his legs and kept him from being able to drum until he was able to regain his movement through therapy and rehabilitation.
Jordison died in his sleep on July 28, 2021.
READ MORE: 11 Joey Jordison Quotes to Remember the Legendary Slipknot Drummer
Joey Jordison's Career Outside of Slipknot
While Jordison is most known for his work behind the kit with Slipknot, he kept busy with multiple groups outside of the band. He played guitar with The Murderdolls featuring singer Wednesday 13, was the drummer and founder of Scar the Martyr and played with the death metal supergroup Sinsaenum. He also had launched a band called Vimic as well
The Police's Stewart Copeland Takes Drumming Questions for Wired
All 18 Musicians Who's Been in Slipknot
Here's every musician who's been a member of Slipknot.
Gallery Credit: Lauryn Schaffner