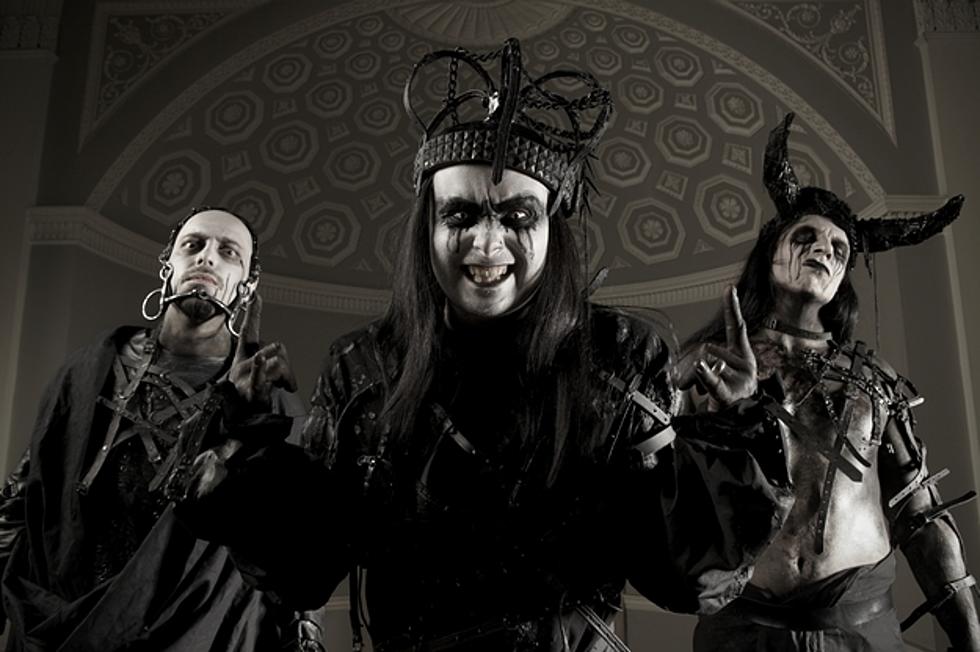 Woman Attempts to Deface Anti-Christian Cradle of Filth Shirt at New Zealand Museum
Nuclear Blast Records
Last week, it was reported that an infamously offensive Cradle of Filth shirt would be placed on display at the Canterbury Museum in Christchurch, New Zealand. Shortly after the exhibition was opened, a woman took a can of spray paint to the installation in an attempt to obscure the shirt's message.
The Cradle of Filth shirt has been around for a while, and if you frequent metal concerts, chances are you've seen it at least once (see the NSFW image here). The shirt's front depicts a masturbating nun, while the text "Jesus is a C---" is displayed prominently on the back. Canterbury Museum reps have defended the shirt's inclusion in their 'T-shirts Unfolding' exhibition, which "explores the story of the garment over its 100-year history and the way in which t-shirts have been used as an expression of popular culture."
Earlier this morning (Feb. 17), a woman was asked to leave the exhibition after spraying black paint onto the perspex barrier protecting the shirt. The shirt sustained no damage and the paint has since been cleaned.
According to Radio NZ, museum director Anthony Wright would not comment on whether police were called to the scene. Wright did, however, explain the shirt's significance in the Canterbury display, claiming "it is a valid part of an overall story about the whole cultural movement. We've got to balance that up against anyone that might be offended, and we've bent over backwards to make sure that anyone who might be offended won't come into contact with anything offensive."
The spray painting woman isn't the only one protesting Cradle of Filth's inclusion in 'T-shirts Unfolding.' According to TVNZ, the Taxpayers' Union has also come out against the shirt on display. "Our objection isn't to the t-shirt per se, our objection is ratepayer money being used for what is, at best, an item with little cultural or historic value," says Taxpayers' Union executive director Jordan Williams.
Williams continues, "In matters of taste there is a higher onus on publicly funded bodies to avoid funding matters of a highly dubious nature. One can argue that restrictions on freedom of speech and blasphemy are unjustified, while also acknowledging that higher standards should apply to what public money is used to promote."
What do you think about the shirt's inclusion? Let us know in the comments section below.