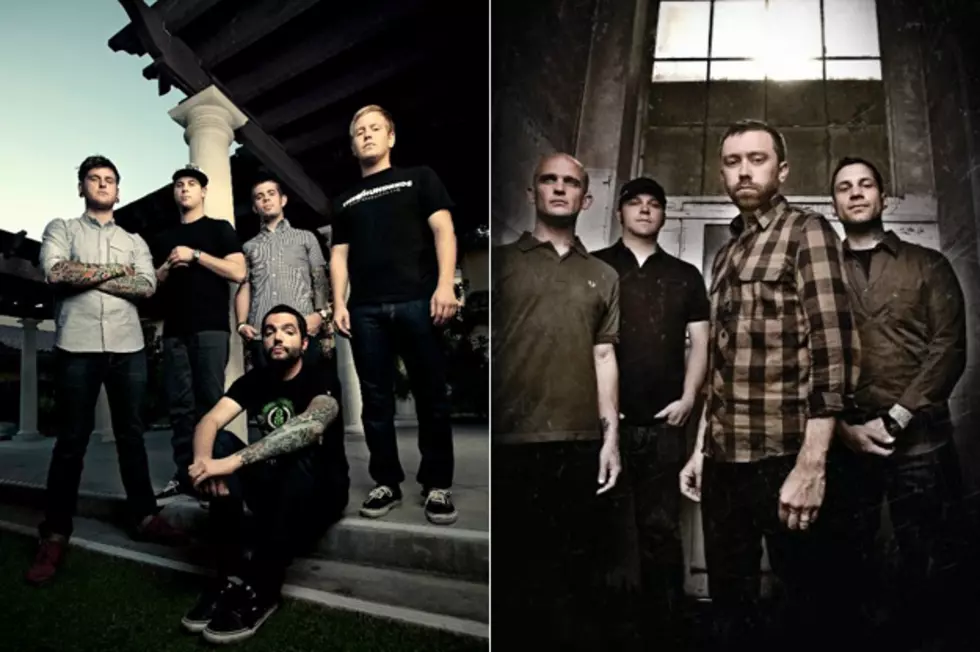 A Day to Remember + Rise Against Announce Second Leg of 2012 U.S. Tour
We recently reported dates for the first leg of the 2012 tour featuring A Day to Remember and Rise Against, with openers the Menzingers. Dates for the second leg of the North American trek have now been announced, with Title Fight taking over for the Menzingers in the opening slot.
A Day to Remember recently released their single 'It's Complicated' from their 2010 record 'What Separates Me From You,' while Rise Against is hitting the tar in support of  their sixth studio album, 'Endgame,' released last year.
The first let kicks off Jan. 17 in Austin, Texas, and wraps up in Fairfax, Va., on Feb. 5. After a two month break, A Day to Remember and Rise Against head back out in the spring with Title Fight starting April 14 in San Diego, Calif., and wrapping up in Toronto, Canada, on May 10. Check out the full list of dates below.
A Day To Remember + Rise Against with the Menzingers (First Leg)
1/17 -- Austin Music Hall, Austin, Texas
1/18 -- Illusions Theater at Alamodome, San Antonio, Texas
1/21 -- UCF Arena, Orlando, Fla.
1/22 -- Township Auditorium, Columbia, S.C.
1/24 -- Constant Convocation Center, Norfolk, Va.
1/26 -- Memorial Athletic and Convocation Center, Kent, Ohio
1/27 -- UIC Pavilion, Chicago, Ill.
1/29 -- Bryce Jordan Center, University Park, Pa.
1/30 -- Mid Hudson Civic Center, Poughkeepsie, N.Y.
2/01 -- Tsongas Arena, Lowell, Mass.
2/03 -- Nassau Veterans Memorial Coliseum, Uniondale, N.Y.
2/04 -- Susquehanna Bank Center, Camden, N.J.
2/05 -- Patriot Center, Fairfax, Va.
A Day to Remember + Rise Against with Title Fight (Second Leg)
4/15 -- Viejas Arena, San Diego, Calif.
4/16 -- Rabo Bank Arena, Bakersfield, Calif.
4/17 -- SJSU Events Center, San Jose, Calif.
4/19 -- ShoWare Center, Kent, Wash.
4/20 -- Century Link Arena, Boise, Idaho
4/21 -- Saltair Pavillion, Salt Lake City, Utah
4/23 -- Santa Ana Star Center, Rio Rancho, N.M.
4/26 -- Verizon Wireless Music Center, Pelham, Ala.
4/27 -- St. Augustine Amphitheater, St. Augustine, Fla.
4/28 -- Sunset Cove Ampitheater, Boca Raton, Fla.
4/30 -- Green Iguana Stadium, Tampa, Fla.
5/01 -- The Masquerade, Atlanta, Ga.
5/02 -- Time Warner Cable Uptown, Charlotte, N.C.
5/04 -- The Lawn at Riverbend Music, Indianapolis, Ind.
5/05 -- PNC Pavilion at Riverbend Music, Cincinnati, Ohio
5/06 -- Tribune Total Media Amphitheater, Pittsburgh, Pa.
5/08 -- New York State Fair, Syracuse, N.Y.
5/10 -- Air Canada Centre, Toronto, Ontario.