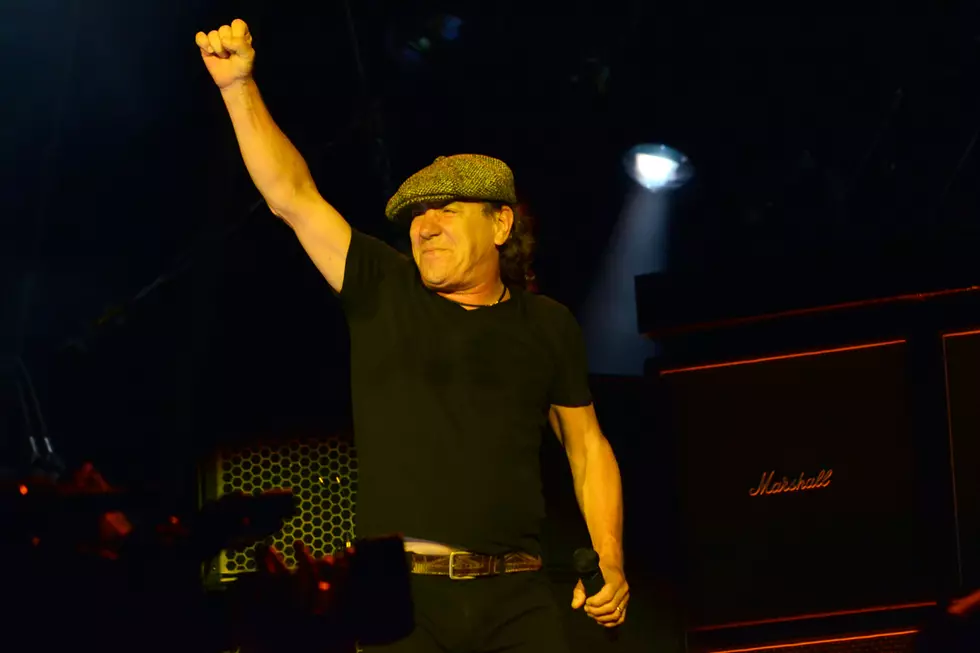 AC/DC Legend Brian Johnson 'Moved and Amazed' After Trying New Hearing Technology
Richard McCaffrey, Getty Images
We recently reported on in-ear monitor inventor Stephen Ambrose, founder of Asius Technologies, who believed he could help former AC/DC vocalist Brian Johnson return to the stage. Johnson saw the story on the wires, and ended up meeting with Ambrose. Now the veteran rocker has shared his enthusiasm about Ambrose's invention, adding that he does intend on performing live once again.
AC/DC was forced to postpone 10 U.S. tour dates after Brian Johnson was warned by doctors that he was at risk for total hearing loss. This led to Johnson parting ways with AC/DC as Guns N' Roses vocalist Axl Rose was recruited to front the legendary Australian band.
Stephen Ambrose has developed a new technology called ADEL which he says safely delivers louder and better sound while minimizing the risk of hearing damage. After trying it out for himself, Johnson released a statement via Ambrose's Facebook page:
It WORKS. It just totally works and you can't argue with that. I was really moved and amazed to be able to hear music again like I haven't heard for several years now. I can't wait for it to be miniaturized so I can use it in every situation from normal communication, going out to noisy restaurants, to performing live music on stage.
Shortly after his leave from AC/DC, Johnson shared his intention to eventually get back on stage. "My entire focus is to continue medical treatment to improve my hearing," Johnson wrote. "I am hoping that in time my hearing will improve and allow me to return to live concert performances. While the outcome is uncertain, my attitude is optimistic."
See Where Brian Johnson Ranks Among the Top 50 Hard Rock + Metal Frontmen of All Time
10 Unforgettable Brian Johnson Moments