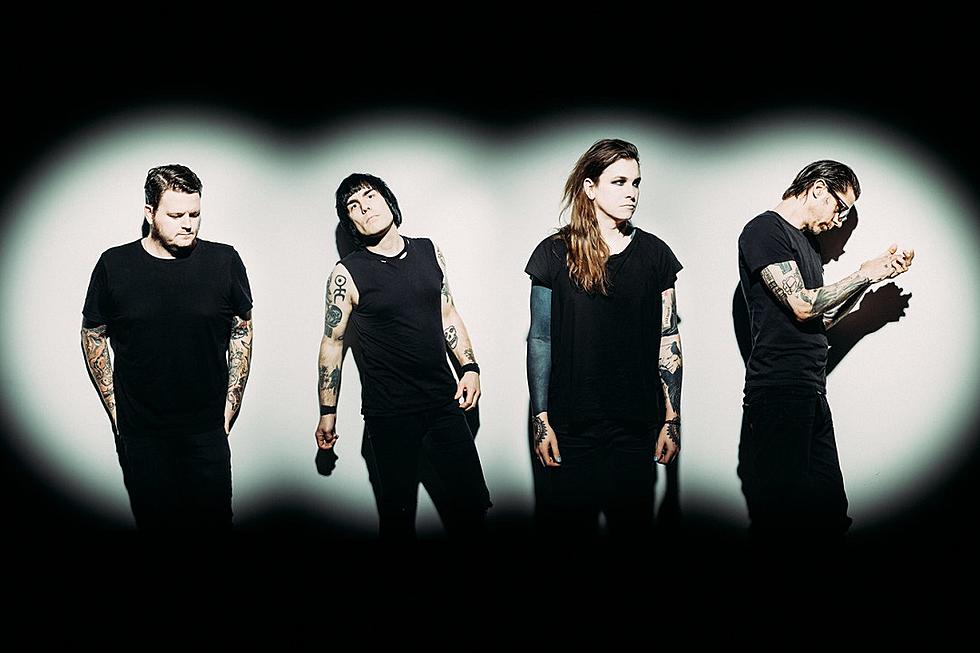 Against Me! Book May 2018 U.S. West Coast Tour
Total Trebel Music
Against Me! will return to the road this May in support of their Shape Shift With Me album. The veteran rockers were already set for an appearance at Las Vegas' Punk Rock Bowling event at the end of May, but they'll have any possible rust shaken off by that appearance.
The band just announced a 14-date trek along the West Coast that starts May 11 in Bellingham, Wash., and concludes at the aforementioned Punk Rock Bowling event in Las Vegas on May 28. The run will be a mix of headlining and co-headlining shows, with Chris Farren and Paper Dolls supporting on select dates, while Turbonegro will co-headline a trio of California dates. A Giant Dog will also be part of the bill on select shows. A full accounting of who's playing with Against Me! and where can be seen in the tour dates below.
As stated, Against Me! are supporting the Shape Shift With Me album, a disc that's a loose concept album about traveling the world and falling in and out of love. Singer Laura Jane Grace says, "Tons of people have written about love. But while love is cliché, it's infinitely relevant. For me, having always been in a punk band that was expected to be political, I never felt like I had that option to write about feelings in that way. That's what I ended up being drawn to this time. It's writing in a way I thought I could never write before, and not giving a shit about expectations."
She goes on to add, "Is there a record that is about relationships from a trans perspective? There needs to be more records about trans rights and everything like that, but feeling like I already did that, I wanted to move on to write commentary on living from a trans perspective. I wanted to write the transgender response to the Rolling Stones' Exile On Main Street, Liz Phair's Exile In Guyville and the Streets' A Grand Don't Come For Free. All those records are relationship records. There's been an infinite amount of records talking about what love means from a cisgender perspective. I wanted to present the trans perspective on sex, love and heartbreak."
All of the markets for the tour are listed below and ticketing information can be found here.
Against Me! 2018 Tour Dates
May 11 - Bellingham, Wash. @ Wild Buffalo House of Music *
May 12 - Tacoma, Wash. @ (Sabroso Festival at America's Car Museum)
May 13 - Portland, Ore. @ (Sabroso Festival at Portland Meadows)
May 15 - Chico, Calif. @ Senator Theater *
May 16 - Reno, Nev. @ Cargo *
May 18 - Santa Cruz, Calif. @ Catalyst *
May 19 - Sacramento, Calif. @ Goldfield Trading Post *
May 20 - Petaluma, Calif. @ Mystic Theatre *
May 21 - Santa Ana, Calif. @ The Observatory *
May 24 - Ventura, Calif. @ Majestic Ventura Theatre ^
May 25 - Berkeley, Calif. @ The UC Theatre ^
May 26 - Los Angeles, Calif. @ The Regent Theatre ^
May 27 - Flagstaff, Ariz. @ Orpheum Theatre %
May 28 - Las Vegas, Nev. @ Punk Rock Bowling
* w/ Paper Dolls & Chris Farren
^ w/ Turbonegro & A Giant Dog
% w/ A Giant Dog
Top 25 Punk Albums of All Time