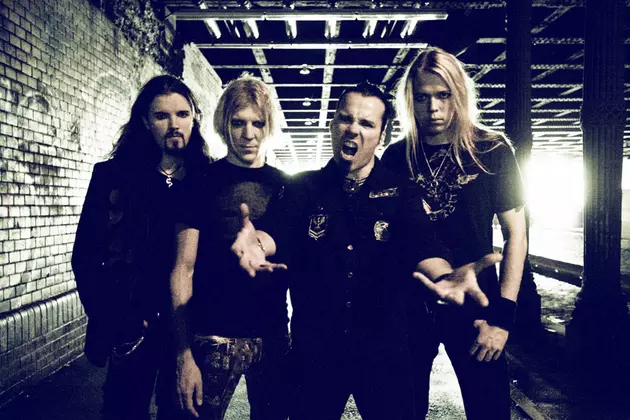 Apocalyptica Revisit 'Plays Metallica by Four Cellos' With 2017 Tour Dates
Apocalyptica.com
The calendar may say 2017, but Apocalyptica aren't done celebrating the 20th anniversary of their debut disc, Plays Metallica by Four Cellos. The disc arrived on May 10, 1996 and last summer the instrumental cello-driven rock act re-released the effort remastered with three bonus tracks. Now they're planning to revisit the album in North American on a more extensive tour.
The band played a limited run of dates in the U.S. last year, but stateside and Canadian fans will have a greater opportunity to enjoy the performance when they spend a majority of the month of September on a tour that actually dips its toes into October as well.
In addition to the original Plays Metallica by Four Cellos album, the re-release included previously unreleased versions of "Battery," "Nothing Else Matters" and "Seek and Destroy." The album is also available on vinyl for the first time in many years. Make sure you check out these shows as this will be the first time the band has toured in support of the album. They were unable to tour in support of the disc upon its initial release.
At the time, Apocalyptica's Plays Metallica by Four Cellos was a somewhat unique approach to taking on the works of one of metal's biggest acts. Over time, the group's scope expanded beyond the instrumental spectrum and they've enjoyed hit songs with the likes of Corey Taylor, Adam Gontier, Gavin Rossdale, Brent Smith and more lending their vocal talents to original tracks. Apocalyptica's 2015 album, Shadowmaker, was their first with a dedicated lead vocalist, as the band employed Franky Perez for the disc and touring.
Apocalyptica Plays Metallica by Four Cellos 2017 North American Tour Dates
09/05 -- Atlanta, Ga. – Center Stage
09/06 -- Orlando, Fla. – House of Blues
09/07 -- Jacksonville, Fla. – Florida Theatre
09/08 -- Charlotte, N.C. – McGlohon Theater at Spirt Square
09/09 -- Washington, D.C. – Lincoln Theatre
09/11 -- New York, N.Y. – Town Hall
09/12 -- Boston, Mass. – Wilbur Theatre
09/13 -- Montreal, Quebec – Theatre St. Denis
09/14 -- Toronto, Ontario – Queen Elizabeth Theatre
09/15 -- Grand Rapids, Mich. – 20 Monroe Live
09/16 -- Chicago, Ill. – Park West
09/17 -- Minneapolis, Minn. – Pantages Theatre
09/18 -- St. Louis, Mo. – The Pageant
09/20 -- Denver, Colo. – Paramount Theater
09/22 -- Seattle, Wash. – The Moore Theatre
09/23 -- Vancouver, British Columbia – Commodore Ballroom
09/24 -- Portland, Ore. – Crystal Ballroom
09/26 -- Oakland, Calif. – The Fox Theatre
09/27 -- Santa Cruz, Calif. – Rio Theatre
09/28 -- Los Angeles, Calif. – The Mayan
09/29 -- San Diego, Calif. – Copley Symphony Hall
10/01 -- Las Vegas, Nev. – The Joint
Apocalyptica Play 'Wikipedia: Fact or Fiction?'
100 Metal Facts You May Not Know