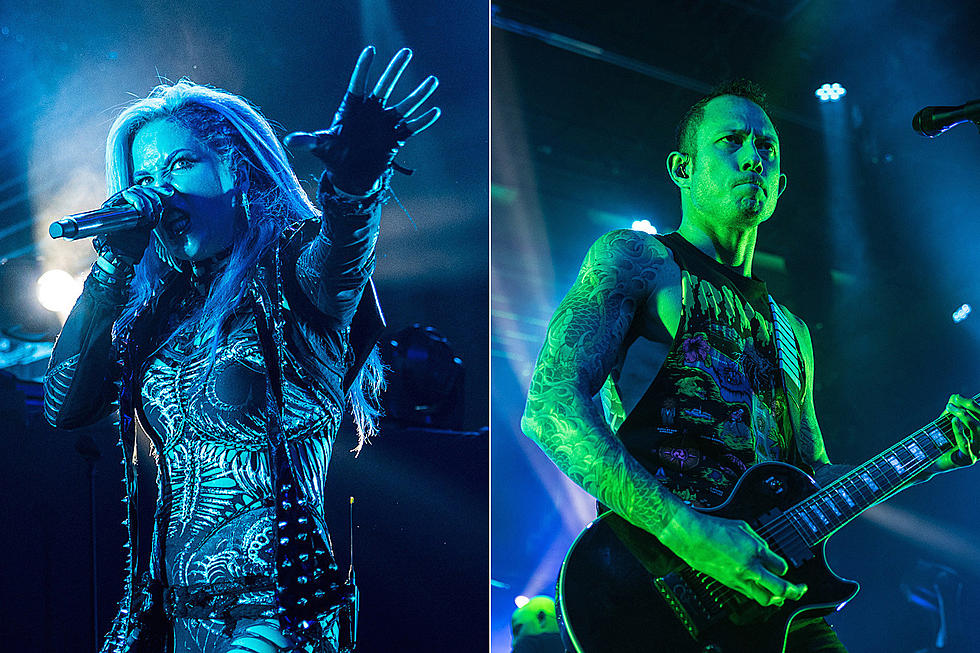 Arch Enemy + Trivium Rip Through NYC With While She Sleeps + Fit for an Autopsy [Photos]
Kevin RC Wilson, Loudwire
The New Jersey / Long Island death metal act Fit for an Autopsy kicked off the night with neck-snapping guitar riffs. Vocalist Joe Badolato's gutturals are forceful enough to move a dead body and fans wanted more of these vocals. "Turn the vocals up!" one fan in the crowd shouted. "Geez I can't believe someone yelled at me" said Badolato. Everyone headbanged but Tim Howley beard-banged with his braided beard that weaved through his guitar while he played and nearly touched his knees. The band is touring in support of their new album The Great Collapse and dedicated the face-smacking track "Iron Moon" off of the new record to hard working New Yorkers, which was 99 percent of the fans in the room.
Hailing from Sheffield, England, While She Sleeps has the infectious intensity that makes their fellow English metallers like Bring Me the Horizon such a force in concert. Frontman Lawrence Taylor had some mic troubles but he didn't let technical difficulties stop him. Taylor jumped off of the drum set, dove into the crowd, did summersaults onstage and delivered vocally. The band is currently on tour in support of their new album You Are We and performed new annihilating tracks. One offbeat moment of the set was when Taylor said, "Let's show Trivium how it's fucking done."
When Trivium hit the stage, fans unleashed and chaos ensued from the very beginning of the set. The band is also celebrating their new album, The Sin and the Sentence, and launched into the title track for their first song of the night. They played other new tracks like "Betrayer," one of the heaviest songs on the record, "Thrown into the Fire" and the catchy "The Heart From Your Hate."
Frontman and guitarist Matt Heafy soothing melodic vocals were countered by guitarist Corey Beaulieu, who delivered the harsh screams that got fans moshing, especially to older favorites "Like Light to Flies." All control was lost during the breakdown during "Rain" and the set ending "In Waves" where crowdsurfers came over the barrier... in waves!
Headliners Arch Enemy are touring in support of their brand new record Will to Power, the first to feature latest member guitarist Jeff Loomis. The band's monstrous sound filled PlayStation Theater with new anthems like "The World Is Yours," "Blood in the Water" and "The Eagle Flies Alone."
If the Marvel Universe had a badass heavy metal superhero, it would be vocalist Alissa White-Gluz. Her stage presence, primal screams and overall aura is completely magnetic with her fiery command of the stage and crowd. Fans roared to stirring favorite Arch Enemy songs "Ravenous," "War Eternal" and "We Will Rise." Blistering guitar riffs were provided by Loomis and longtime member Michael Amott. The night ended with an "Avalanche" of vitality as Arch Enemy performed "Snowbound" and "Nemesis."
Scroll through the gallery below to see photos from the night!
Arch Enemy, Trivium, While She Sleeps + Fit For an Autopsy Photos