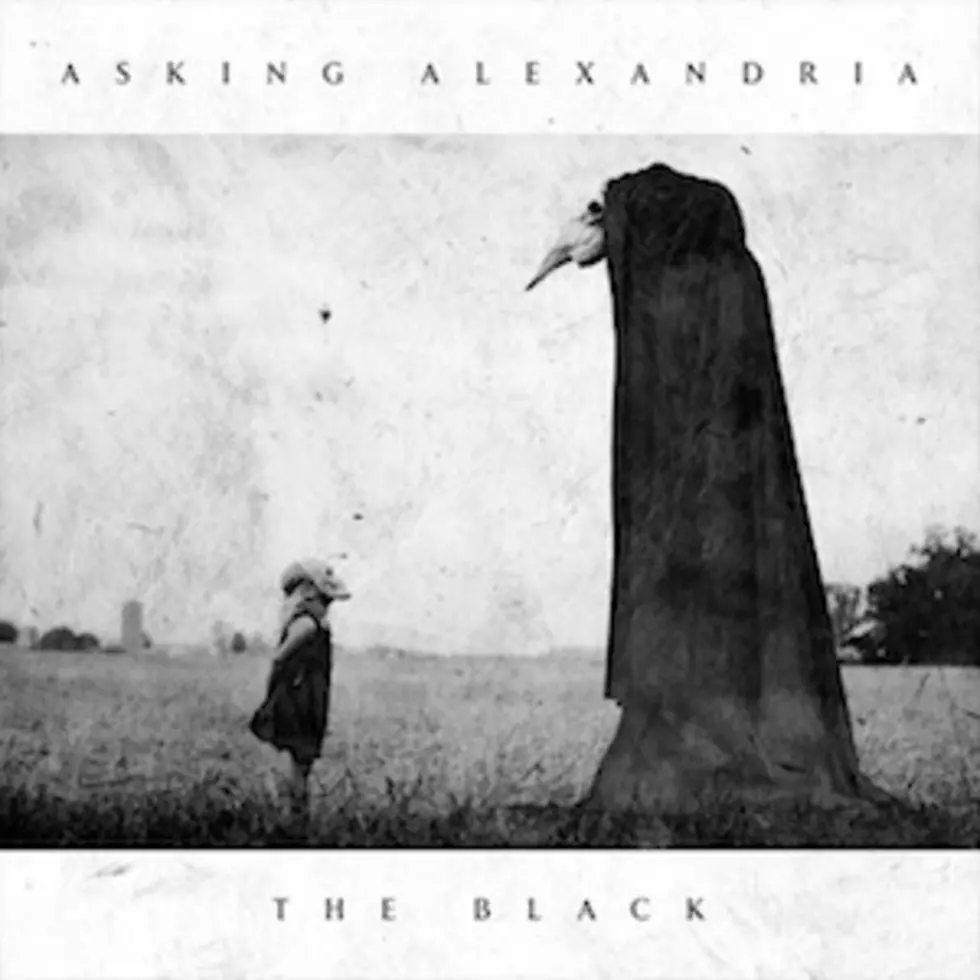 Asking Alexandria Reveal 'The Black' Artwork + March Release
Sumerian
English metalcore outfit Asking Alexandria are readying their fourth studio album, The Black, out in March on Sumerian. The release will mark the debut with new singer Denis Stoff, formerly of the Ukrainian act Make Me Famous — who had drawn parallels to Asking Alexandria's sound. Stoff replaced longtime vocalist Danny Worsnop following his departure from the band earlier in the year.
The group has already released two singles featuring their new vocalist, giving fans who were distraught over the news of Worsnop's split a taste of new music and to ease tensions. The first song was "I Won't Give In" and the next was "Undivided," both of which showcase the new singer's diverse vocal range from clean singing to harsh screams. Stoff was put to the test immediately, filling the center spot on stage and making his name in the live element with Asking Alexandria.
Guitarist Ben Bruce spoke with Bryan Stars (transcription from Blabbermouth) about their new singer and the forthcoming album, saying, "After we spent the last two years writing for this record, a lot of that ended up getting scratched when Denis joined and we started again from scratch." Exited about the renewed spirit of the band, he added, "I'm so excited to release it. There's not been a raw energy or aggression to an Asking Alexandria album since [2011's] Reckless & Relentless, like this one presents. You turn it on, and you're like, 'Wow! They're back.' And I cannot wait to release it to the world and hear what everyone thinks."
Talking about the writing process for The Black, Bruce detailed, "But one thing that was a huge, huge difference — which was really refreshing — is Denis was really involved with the writing. He would critique me, he would give me ideas, he'd be, like, 'I've heard you do better. Do better.'" Comparing the differences between the two singers, he continued, "And he really, really pushed me, whereas Danny would just kind of not do anything. I'd send him the songs and he'd be, like, 'That's s--t. I don't like it. It's too heavy. And then, 'If I have to do it, I'll do it.' So there wasn't much interaction between me and Danny. But with Denis, he was very hands-on."
Worsnop had steadily been losing interest in screaming and playing heavy music and even tore his vocal cord in 2012. He left the band to pursue his other band, We Are Harlot, which has a heavier focus on pop-punk tinged songwriting and hooks compared to the brutality Asking Alexandria combine with their more melodic moments.
100 Metal Facts You May Not Know