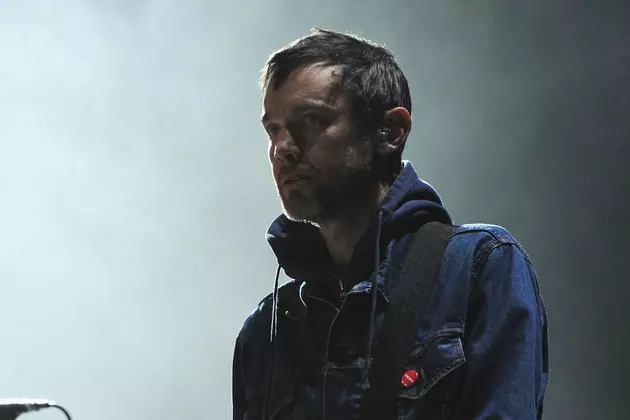 At the Drive-In Guitarist and Co-Founder Jim Ward Exits Band Before Reunion Tour Begins
Kevin Winter, Getty Images
The recently reunited At the Drive-In are set to kick off their first performances since splitting up in 2012. The news of the reformation came when Rock on the Range announced the post-hardcore act would be part of their 2016 lineup. Shortly after, they revealed a world tour and that new music was in the works, but now the group will be hitting the road without guitarist and co-founder Jim Ward.
At the Drive-In broke the news of Ward's abrupt parting of ways on their Facebook page (post below), leaving fans incensed indicative from the comments section as they had just purchased tickets to see the newly reunited act. The band will begin their tour on March 23 in Hollywood, Calif. and head directly to Europe afterwards for a run of dates extending through April 10. They'll be back on U.S. soil for a series of shows between April 13 and June 23. No replacement for Ward has been named as of this time.
Fans can still remain excited over the sample of new music the group uploaded in January of this year. No timeline has been given concerning a new album, which will be the first from At the Drive-In since 2000's Relationship of Command. They initially disbanded in March of 2001 with a U.S. tour set to kick off in less than a month. The first reunion came with an announcement in early January of 2012, though it was short-lived and yielded no new music.
From the ashes of the first breakup came the Mars Volta, formed by vocalist Cedric Bixler-Zavala and guitarist Omar Rodríguez-López in 2001. During the same year, Ward ventured off with At the Drive-In members drummer Tony Hajjar and bassist Paul Hinojos to form Sparta. Ward took the role of frontman, pulling double duty as one of the band's two guitarists.
10 Unforgettable Onstage Reunions
Most Anticipated Hard Rock + Metal Albums of 2016