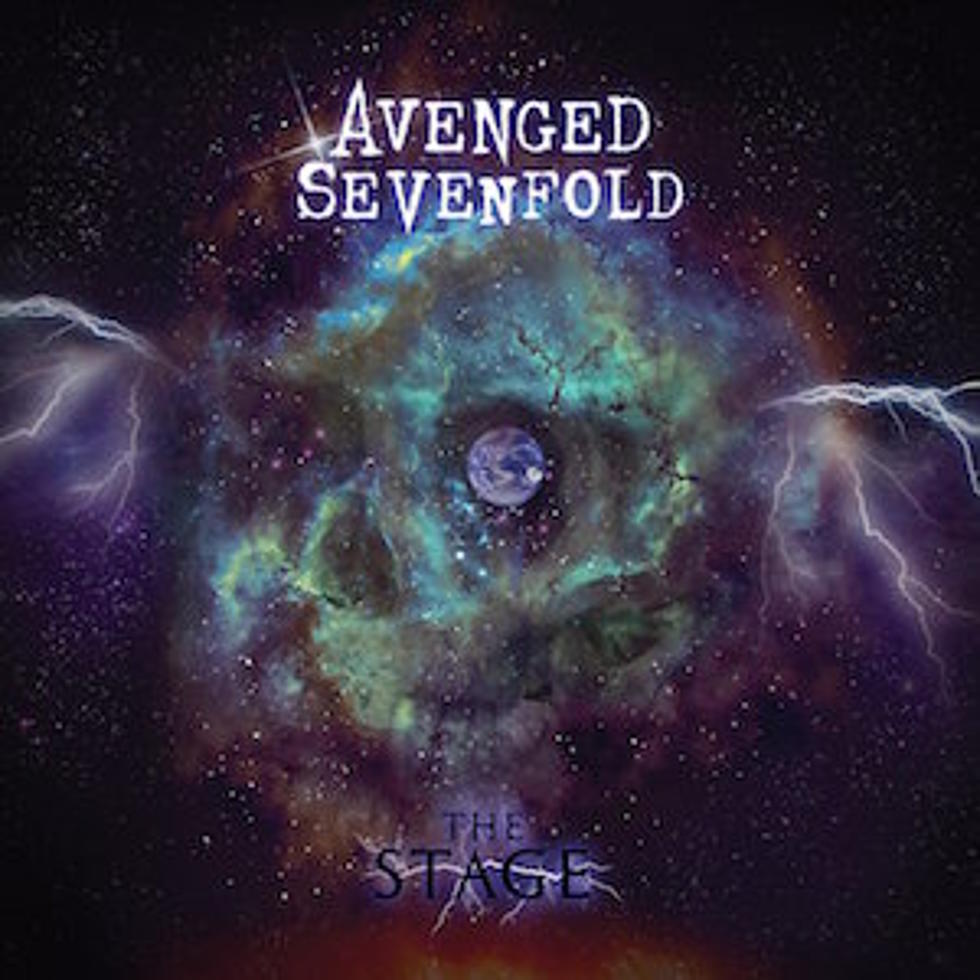 Avenged Sevenfold's New Album 'The Stage' Out Now
Capitol
Avenged Sevenfold wrapped up their 3D, virtual reality, 360 degree live concert stream from the roof of the Capitol Records building in Hollywood, Calif., on Thursday night, Oct. 27 (watch the full concert in the Facebook player below), and then promptly announced at midnight ET that their new album, The Stage, is out now, confirming reports from earlier on Thursday that the album would be dropping Friday (Oct. 28).
The Stage is available in various bundle options at the band's webstore or it can be purchased digitally and physically through the outlets listed here.
Additionally, pop-up shops will open in New York City and Los Angeles, where fans can not only get the album, but special band merchandise only available at these shops, as well. The L.A. shop will be located at 6615 Hollywood Blvd. and will be open from Friday through Sunday from 11AM through 8PM. The New York location is set for 68 Greene St. and will be open from 11AM through 9PM on Friday and from 11AM through 8PM on Saturday and Sunday. A "skip the line" contest is open here for Los Angeles and here for N.Y. where five winners will be chosen at random for each.
The Stage contains 11 tracks totaling totaling over 71 minutes of new music, including what's sure to be an epic closing track, "Exist," which clocks in just under 16 full minutes. The song features a guest appearance by world-renowned astrophysicist Neil deGrasse Tyson, who delivers a spoken word piece he wrote specifically for this recording. The album is also the first conceptual record for A7X, with a central theme of artificial intelligence inspired by the works of Carl Sagan and Elon Musk.
It's been an interesting lead up to this announcement with a sensational viral marketing campaign. First, the band's Deathbat logo began mysteriously appearing around the world, with the grinning winged skull visage projected onto buildings in various countries. Fozzy frontman and WWE wrestler Chris Jericho, a close friend of the band, also tweeted that Avenged Sevenfold would be dropping their new album on Dec. 9 under the title Voltaic Oceans. This tweet was quickly rescinded, making it appear that Jericho had accidentally leaked the information.
Now we know it was just part of a bigger ploy as A7X continued to build hype around the album, remaining slightly ambiguous throughout the campaign. On the following day, the band surprised fans with the new song "The Stage" and a compelling music video alongside it.
Avenged Sevenfold, The Stage Track Listing:
01. "The Stage" (8:32)
02. "Paradigm" (4:19)
03. "Sunny Disposition" (6:41)
04. "God Damn" (3:42)
05. "Creating God" (5:35)
06. "Angels" (5:41)
07. "Simulation" (5:31)
08. "Higher" (6:29)
09. "Roman Sky" (5:00)
10. "Fermi Paradox" (6:31)
11. "Exist" (15:39)
Watch Avenged Sevenfold's Concert Atop the Capitol Records Building
See Where Avenged Sevenfold Landed on the Top 50 Metal Bands Who Released Their First Album in the 21st Century
10 Unforgettable Avenged Sevenfold Moments