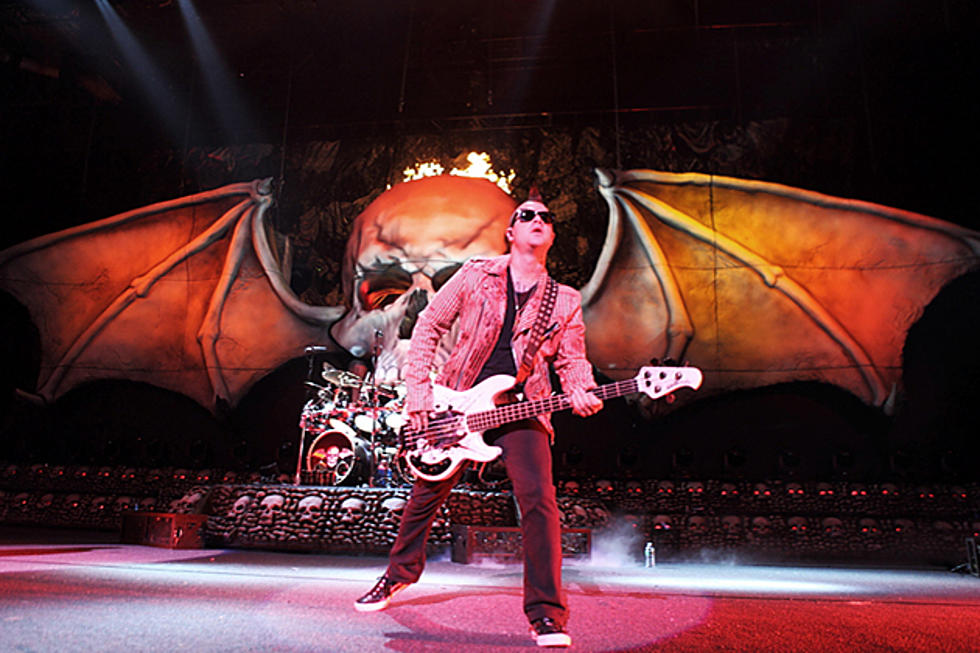 Avenged Sevenfold Reveal Venues for 'Hail to the King Tour' with Deftones + Ghost B.C.
Mary Ouellette, SheWillShootYou.com
Earlier this month Avenged Sevenfold whet the appetite of their rabid fanbase with the announcement that they would be hitting the road in October. The band revealed some of the details for their 'Hail to the King' fall tour run with Deftones and Ghost B.C. including the dates and cities, but now A7X have confirmed the specific venues and ticket onsale dates.
Avenged Sevenfold's 'Hail to the King Tour' will hit up arenas across the U.S. throughout October and will mark the band's first full scale American tour since 2011, which can mean only one thing -- a brand new tour production tailor made for arenas.
Tickets for most of the shows on the tour will go on sale on Aug. 2 at 10 AM with a few shows not on sale until Aug 9. See the full list below for details. The current tour routing kicks off at Allstate Arena in Chicago, Ill., on Oct. 3 and runs through Oct. 26, wrapping up in Las Vegas at the Mandalay Bay Events Center.
Avenged Sevenfold will release their sixth studio album 'Hail to the King' on Aug. 27. Fans can pre-order a limited edition box set for $99.99 which will grant them pre-sale access to upcoming tour dates here.
Avenged Sevenfold Hail To The King Tour Dates With Deftones + Ghost B.C.:
10/3 - Chicago, Ill. - Allstate Arena (On-Sale 8/2 @ 10am)
10/5 - Indianapolis, Ind. - Klipsch Music Center (On-Sale 8/2 @ 10am)
10/6 - Cincinnati, Ohio - US Bank Arena (On-Sale 8/2 @ 10am)
10/8 - Baltimore, Md. - 1st Mariner Arena (On-Sale 8/2 @ 10am)
10/9 - Boston, Mass. - TD Garden (On-Sale 8/2 @ 10am)
10/12 - Bloomington, Ill. - US Cellular Coliseum (On-Sale 8/2 @ 10am)
10/13 - Detroit, Mich. - Joe Louis Arena (On-Sale 8/2 @ 10am)
10/15 - Atlanta, Ga. - Phillips Arena (On-Sale 8/2 @ 10am)
10/16 - Orlando, Fla. - Amway Center (On-Sale 8/2 @ 10am)
10/18 - Houston, Texas - Cynthia Woods Mitchell Pavilion (On-Sale 8/9 @ 10am)
10/19 - Dallas, Texas - American Airlines Center (On-Sale 8/9 @ 10am)
10/20 - San Antonio, Texas - AT&T Center (On-Sale 8/9 @ 10am)
10/22 - Omaha, Ne. - CenturyLink Center (On-Sale 8/2 @ 10am)
10/23 - Oklahoma City, Okla. - Chesapeake Energy Arena (On-Sale 8/2 @ 10am)
10/26 - Las Vegas, Nev. - Mandalay Bay Events Center (On-Sale 8/2 @ 10am)