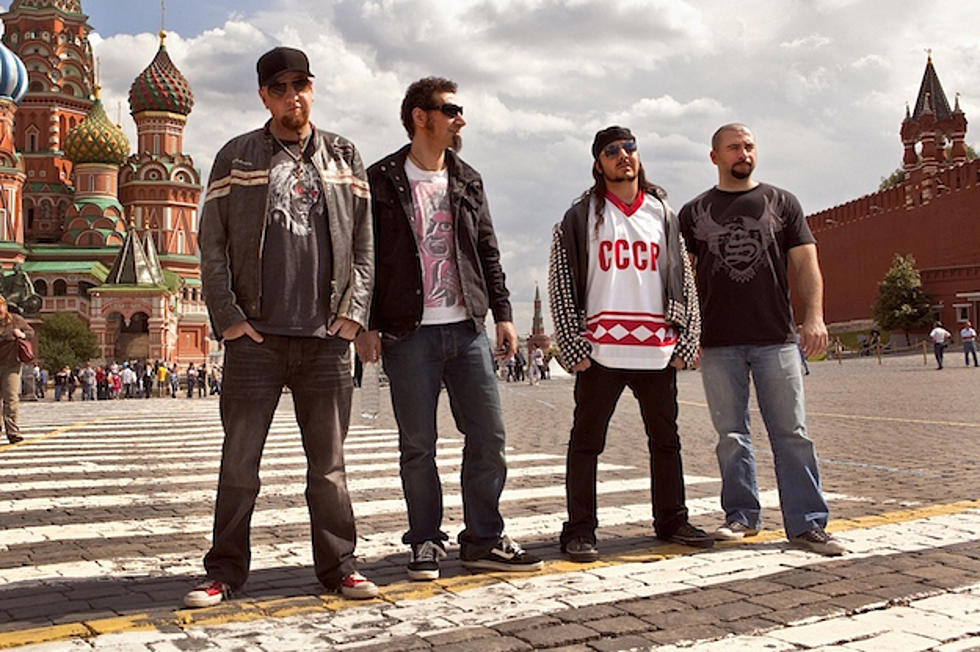 10 Best System of a Down Songs
Velvet Hammer
When it comes to the best System of a Down songs, it's not easy to narrow down the list to just 10 tunes. Since emerging onto the scene in the late '90s, System of a Down have been one of the most innovative hard-rock bands on the planet. Their mix of powerful riffs, socio-political commentary and downright quirkiness has combined to deliver several of the most memorable rock tunes of the past 15 years. From their debut 1998 self-titled effort to 2001's modern masterpiece 'Toxicity' to 2005's sister discs 'Mezmerize' and 'Hypnotize,' the Armenian-American band's sound has evolved over the years, and the list below shows the eclectic range of SOAD's music. So, keeping all that in mind, check out our list of the 10 Best System of a Down Songs:
10

'Psycho'

From: 'Toxicity' (2001)

With its chant of 'Psycho! Groupie! Cocaine! Crazy!,' the song 'Psycho' exemplifies System of a Down at their most bizarre. But musically, it shows the band in all its glory, kicking off with a rumbling bass line by Shavo Odadjian and powered by a thunderous beat by John Dolmayan. Vocally, Serj Tankian pairs intense yells with beautiful harmonies, while guitarist Daron Malakian offers up Eastern European flavors that permeate through much of the band's music.

9

'Spiders'

From: 'System of a Down' (1998)

As their second single ever, 'Spiders' showed that System of a Down were not just a band that produced chaotic metal at warp speed. The song displayed a softer side that would be prevalent in some of the best System of a Down songs in years to come. Lyrically, Tankian's words read like a poem: "The spiders all in tune / The evening of the moon / Dreams are made winding through my head."

8

'B.Y.O.B.'

From: 'Mezmerize' (2005)

System of a Down have been mistakenly called a political band, but a more accurate statement is that they are a rock group with a handful of political songs. Among those tunes is 'B.Y.O.B.' The track cleverly likens America's involvement in the Iraq War to a big party, and asks thought-provoking questions like, "Why don't presidents fight the war? / Why do they send the poor?" Think about it.

7

'Toxicity'

From: 'Toxicity' (2001)

Among System of a Down's best songs is the title track to their landmark album 'Toxicity.' Following Malakian's haunting guitar intro and Dolmayan's marching-band-on-steroids drum attack, Tankian lulls listeners into a relaxing space in the verses before punching them in the face with a massive chorus. The tune reaches a fever pitch during its climax, with Tankian delivering rapid-fire lines over some of the fastest riffs the band has laid to tape.

6

'Hypnotize'

From: 'Hypnotize' (2005)

Of all their singles, perhaps no song musically captures the band's Armenian roots as well as 'Hypnotize.' The track is fairly simple as far as System of a Down songs go, but its Eastern elements, especially the bridge, are what give it its identity. The call-and-response vocals by Tankian and Malakian add to the ominous nature of the lyrics, which raise questions about the dangers of propaganda.

5

'ATWA'

From: 'Toxicity' (2001)

'ATWA' is such a catchy tune that it's hard to believe that the song wasn't a single. The verses depict System at their most beautiful, while the chorus finds them at their most intense. The song's acronym is associated with convicted murderer Charles Manson's environmental movement (Air, Trees, Water, Animals), only adding to the evocative nature of the track.

4

'Sugar'

From: 'System of a Down' (1998)

System of a Down's first single ever, 'Sugar,' remains one of their most beloved tracks. When it hit radio in the late '90s, it sent a message that System of a Down were not your typical hard-rock band. Featuring offbeat lyrics, a talk-sing delivery and punishing guitar riffs, 'Sugar' is a raw and powerful tune that often serves as the perfect closer to System's energetic live sets.

3

'Aerials'

From: 'Toxicity' (2001)

Serj Tankian has one of the most distinct voices in rock music, and 'Aerials' shows the singer at his very best. His operatic vocals along with the song's tribal melody helped make the song the band's first No. 1 hit on both the mainstream and alternative rock charts. Not only is 'Aerials' one of the best System of a Down songs ever, it's one of the most infectious hard-rock tunes of the past 20 years.

2

'Lost in Hollywood'

From: 'Mezmerize' (2005)

While Serj Tankian gets much of the glory in System of a Down, Daron Malakian may be the group's most vital member. The guitarist composes the lion's share of the band's music, and on 2005's 'Mezmerize' he served as chief lyricist. With 'Lost in Hollywood,' Malakian delivered an epic tune about the dark side of Los Angeles that proves not only that he's a gifted singer in his own right, but an incredible songwriter, as well.

1

'Chop Suey!'

From: 'Toxicity' (2001)

Considering that 'Chop Suey!' earned the No. 1 spot on our list of the Top 50 Hard Rock Songs of the 21st Century, it's hard not to include it in the top spot of the best System of a Down songs. Aside from being a huge hit and being one of the band's most popular songs, 'Chop Suey!' is a musical masterpiece that defies description. From its frenzied verses to its captivating chorus, the song is one of the most unique and groundbreaking tunes in the history of rock music.

Bonus

You Think You Know System of a Down?