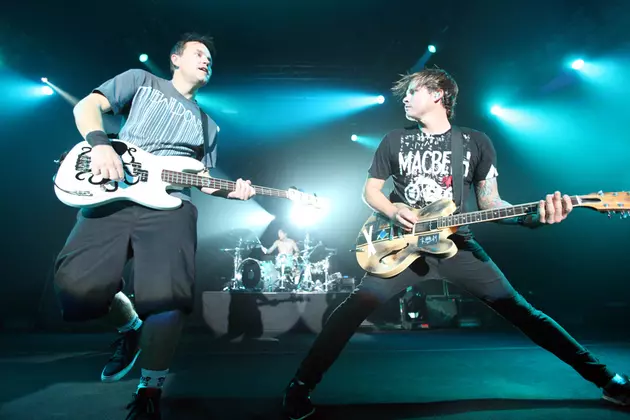 Blink-182's Mark Hoppus Denies Recent Meeting With Tom DeLonge
Christopher Polk, Getty Images
Last week as Blink-182 were revealing their new album and tour plans, estranged Blink member Tom DeLonge issued a Facebook posting stating that he had met with Mark Hoppus and Travis Barker on separate occasions and that there was a future for the three members together if they wanted it. But in a new interview with San Francisco's Kevin Kline Live, Hoppus reveals that he hasn't met with DeLonge as the musician suggested.
"I haven't even spoken to Tom in a year and a half," stated Hoppus, adding, "[Making music with Tom again] is so far down the road to even be a possibility." During the chat, Hoppus stated that DeLonge's Facebook posting caught him by surprise, but he did add, "I'll never say never to anything, but this is what Blink-182 is right now."
In DeLonge's Facebook posting, he stated that he had met with Hoppus last week and with Travis Barker the week prior and that he had been speaking with Barker on a regular basis, feeling that he was almost closer to the drummer than ever before. He went on to state, "We DO have a future together if we want it, but for now we are busy doing separate things."
DeLonge also urged fans not to compare his Angels and Airwaves music with Blink's new music as they are different people after different things. But he also went on to voice his support of Hoppus and Barker in pursuing their desires musically.
As for Blink-182, the band has a July 1 street date set for their California album. Alkaline Trio's Matt Skiba has taken the spot once filled by DeLonge. And they're set to hit the road with A Day to Remember, All-American Rejects and All Time Low this summer. Dates can be found here.
See the Yearbook Photos of Blink-182's Travis Barker and Other Rock Stars